Peter O'Mahony paid an emotional tribute to "the man, the friend, the coach and the brother" Munster have lost following the passing of Anthony Foley. 
The rugby world is mourning after Munster and Ireland legend Foley died of an acute pulmonary oedema in Paris on Sunday.
As Munster confirmed on Wednesday that Saturday's Champions Cup game against Glasgow at Thomond Park will go ahead, a distraught O'Mahony remembered a much-loved and respected figure of the game.
"My first game that he coached me with Munster... was an U20s game in Thomond Park," the 27-year-old said.
"We won it 3-0. That suited Axe as good as if we'd have beaten them by 60 or 70 points. He was a man who wanted any Munster jersey to win at any cost.
"You could never learn the amount we've now lost; the rugby knowledge and the brain, the man, the friend, the coach and the brother that we've now lost."
On Tuesday, the province, who are in modified training as they deal with the passing of their head coach, cancelled Saturday's 'A' game but indicated they would fulfil the European tie (1pm).
The news was confirmed at a press conference where director of rugby Johan Erasmus and captain O'Mahony spoke about their loss. 
We need your consent to load this SoundCloud contentWe use SoundCloud to manage extra content that can set cookies on your device and collect data about your activity. Please review their details and accept them to load the content.Manage Preferences
An emotional O'Mahony added: "He's been there since the start, every team that I supported he was in it. 
"He was a man that wanted a Munster jersey win. I'm not going to do him justice here. It's all the words I can say to be honest.
"The amount he's meant to the club, you can't put that into words. At times it was frustrating for him. He was such a good footballer. He found it hard at times to understand why we couldn't see what he could see.
"It was probably how we frustrated him most. That's how lucky he was to be blessed with such a rugby brain and a rugby mind."
Asked about the decision to play the match and the planned tribute for Foley, Erasmus said: "We don't want to miss this opportunity for him.
"It's a tough choice. It's not easy either way but we don't want to miss this opportunity.
"As difficult as it will be to play the next game no matter the time the opposition or the venue, we have an opportunity to play there this Saturday. That's something that's hugely important to all of us."
Erasmus said playing at Thomond would tie people closer to Foley's memory and give players and fans to embrace that.
The South African said the match was going ahead but it would be second to everything else.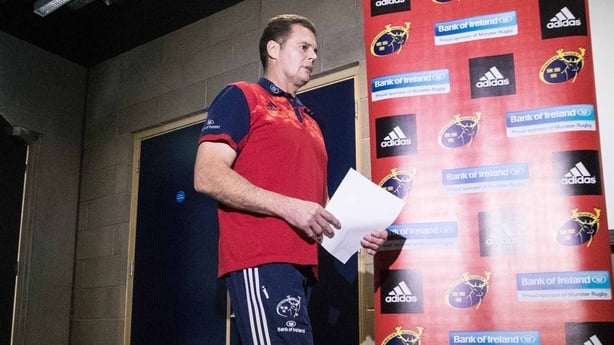 "He would never want us to say that the game is secondary, it's just not the man he was, but it will be," he said.
"It's all about Anthony, now, and this weekend and will be for a long time."
He added: "It's difficult. I know the players had so much respect for him that they are trying to get on with it , trying to do the job the way we think and know Anthony would want us to go on with it.
"That's what drives us and makes us committed to get a proper performance out there."
The Munster rugby boss called on fans to come out and back them on Saturday.
He said Foley was a good friend to him and someone who wore his heart on his sleeve.
"You don't have to think of a lot of nonsense to say about him. You knew exactly where you stood with him," he said. "He would do anything for his friends."
European Professional Club Rugby (EPRC) said in a statement that the decision to go ahead with the Pool 1 tie "was made after close consultation with the Munster management".
The EPRC also requested that a minute's silence or a minute's applause be held at all European games this weekend.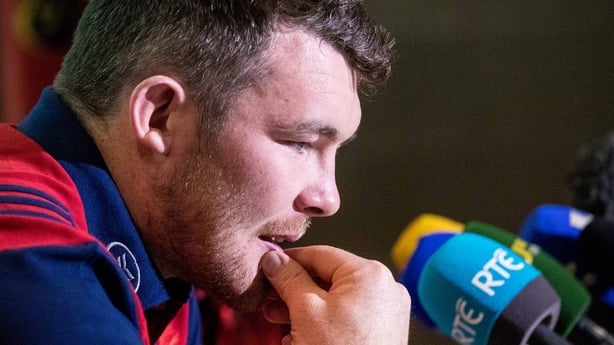 Foley died in Paris at the weekend of an "acute pulmonary oedema", an autopsy revealed.
The 42-year-old's funeral will take place in County Clare on Friday.
A statement from Erasmus read: "On behalf of the squad I would like to offer our sincere condolences to the Foley and Hogan families, in particular Olive, the two boys Tony & Dan, Axel's parents Brendan & Sheila & sisters Orla & Rosie.
"Our thoughts continue to be with them, Axel's extended family, and close circle of friends at this time.
"Although an Irish and Munster rugby hero, and a great friend of ours, this time is about a husband and a father, a son and a brother, and a fallen friend.
"Let us all not forget that.
"From a Munster Rugby point of view we wish to acknowledge and thank those that have expressed their sympathies and thoughts with us during this time and thank everyone for their thoughtful considerations - it has been quite overwhelming and is testament to Axel himself that we are hearing from all corners of the world, across all sports and walks of life.
"The great man touched so many hearts. One's life is greater than any sport or sporting occasion, however Thomond Park held a special place in Axel's heart, and as difficult as it will be to play the next game, no matter the time, opposition and venue, we have an opportunity to play there this Saturday; that is something that is hugely important to all of us and cannot be easily dismissed.
"Playing in Thomond Park further ties us to his memory and will be a chance for all, including our supporters and the community, to feel that connection and closeness to him at this time."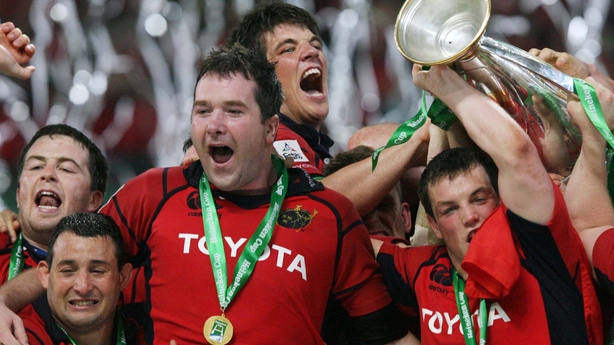 Former back-row forward Foley played 62 times for Ireland, led Munster to their first European Cup victory in 2006 and was central to the province's repeat success two years later.
He scored 39 tries for his province and made 86 appearances in European competition before taking on backroom roles from 2009. He was named head coach in 2014.