Leinster coach John Fogarty admits that preparing for this weekend's Champions Cup tie against Montpellier will be "difficult" as the squad and management come to terms with Anthony Foley's death.
Munster coach Foley (42) passed away in Paris over the weekend as the side prepared for their Pool 1 tie with Racing 92.
That game was postponed but now Leinster must get ready for their trip to France on Sunday (1pm) and Fogarty, originally from Tipperary and a former team-mate of Foley, said that while they must be professional, the build-up will be affected.  
"It's difficult to comprehend where we are now," former Munster hooker Fogarty told RTÉ Sport.
"We had a coaches meeting this morning, it's in your head.
"Usually there's a really strong focus on reviewing the game from the weekend [the home win over Castres] and making sure the preview is good for tomorrow.
"[Anthony's death is] definitely in there so we've got to make sure we've got that extra bit of focus with us to deliver this week so that the lads clearly understand what the threat is at the weekend, but it's going to be tough."
Munster Rugby thank public for support in wake of Anthony Foley's death https://t.co/0x9BmFIV6l

— RTÉ Sport (@RTEsport) October 18, 2016
Ireland and Leinster prop Mike Ross, a Cork native, echoed Fogarty's sentiments. 
"There's a game going ahead on Sunday and we have to prepare for it as best we can," he said.
"At the same time we'll all be thinking of him and I'm sure whenever they make arrangements there'll be a busload of us heading down to pay our respects.
"Until that happens we just have to keep going and take each day as it comes."
Leinster have released a medical update ahead of Sunday's game with Sean O'Brien in line for a return from injury.
Munster, who are due to play Glasgow on Saturday, will hold a press conference tomorrow. 
Meanwhile, Ulster Rugby have announced that they will erect a memorial in the away dressing room in honour of Foley.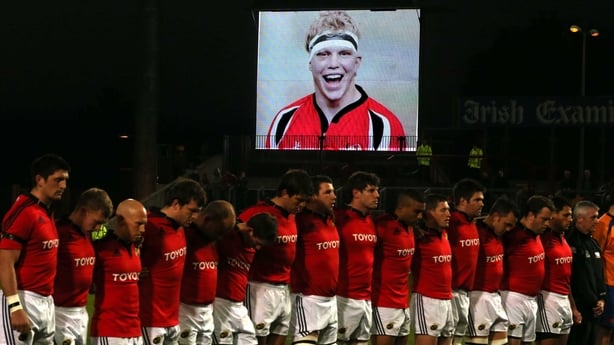 Munster erected a memorial to Nevin Spence, the 22-year-old Ulster back who died tragically in a farming accident in 2012, at Thomond Park and the northern province have decided to reciprocate the honour.
"Anthony Foley was a magnificent rugby player and a magnificent human being," said Ulster CEO Shane Logan.
"We extend our condolences to his family and all in Munster rugby.
"Munster were superb when Nevin Spence died – they did us the great tribute of placing a permanent memorial to Nevin in their away changing room.
"We would like to reciprocate for Munster."