Rassie Erasmus has warned Munster "emotions don't win you matches" as he prepares for his first provincial derby with bitter rivals Leinster this Saturday [2.05pm].
The former Springbok was appointed director of rugby last April, beginning his post in July after a four-year stint as general manager of high performance at South African rugby.
As the clock ticks down on the Aviva Stadium collision, locals and players have left Erasmus in doubt about the significance of the Pro12 showdown.
"I didn't know a lot about [the rivalry] before this week but after our game on Saturday night the guys started talking about it," he told RTÉ Sport at the launch of the European Champions Cup.
"Since Sunday you feel it in the street, everybody is talking about it. The hype is getting bigger, which makes it a big responsibility.
In the next three weeks we'll see how the guys perform under real pressure - Rassie Erasmus
"The big challenge in a game like this, for us as a coaching staff and as players, is to technically play well. Emotions don't win you matches.
"I guess we're in a good place but now the big, big games start so we'll gauge ourselves in the next three weeks.
"There's lots of potential. In the next three weeks we'll see how the guys perform under real pressure. We'll see what the character of the team is about."
Munster sit in a daunting Champions Cup Pool 1 which includes Glasgow Warriors, Leicester Tigers and Ronan O'Gara's Racing 92.
They start with a trip to France - and a face-off with one of Thomond Park's favourite sons - but Erasmus believes the difficulty of that test could be a positive.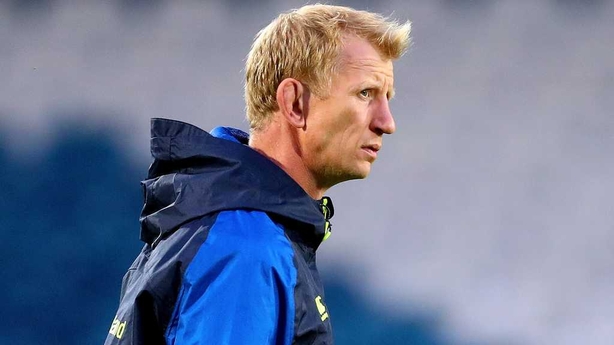 "[Ronan] is such a hero," he said. "It adds a lot of spice to the game, which is nice.
"Playing Racing away is maybe a good thing. Not a lot of people will give us a chance there. The pressure is a little bit off us."
Leinster coach Leo Cullen hardly needs a history lesson when it comes to a derby day.
After a strong start to the Pro12 which has Leinster sitting third - a point behind their opponents this weekend - he's expecting a no-holds-barred bruiser in Dublin 4.
"They're just such great occasions," said Cullen. "The players go at it full on, the crowd feed off that. They're great days and hopefully we get a big crowd at the Aviva.
"I think there's always a bit of settling in to the season and this seems to be the moment where it really kicks into gear. We'll see how we go. Munster have had a really good start to the new season.
The players go at it full on, the crowd feed off that - Leo Cullen
"They've a new coaching team, it looks like everyone's out to try and impress. They seem to be heading in a really positive direction. It has the makings of a good game."
Leinster host Castres next week in their Champions Cup opener before a trip to Montpellier.
Like Munster, the derby will be the trigger for an extremely intense three-week period.
"Castres is a really tough game to start," Cullen stressed. "They've been making good progress in the Top 14 this season already.
"After that there's a trip to Montpellier, who've recruited very heavily over the summer. It's going to be a tough challenge.
"We're just focused on getting off to the best possible start.
"We're making progress. There's always a lot of challenges when you start the season – players coming back from injuries, guys that were on tour, trying to get them up to speed, and you're getting a chance to see a lot of young guys, particularly in pre-season.
"Guys are in reasonably good shape for what's a huge week this week and then two huge European weeks after that."