Stuart Lancaster believes the scars of his England reign have strengthened him and ultimately will make him a better coach after he was unveiled as the newest addition to Leinster's coaching team.
Lancaster took over as England's head coach in 2011 but left under a cloud four years later as the host nation failed to get out of their pool at the 2015 World Cup.
It was a painful experience for the 46-year-old, but after filling the void left by defence coach Kurt McQuilkin's return to New Zealand for personal reasons, he's ready for a fresh challenge at the RDS.
"It's been a tough nine months," said Lancaster, who is contracted until the end of this season.
"You're out of the game... but equally when I look back over these nine months, I have done some unbelievable things.
"A lot of coaches have reached out to me and given me an opportunity to come and see their environment so my experience of the last nine months has helped broaden me as a coach.
"I think I'll come back a better coach now and hopefully give that to Leinster rugby."
"I'm more than happy to hep Leo out and pass on what I've learned. That's certainly my intention."
Coming off the back of one of the most high-profile head coaching positions in rugby, Lancaster now finds himself somewhat in the background. He insists it's a role he's more than happy to play.
"It's never been about titles for me," Lancaster added. "I don't mind where I fit within the coaching team.
"Obviously, with England I was head coach but I'm more than happy to help Leo out and pass on what I've learned. That's certainly my intention.
"This will be a lot more hands on for me than the England job became in the end. The sheer size of the job is huge.
"If I sub-divided my role into leading, management and coaching, by the end I probably wasn't doing a lot of coaching. Yet I've been brought up as a teacher and an academy coach and as a Saxons coach.
"This is a real opportunity to redress the balance a bit for me."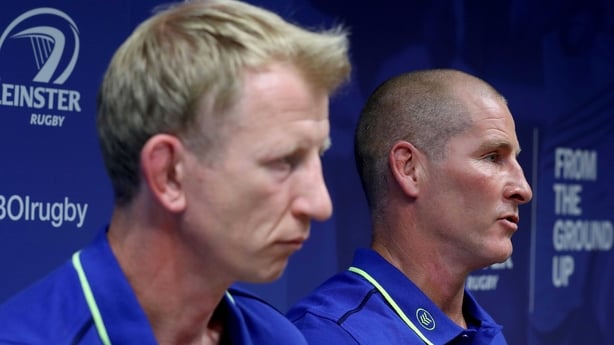 A 33-13 Twickenham loss to Australia shattered England's World Cup dream 11 months ago and was the death knell for Lancaster's reign in charge.
He's philosophical about his stint at the helm however, and is ready to heal the wounds of that disappointment.
"I think I've learned a lot," he said.
"I had 50 games in charge of England. People often remember the last game, or last games, which is understandable, but there was a lot of success in those times.
"You're always learning as a coach. Coming here and working with a new group of coaches and a new group of players will be brilliant for me.
"I've always had a desire to learn and get better. I'm excited, really excited at the opportunity."
The triple European champions began their Pro12 campaign with a win over Treviso on Friday and travel to Glasgow on Saturday.