IRFU Chief Executive Philip Browne says that the changing financial landscape in world rugby causes a 'profound' risk to the sport in the country.
And he warns that the game's governing body in Ireland can no longer be the 'lender of last resort' for the professional game as the provinces attempt to keep pace with English and French club giants.
"It is becoming increasingly clear that the professional game in Ireland can no longer rely on the IRFU being the 'lender of last resort' as the IRFU no longer has the capacity to absorb the increasing cost of the professional game as Irish rugby struggles to respond to the inflating player market in England and France," said Browne in his annual report.
"The risks to the Irish professional game are potentially profound and one of the key mitigation strategies is to invest in our pathway to develop better quality players more quickly through a more effective pathway – a key element of the new high performance strategy.
"All is change in the European rugby environment with the growing dominance of those clubs in France and England with deep financial pockets.
"The size and quality of the playing squads that these clubs can assemble from around the world has changed the balance of power in Europe to the detriment of our Provinces and the IRFU who simply cannot match the playing budgets of these teams," said Browne.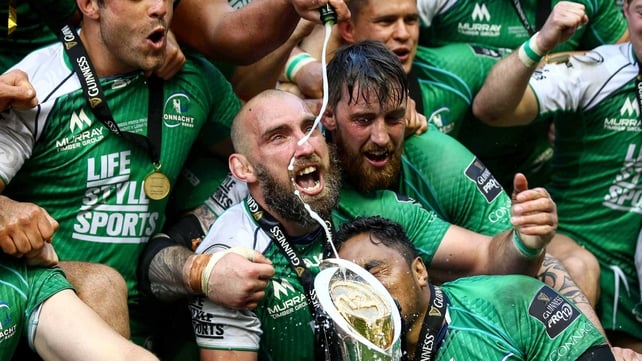 As English and French clubs continue to increase their revenue streams through inflated television and commercial deals, Pro12 teams are being left behind.
Browne has called upon the Pro12, which was won Connacht last season (above) to increase its revenue streams to ensure that Irish teams can remain competitive.
"An extension of this new European order is the difficulty that faces the Pro12 as a competition operating in Ireland, Scotland and Wales - three rugby markets which are a fraction the size of those in England and France," he explained.
"The revenues generated by the tournament need to increase significantly if the participating clubs are to remain competitive with the clubs in the English and French leagues.
"Such an increase in values will require some radical change to the tournament and how it is structured."
Browne believes that although there is some scope for the provinces to increase gate receipts revenue this will not be sufficient in bridging the gap with their English and French counterparts.
He also pointed out that the revenue generated by the IRFU through the international game is already largely contracted out for the next number of years so cannot be given to the provinces.