Keith Earls says that "80 minutes of pure hell and battle" stand between Ireland and a "special" series victory over South Africa.
The sides meet in Port Elizabeth this Saturday (KO 4pm, live radio commentary on RTÉ Radio 1 and live match tracker on RTÉ.ie) with the series evenly poised at a win apiece after the Springboks' second-half surge levelled matters last Saturday and Earls admitted the third test was taking on the aura of a cup final.
"It's a massive game for both teams," Earls told RTÉ Sport. "It's a great chance for us to make a bit of history and win a series down here.
"We were close last week, we played for about 65 minutes and then kind of took the foot off the pedal a small bit.
"But there's a real kind of final feeling about it and that bit of pressure is great.
"A lot of fellas have been putting their bodies on the line. The first test was a massive display, going down to 13 men at one stage, I suppose maybe a bit of nerves crept in (last weekend) and the South Africans went through their purple patch.
"A team is always going to get that and instead of going after them we let them come at us and we leaked one or two tries."
Earls missed the second test defeat in Johannesburg but has been recalled to the starting line-up for the series decider this weekend.
There's a real kind of final feeling about it and that bit of pressure is great.
The Munster man might not have been on the field as Ireland let a 16-point second-half lead slip away but says the lessons in defeat have struck home all the same.
"It was brilliant to be up 16 points at half-time, we just have to look after ourselves," he said.
"A lot of last week was our own stuff that we didn't look after but if we look after it like we did in the first test then please God we'll get a result on Saturday.
"It's been a long season but lads know there's only 80 more minutes of pure hell and battle and then we've a couple of weeks off. And that 80 minutes of hell has a great chance of us creating something special together.
"Our fitness and our bounce, our feeding off each other, probably dropped a small bit last week and that's something we've got to keep going for the 80 minutes."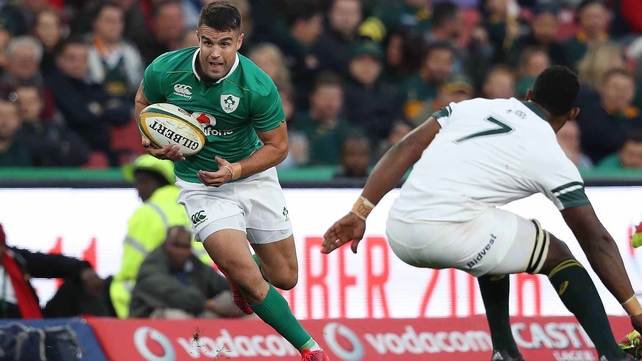 Earls will line up opposite South African wing Ruan Combrinck, who played a huge role in South Africa's second test comeback and has been rewarded with his first international start.
"Yeah, he was really impressive when he came on, really explosive," Earls said. "He's been doing well with the Lions and there's a lot of Lions players in the team this week.
"But I won't be looking at him any differently to any other winger I come up against. Hopefully the boys in the inside do the job and slow down the ball a bit and we get a lot of read time outside and keep them quiet."