You can't have it both ways, says Johnny Sexton, getting slightly angry.
The concussion discussion is still the hot ticket in town but Johnny's getting pretty fed up with ill-informed comment on the subject.
Some recent high-profile incidents of high and dangerous tackles have made the headlines.
The fans cheer, then wince at the replays. Bans are handed down, where appropriate.
"The values that rugby stands for sometimes get overlooked," Sexton tells RTÉ Sport.
"It's a physical game and guys like to be physical.
"[A big tackle] can lift a team, a stadium. People don't complain when they are in the stadium; they all go crazy when there is [a big hit].
"That's why people love to watch rugby, because it is a physical sport.
"Is there a risk of injury? Of course there is. Is there a risk of injury in every sport? Yeah, there is.
"Is there a risk of concussion in every sport? No, but there's concussion in a lot of sports."
An experienced rugby pundit suggests that tackling above the hips should be outlawed. It would lead to fewer concussions, he argues.
"The high tackling and the low tackling in relation to concussion is just not true," Sexton, who is an ambassador for the Topaz 'Cash for Clubs' initiative, says.
"There is absolutely no basis. It's just people just throwing a comment out, people who have played the game. I don't know why they are saying that.
"It's very disappointing because there's absolutely no correlation.
"Of course, you can get concussed going high, you can get concussed going low. I got concussed getting a ball kicked in the face from two yards away, so you shouldn't kick the ball during games?
"I got concussed getting a ball kicked into the face from two yards away, so you shouldn't kick the ball during games?"
"The first concussions were in football, defenders heading the ball. You can see it makes me a little bit mad.
"And it's people that were in the game that make me even angrier because the game gave them everything and then suddenly they find loads of problems with it when they're finished. It's quite annoying."
The Ireland out-half seems to be a lightning rod in the whole debate. While at Racing 92 at the end of 2014 he was rested for 12 weeks after triggering a concussion protocol.
Connacht and Munster have both stood down players this season, while Declan Fitzpatrick and Kevin McLaughlin ended their playing days due to concussion.
This, insists Sexton, shows that conditions are improving for players.
The argument goes that head injuries were always part of the game but now the medics are on the ball. If in doubt, the instruction is to sit it out, or even recommend retirement.
Getting there first is the key, says Sexton, who rejects the premise that it's a reactive action and does not tackle the cause of the issue.
"No, it is cutting the problem off at the source. That's why I got 12 weeks – to cut the problem off at the source.
"I didn't have a big problem at the time and the [doctor] that I saw thought 'let's take a pre-emptive measure now so that you don't end up with a problem', and then you're taking a rest not knowing if you are ever going to get back from it.
"So that was very pro-active rather than reactive. He tried to fix a problem before it happened because he felt that if I continued playing at that time and picked up another couple of bangs that maybe I would have a problem.
"Everyone's talking about it more because guys are getting laid off more and people think it's a bigger problem.
"It's not a bigger problem, it's actually less of a problem. [People are] becoming more aware and it needs to be [like that]."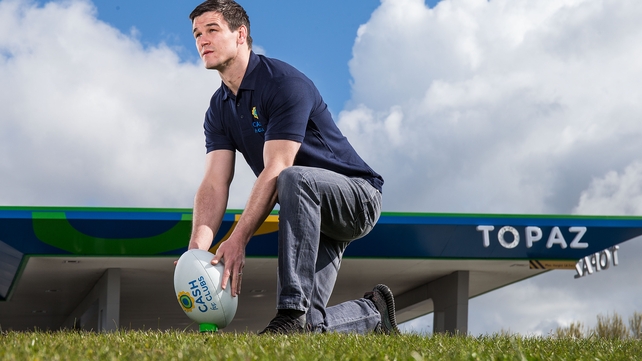 It didn't help that not only was it "external pundits", as Ireland coach Joe Schmidt put it, that were giving their tuppence worth, but opposing managers were adding to the mix too.
England's Eddie Jones even went so far as to bring Sexton's parents into the furore, suggesting they might be worried about the targeting of their son by certain teams.
"[Eddie Jones] just said what he said and I didn't pay too much attention to it because I knew it was probably mind games. You only pick up bits of it because obviously I wasn't picking up the paper every day to see what was being said.
"You only pick up snippets of it, which is sometimes worse that picking up the [whole] thing because how people relay it to you can be different that how it reads.
"It is tough to take at times but that just comes with the territory. It's annoying when people are reporting things about your health that aren't true.
"If I came out and spoke about someone in the media and said they had this problem with their health and that wasn't true how bad would that be from me?
"That was a frustration, talking about how worried my family must be. It was very disappointing. Even people in rugby that were throwing fuel on the fire.
"I was proud of the way I responded in some of the games in the Six Nations, and how I pulled it together and some of my performances."
Topaz has announced the return of Topaz 'Cash for Clubs', a community initiative, which offers clubs of all types and sizes from across the island of Ireland the chance to win up to €250,000 in cash prizes.