"You lived offside your whole career. How the hell did you get away with it?" is not the first question that greets New Zealand legend Richie McCaw.

The recently retired double World Cup-winning captain is in Dublin for a short stopover, and is holding court in a small office on the quays as an ambassador for AIG's Telematics car insurance scheme.

The phenomenally talented All Black left the game with all the medals.
"From an All Black point of view, you don't want to be the first team to lose to Ireland..."
In addition to the Webb Ellis victories, he was World Player of the Year three times, led his nation to ten Tri-Nations/Rugby Championship wins and claimed Super Rugby honours four times.

Of course nothing can take away from these achievements but during his career he was, to put it mildly, renowned for his ability to play the referee, it was unsurpassed.

Evident in game after game, as if engaging in some type of Jedi mind trick, he was able to extricate himself from the most stonewall of yellow card situations.

Instead of 'these aren't the droids you're looking for', it was 'that wasn't a sin-binning, Nigel'. And how it worked.

The 35-year-old managed to get away with just three yellow cards over his 148-cap Test career.

So how do you broach the subject with the man towering over you?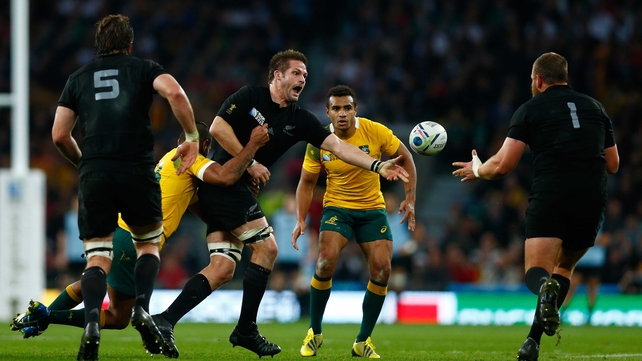 Help comes in the unlikely shape of Ross O'Carroll Kelly, self-proclaimed "the greatest Irish player never to actually make it in the game."

In his latest adventure, Paul Howard's fictional Southside Dub is up to his old tricks again.

McCaw listens carefully as he gets a crash course in how the RO'CK rolls.

A new set of triplets at home (Brian, Johnny and Leo) isn't enough to keep him on the straight and narrow and he sets up a Tinder account to try and find some no-strings-attached 'romance'.
"Refs are humans and some people look at things a little bit different"
Naturally, his long-suffering wife can't find out.

"I can understand that," says McCaw, recently engaged to Black Sticks hockey star Gemma Flynn.

Ross must use a nom de guerre for his dating app mission. He comes up with the perfect cover name.

"Oh dear," says the ex-Crusader, as it slowly dawns what's coming next.

Ross goes for 'Richie McCaw' – because he never gets caught offside!

"Well he would have been fine then, wouldn't he?" McCaw says laughing, much to the relief of the questioner. "He's nowhere near offside."

Asked if he would have any advice for the wandering Leinster Senior Schools Cup winner on the whole offside front, he says: "Well you don't get offside, do you? That's the way to not get caught."

But seriously, Richie, how did you manage it?

"Refs are humans and some people look at things a little bit different," he says.

"I did a bit of work on understanding that as well.

"It's how you communicate. If you're in their face you switch them off, they might sort of get annoyed with you.

"That's human nature, whereas if you know when you can push points or when you can just sit back and go, 'It is what it is today'. You got to be smart in that regard, I think."

"The big thing I always say is that if I went out on a rugby field and I've come off and I've given away one penalty, I go, 'well, I can accept that because you're obviously pushing things.'

"Two, well, you might debate one of them but any more that that you've let your team down and I've had a bad day, regardless of whether you argue the point."

The ex-wing forward made his debut against Ireland at the old Lansdowne Road in 2001.

It was, of course, another one of those nearly days for the home side. He played against Ireland another 13 times, all of which ended in victory for the All Blacks.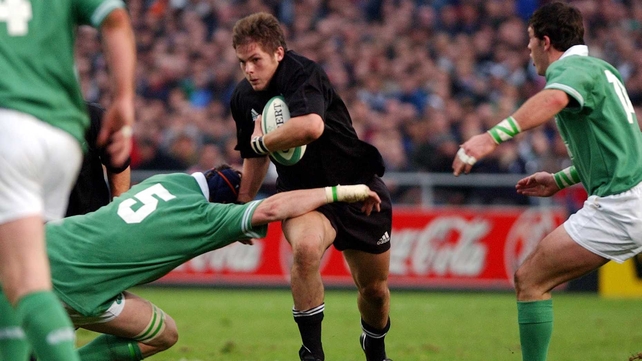 Has his impression of Ireland changed throughout the course of those Tests, from 2001 to 2013?

"We've a lot of respect for the way the Irish play," says 6' 2" McCaw, whose former team face Ireland twice later this year.

"And every game I've played it's been tough. I looked [back at] my first Test, and you know, the game was in the balance until well into the second half.

"You think of the last one in 2013, probably we shouldn't have won (New Zealand scored a converted try in injury time to win 24-22).

"The one in Christchurch, (22-19), again right down to the wire (in 2012).

"It's not that it's 'rock up and she'll be right'.

"We've had to work for every one of those games and the one thing I love and appreciate is the blokes you play against.

"They're all top people and they play for the same reasons we do and are competitive as hell.

"So I don't know if that answers your question but there is a lot of respect for the way the Irish go about things."

Ireland might always be underdogs when they play the Kiwis but the losing record that stretches back to 1905 now provides an extra incentive for the teams that line out, as if they needed any.

"From an All Black point of view, you don't want to be the first team to lose to Ireland, whether that's a driver, maybe it is.

"I know that last Test I played, we'd gone through unbeaten all year and I didn't want to trip up on that last one.

"Probably we should have but we didn't, so that's probably a driver as well.

"The other side of things is what do [Ireland] have to do different? I don't think there's any secret, it just comes down to one or two moments in games, that's often the difference."

While the recent Order of New Zealand recipient, the nation's highest honour, still talks in the present tense about his old team, it's not hard to see why.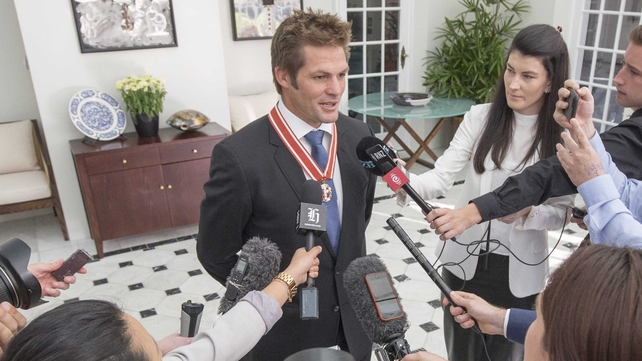 He was captain at 23 and led the side through thick and thin until he called it a day last November.

McCaw certainly bowed out at the top but could he have continued? Did he consider another season or two?

"There was a bit of both. I love playing," he replies.

"I still would love to be out there playing. There were bits during the week, the preparation, you've got to go through to get yourself ready to play.
"If it opened up (Kiwi job) and Joe (Schmidt) was the guy who wanted to come home and do that, I'm sure he'd do a great job"
"The body, on a Sunday morning, you're getting beaten up – that's the bit I started to get tired of.

"And I knew if that was going to carry on it would only get worse. Then your performance starts dropping off.

"The World Cup was certainly a massive carrot to keep going. I just worried that if I hung in for another year, what was the big driver?

"And the other side of it is a lot of your mates you've gone through with were all moving on the same time. Now that's a wee bit selfish but certainly that has an influence.

"It was the right time really. Rather than worrying about missing out on playing I'm looking forward to doing something else knowing that I gave it a pretty good crack."

The former Canterbury man admits he doesn't really know Joe Schmidt, whose current deal with Ireland takes him to 2017, and that he'd prefer if World Cup-winning coach Steve Hansen took the side through to the 2019 tournament in Japan.

"There's no doubt he's got the Irish team [that won] those two Six Nations going pretty well.

"He's a pretty astute man when it comes to the bits of the game, how to play, you can see that with the way Irish have being going about things.

"Well if the [New Zealand] opportunity opened, I guess I'm a bit selfish, it'd be nice to see Steve Hansen go on to 2019 but he hasn't signed up, yet.

"If it opened up and Joe was the guy who wanted to come home and do that, I'm sure he'd do a great job.

"Picking up the experiences he's picked up, pretty amazing really so he'd be pretty good."