Anthony Foley has denied that Munster are a team in transition and demanded that they reach the high standards expected by their demanding supporters as he received the backing of an opposition coach.
The province's hopes of escaping Pool 4 and making the European Champions Cup quarter-finals were severely dented by defeat at Welford Road by Leicester Tigers on Sunday.
They aren't anywhere near at the level of the Munster teams that won Heineken Cups in the last decade and look badly in need of rebuilding.
But head coach Foley insists that the Red Army have the players to compete at the top, with Leicester boss Richard Corckerill calling on supporters to back their under-fire coach.
"We're never in transition," Foley said.
"A club like Munster, you have to stay at the highest peak possible and the word transition never comes into it.
"We have an expectation amongst us to stay at the top and at the moment we're fighting hard to stay up there."
Foley couldn't hide his disappointment following the 17-6 defeat to the Tigers, which came just a week after losing to Leicester at Thomond Park.
This now leaves Munster struggling to reach the knock-out stages, with two games against Stade Francais and a further tie with Benneton Treviso left to play.
Those are all now must-win games, with Foley left annoyed by his team's lack of ruthlessness when they had chances.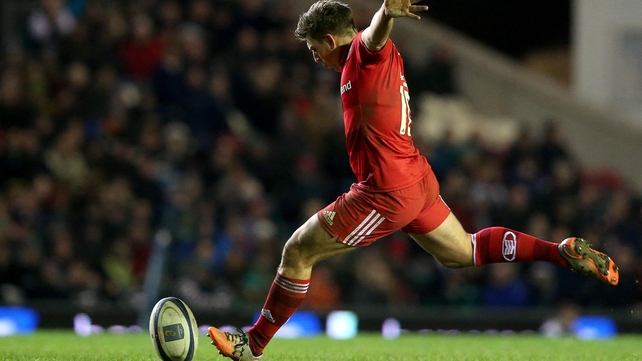 "We made hard work when we got into their 22; we didn't stay patient and we didn't score enough," he complained.
"We turned over the ball way to softly, a bit different to the way it was the last day in that we had clear cut opportunities."
He said that Francis Saili's intercept and break, which nearly ended in a try but resulted in the ball being turned over, was a game-changer.
"We have an expectation amongst us to stay at the top and at the moment we're fighting hard to stay up there."
Shortly after Leicester went up the field and got the match-winning touch down.
"We got turned over with the opportunity after Francis ran half the length of the pitch," he said.
"All those are massive moments in the game, massive turning points in the game and they take momentum away from you.
"I'm proud of the boys for what they did and how they went about the game, but that can't mask the disappointment of not being clinical enough.
"We weren't ruthless enough and when you come here you have to mind the ball. We have to be lucky enough to get those opportunities and then capitalise on them. I thought the boys created and didn't finish them off and that's the pain we will feel."
The kicking form of Ian Keatley, above, is also a concern for Munster, with the out-half having another day to forget off the tee.
The win leaves Leicester in good shape to qualify, though their head coach Richard Cockerill says this was a tough game and he had words of support for his opposite number.
"I thought Anthony Foley did a great job getting them prepared coming here. If you look at the detail of the game and not just the result, Munster were very lucky not to get more out of it," he said.
"Anthony Foley has had a lot of stick, but he's a good coach and a Munster man and he's doing a hard job.
"Coaches should stick together because it can be hard some time. Munster were good here, people should get behind them and Anthony Foley like Leicester have done with myself.
"You can build something good around those people."