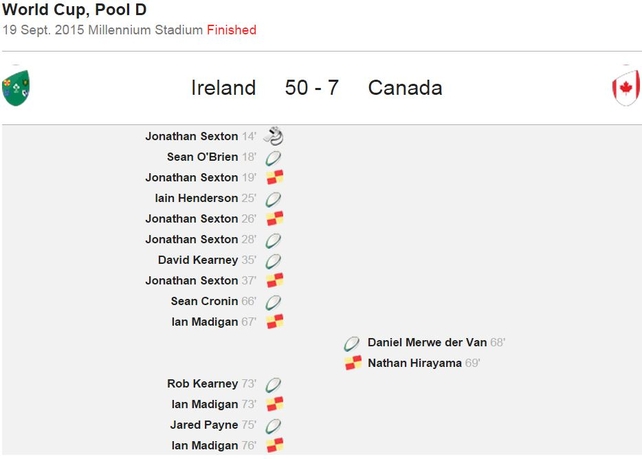 Ireland played the role of lean, green machine for 40 minutes and finished with enough of a flourish to put up an impressive total on the scoreboard as they beat Canada 50-7 at the Millennium Stadium in Cardiff in their opening Rugby World Cup Pool D clash.
Tries by Sean O'Brien, Iain Henderson, Jonathan Sexton, Dave Kearney, Sean Cronin, Rob Kearney and Jared Payne and eight successful kicks at goal saw Ireland rack up a half-century of points.
Canada deservedly got a try of their own, through star winger DTH Van Der Merwe, having improved throughout the match.
Canada actually had the first chance of the match but scrum-half Gordon McCrorie missed a penalty from long range.
Ireland's class then began to show soon enough, a powerful carry by flanker O'Brien and a Sexton kick to touch on the bounce in the corner, putting them on the front foot.
Irish pressure resulted in a penalty being awarded to them yards from the Canadian line. Captain O'Connell sensibly pointed towards the posts and Sexton knocked the kick over to set the scoreboard in motion.
That momentum was maintained and Ireland were soon back in the Canadian 22.
The balance then shifted decisively for ten minutes when Canadian captain Jamie Cudmore, the pantomime villain for the day, was then sent to the line for playing the ball on the ground from an offside position. Immediately after, a lineout maul resulted in O'Brien getting Ireland's first try of RWC 2015.
Ireland fans turn Cardiff green - See the best of the fan photos from #IREvCAN https://t.co/s1Mnx5EOPU

— RTÉ Rugby (@RTErugby) September 19, 2015
The backline almost produced Ireland's next five-pointer, a smart move which saw Rob Kearney taking the ball at first receiver and Conor Murray looping around his centres to give Keith Earls a bit of room. That move was held up just short, but a strong Irish scrum followed and Henderson was able to barge over with relative ease soon after.
A superb kick to touch 'against the grain' by Sexton put Canada back within yards of their own line within minutes.
This time, Sexton himself took advantage, a smart exchange of passes between himself and O'Brien in midfield putting him clear and he had just enough pace to beat the cover and dive over in the corner. The Leinster man had landed his first two shots but the touchline conversion proved beyond him this time.
Cudmore returned at that point with Canada having conceded 19 points in his absence.
The pick of Ireland's tries came next. The ball was moved smartly from one wing to the other and back again, and with Ireland holding their depth and timing their passes well, Dave Kearney was able to zip in untouched with two men outside him. Sexton converted again.
Canada finished the half with a bit of a flourish as out-half Nathan Hiaryama began to exert a measure of influence from out-half. South African-born winger DTH Van Der Merwe did eventually cross the whitewash but play was called back for Hirayama's tipped pass going forward and the try was cancelled.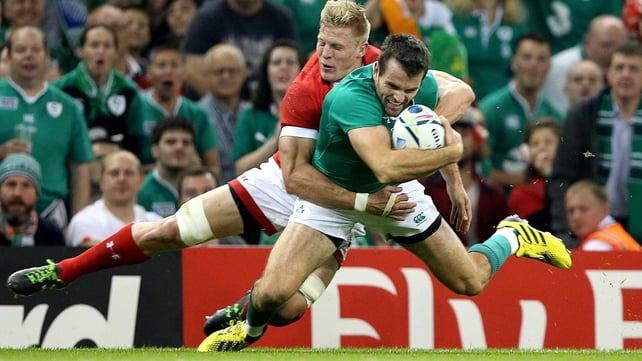 It had been a near-perfect 40 minutes to start Ireland's Rugby World Cup campaign but Ireland were unable to sustain the momentum early in the second half.
Canada were given a huge boost when O'Connell was shown a yellow for offside and the game then meandered along then for a period, albeit with Canada looking increasingly more dangerous when moving the ball wide.
Ireland gradually ground them down though, showing a touch of class here and there as they did so. A lovely break by Luke Fitzgerald, slicing past two tacklers, brought Ireland within five of the line again only for Rory Best to be shoved into touch a couple of feet from the line a few plays later.
Henderson stole the lineout only for Earls to fluff his lines, dropping a simple ball with a huge overlap to his right.
With 55 minutes gone, Sexton was replaced by Ian Madigan and a brand new front-row consisting of Cian Healy, Sean Cronin and Nathan White soon followed him into the fray with Chris Henry and Eoin Reddan not far behind.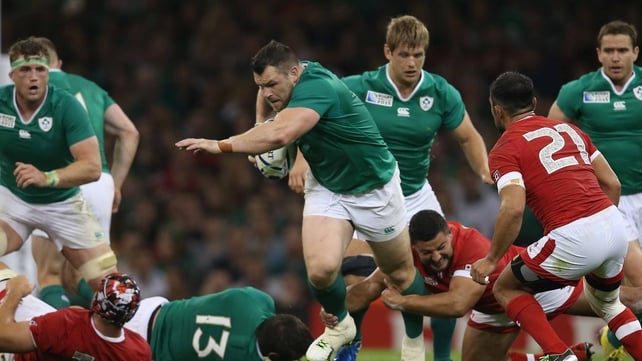 But Canada continued to have the better of it and Van Der Merwe crossed the line for a second time only for play to be brought back for offside – correctly in this case.
Normal service resumed for most of the remainder of the half. Ireland got their first try of the period when a powerful driving maul gave Payne a chance to run hard at the Canadian defence inside the 22. He was just stopped short but Cronin was on hand to cover the last yard and score under the posts, and Madigan was able to convert.
Payne was badly caught out in the next play, his poorly conceived chip going straight into the arms of Van Der Merwe, who had the gas to beat the cover and score out wide. Hirayama was able to convert to give Canada a well-deserved seven points.
Canada threatened again as the clock wound on, pinning Ireland inside their own 22, but a quick breakout attack reached Earls and he was able to stretch clear of most of the cover, draw the rest and release a lovely pass inside to Rob Kearney for Ireland's sixth.
Madigan created the seventh, ripping through a narrow gap in midfield and releasing Payne who took a nice line and cantered over, again under the posts. Madigan converted to bring up Ireland's half-century.
Overall, a solid performance with key men like O'Connell, O'Brien and Sexton showing signs that they are coming to the boil. However, the period after half-time, and the concession of a try and several other chances which Canada were unable to take, will give Schmidt and co plenty to work over the next couple of weeks.
Ireland: Rob Kearney; Dave Kearney, Jared Payne, Luke Fitzgerald, Keith Earls; Jonathan Sexton, Conor Murray; Jack McGrath, Rory Best, Mike Ross; Iain Henderson, Paul O'Connell (capt); Peter O'Mahony, Sean O'Brien, Jamie Heaslip.
Replacements: Sean Cronin, Cian Healy, Nathan White, Donnacha Ryan, Chris Henry, Eoin Reddan, Ian Madigan, Simon Zebo.
Canada: Matt Evans, Jeff Hassler, Ciaran Hearn, Nick Blevins, DTH Van Der Merwe, Nathan Hirayama, Gordon McRorie, Aaron Carpenter, John Moonlight, Kyle Gilmour, Jamie Cudmore (captain), Brett Beukeboom, Doug Wooldridge, Ray Barkwill, Hubert Buydens.
Replacements: Benoit Piffero, Djustics Sears-Duru, Andrew Tiedemann, Jebb Sinclair, Richard Thorpe, Phil Mack, Liam Underwood, Conor Trainor.
Referee: Glen Jackson (New Zealand).