Cast your mind back to 8 October 2011: Ireland v Wales at Westpac Stadium, Wellington, New Zealand.
A Rugby World Cup quarter-final and what seemed at the time Ireland's best chance of reaching a semi-final at rugby's greatest tournament for the first time in the country's history.
Declan Kidney's team were coming off the back of winning Pool C, the first time ever an Irish side had topped a RWC pool, and en route to doing so had dropped Australia 15-6 in a quite superb performance that highlighted Kidney's men as a team to watch at the event.
To compound the excitement and confidence of the Irish squad, fans and media alike, that win over the Wallabies was the first Ireland had secured over Tri-Nations opponents in the southern hemisphere since 1979. They were heady, dream-filled days, but on the day Wales massacred Ireland with a defensive masterclass and a rapier edge in attack that Ireland simply had no answer to.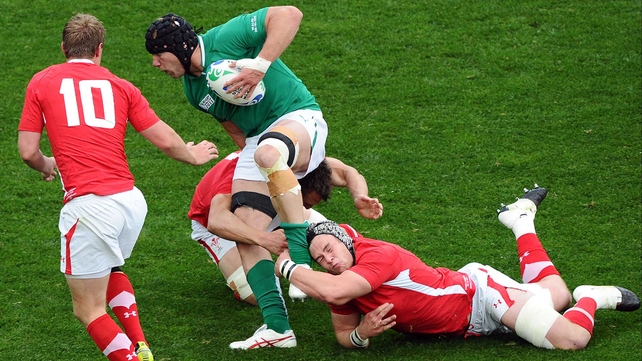 And back to the present day. On a wet, yet warm Irish summer's day, Johnny Sexton, who came off the bench at out-half for the final 25 minutes of that match against Wales, sits in a boardroom taking questions from the press as Ireland prepare for their next World Cup adventure: an adventure that many believe will finally yield a place in world rugby's top four for Ireland.
When asked to look back on 2011, Sexton interestingly reveals that over-confidence was perhaps Ireland's biggest weakness going into that encounter, which is perhaps a timely sentiment given the belief that surrounds Joe Schmidt's squad as the autumn looms.
"Things were going so well for us. I was sat on the bench for that game, so I had to look on which was tough, in many ways," said Sexton. "It was going great and the whole country was behind us. Whether it was complacency or whether we just got beaten on the day I'm not sure. It's hard to put a finger on it. You need to get the rub of the green," said Sexton.
Sexton also highlighted that narrow differences in performance can become chasms in scorelines when standards slip and highlighted that Ireland need to ensure they are on the right side of the error count in the big games at the upcoming World Cup.
"It's going to come down to small margins, we made key errors on that day against Wales. A couple of key errors close to their line and then we allowed them to score pretty easily when they were close to our 22.
"You have to win small moments for the game to go your way," said Sexton. "The Welsh having won that game against us went and lost the semi-final by such a small margin [one point against France] – an inch short with Leigh Halfpenny's kick, and Sam Warburton's red card. Those things are the things you learn from and give you half a chance."
The Ireland squad have two warm-up Tests remaining before their first RWC clash against Canada on 19 September at Millennium Stadium. And the focus within the squad is very much on those warm-ups at present, with tactics and thoughts on approaching the pool games to come at a later date.
"We haven't looked too far ahead. We haven't even looked at our first pool game against Canada to be honest," said Sexton.
"At the moment we've a bit of a break, and then when we come back in on Sunday night it will be very much Wales-focused again, on how we can perform best against them in the warm-up, with a view to the World Cup. A lot of the things we're working on now will carry over into those pool matches.
"When it comes to the pool games, we'll focus on the individuals we are going to be playing against and tactics to play against those teams. But a lot of the core things that we're working on will carry us through."
French fitness
The last of Ireland's Pool D matches is against France on 11 October in what is billed as a pool decider. Les Bleus lost the first of their warm-up matches against England last week, but Sexton was impressed by Philippe Saint-André's team – most especially their fitness after an intense six-week training camp, including a week in the Alps in Tignes.
"Yeah, I watched the game against England," said Sexton. "It was obviously a typical summer match in the terms that both teams haven't played a lot of rugby, but both teams were quite impressive in different ways. And looked like they were able to up the pace at times.
"At times the French don't have that preparation that we do [because of the Top 14 schedule]. It can be tough for them. But they've had so long together now that they look very together in terms of spirit.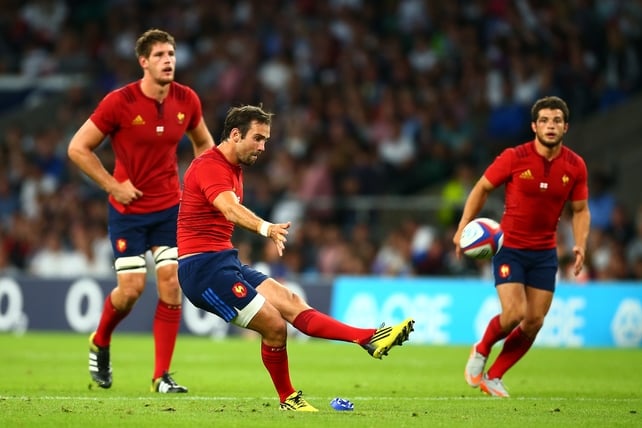 "They're a very dangerous proposition and obviously we get to play England in a couple of weeks so we'll get to see them up close."
With 40 odd players in the extended training squad at present there are a lot of bodies on the Carton House pitches and Sexton revealed that with so many players, two teams are usually set up on training week, and train as units, with the remainder focusing on fitness and drills.
"It's been changed up in training I suppose," said Sexton. "Come match weeks there's been two teams picked and the other guys just get flogged on the pitch behind them fitness wise so we're not foo far behind when we've got to play in those teams," said Sexton.
"Those guys that have been in the depths of pre-season down there will hopefully jump in to play the Wales game next weekend and we'll be back in to training from there."
Following his press duties, Sexton jokes about giving Paul O'Connell some CDs to brush up on his French ahead of his move to Toulon, as well as some tax advice on moving abroad. He gives the impression of a relaxed man, happy to be back living in Ireland, and happy to be about to lead the Ireland back line into the jungle that is the challenge of the Rugby World Cup.
Jonathan Sexton was speaking at a media event to show his backing for the Smart Flies Aer Lingus campaign.