Hurricanes 14-21 Highlanders
Eliot Dixon scored one try and set up another for Waisake Naholo as the Otago Highlanders beat the Wellington Hurricanes 21-14 to win their first Super Rugby title on Saturday.

Lima Sopoaga completely outplayed his All Blacks opposite Beauden Barrett with a superb kicking game and slotted two penalties and a conversion for the visitors, before Marty Banks slotted a 78th-minute dropgoal to seal the win.

The Hurricanes, who had topped the regular season table, were unable to exert themselves on much of the game with the Highlanders slowing down their ball at the breakdown and playing the game at their own pace.

The home side also made numerous errors and wasted a wealth of possession with sloppy handling and accuracy while attempting to play too much rugby inside their own territory.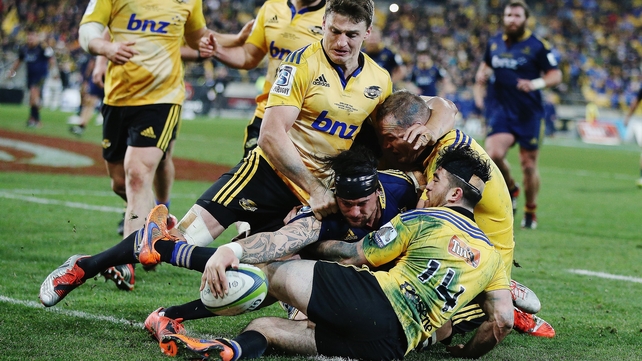 Dixon, who was easily the best player on the field, had given his side a 13-5 lead at half-time with a 40th-minute try.

He drove through four defenders but appeared unsure if he had grounded the ball as he reached out in the tackle but television match official Ben Skeen advised referee Peyper to award the try, which was converted by Sopoaga.

The match was played at a frenetic pace with Sopoaga's fifth-minute penalty the only points in the first quarter despite both sides hammering away at each other.
Sopoaga added a second penalty in the 29th minute to give his side a 6-0 advantage before Hurricanes centre Ma'a Nonu crashed over for his side's only first-half points shortly before Dixon's score.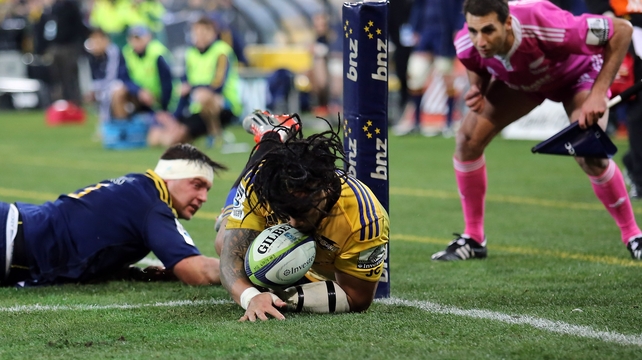 Barrett, who had missed three shots at the goal in the first half as the home team failed to build any scoreboard pressure, slotted three penalties in the second to drag his side back into the game, though the Highlanders shut the game down in the last eight minutes to hold on for the victory.
The Edinburgh-bound Manu told Sky Sports 1: "I'm so proud of the boys and we always believed that we could win if we performed well on the day. I'm just really proud of the boys and what a way to end the Super Rugby.
"We just play as a team. We're a champion team and to come away with a result..."
He finished by thanking the fans for their loyal support throughout the season, adding: "We want to say a big thank you to all our supporters who managed to get to the game.
"You guys have been awesome for us the whole year and we're just glad we could get the win for you guys."
Man of the match Dixon was delighted to contribute to the win.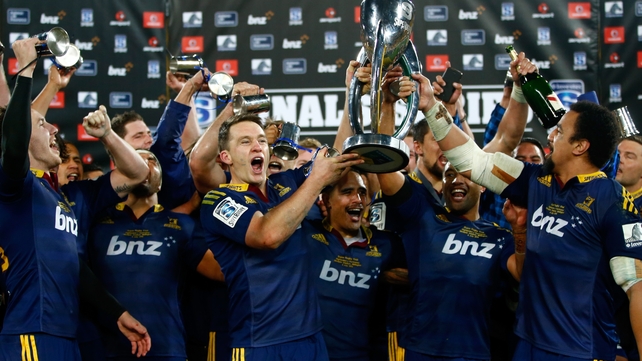 He said of his try: "I thought I got the boot and the ground at the same time so I don't know. A couple haven't gone my way this year so I thought I was probably going to get no good from the TMO but I was pretty happy when it went over."
The Highlanders knocked out defending champions the Waratahs in Sydney last week and Dixon was pleased with the hard work they put in ahead of the season with which they have built on.
He said: "I think (head coach) Jamie Joseph said three weeks ago that people don't stumble upon quarter-finals or semi-finals but I think we did our work in the pre-season.
"We knew deep down we're a championship-winning team. We just didn't get the support that we thought we should have earned and I think we showed everyone tonight that we could do it.
"I think that Waratahs game - some people called it boring rugby, but it was just tactics and we knew that was how we had to win. We came here with a never-say-die (attitude)."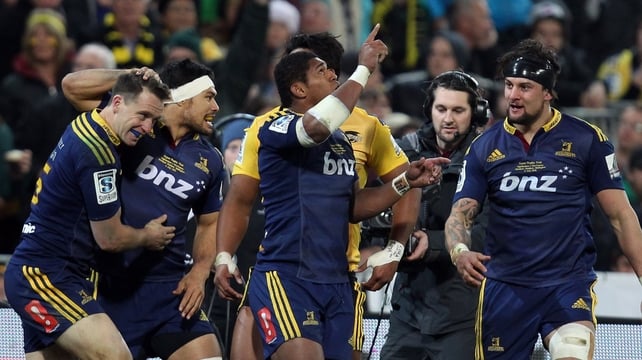 While outgoing Hurricanes captain Conrad Smith was obviously disappointed with the result but believes his side will get their maiden title in the near future.
He said: "I don't know what to say. It's finals footy, there are some gutted men to my right but I'm still proud of them.
"I'm proud of what they've done and I'm proud of the last 12 years that I've worn the swirl (Hurricanes badge).
"It didn't work out tonight but we met a Highlanders side that played their best and I just take my hat off to them. They deserved to be victorious and deserve to have a good night.
"Wellington, you've got a good team here stick with us. I won't be playing any more but there'll be plenty of good times ahead and we'll get the trophy for you - I promise."