Ireland are going in to this year's World Cup to win it, according to a bullish Cian Healy.
After successfully defending their Six Nations title, Ireland will go into the competition on a high, as the highest ranked northern hemisphere side lying in third position overall.
Having won 17 of 21 games during Joe Schmidt's time as head coach, including wins over Australia and South Africa, and successfully defending their Six Nations title, Ireland are high on confidence and apparently able to cope with such historically lofty expectations.
Those expectations were reflected by prop Healy, who was unequivocal when asked about Ireland's approach to the World Cup in England later this year.
"Under the 'Joe Show', and [with] the attitude everyone has, I'd have no qualms in saying we're going into it to win it," said Healy.
"There's nothing else is on our mentality. We've gone from strength to strength. Every player loves being in there, and the environment is amazing."
Currently recovering from neck surgery, Healy has endured a difficult season on the injury front, missing four months with a serious hamstring problem before coming back to play a part in the Six Nations triumph.
He said that getting an enforced chance to look at the set-up from outside helped him see how special the atmosphere was.
"No one goes in to a competition to lose it"
"It made me really realise that, coming back in this Six Nations after missing the Autumn [series], you can kind of see from being on the outside and then inside how much everyone loves that and thrives on it.
"We have a team like that, with that attitude of being together, under the guidance of Joe, Kissy, Feeky and Simon [Easterby] and them you're going in the right direction. As well, no one goes in to a competition to lose it."
Healy was speaking at an event in Dublin to launch Flexiseq sport ointment, and gave good news on his own progress following surgery, even if it has been frustratingly slow.
"I've already started rehab work and body weight work," he said. "It's depressing but it's working towards being able to do a push-up. We got to that stage there yesterday and now it's starting to move on again.
"I'm not really one that's able to sit around on an injury and feel sorry for myself."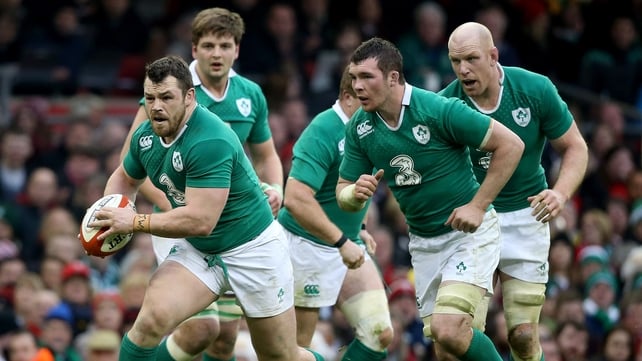 He predicted that he would be back taking part in full scrummaging by the end of July, which would allow him to take part in Ireland's World Cup warm-up games against Wales and Scotland in August, and England in September.
"There's going to be something going wrong for me to not make it. From now there's not much that can go wrong. The surgery was successful."
Although his movement is still restricted following the operation, and he still has inflammation in his back, the Leinster star was upbeat about his upcoming period of recovery compared to the four months he missed earlier this year with a hamstring tear.
"Coming back from the hamstring [injury], the worst thing about it was being so unfit. I lost so much fitness because I couldn't walk, couldn't jog or run for so long. There was nothing really that I could do to maintain that cardio side of it.
"You sit down with a surgeon, you look like you're seeing a ghost"
"So now, going into this, once I've got the right movement back in my upper body, I'm going to be working on my fitness and that's going to be the goal for the next couple of weeks.
"Whereas usually, I'd plug away on strength work, we're going to be setting up a plan where there is less strength work to do and more about becoming fitter, faster and more durable. So trying to become Sean O'Brien, really," he joked.
He tried to downplay the significance of the injury, saying every prop could expect to have a stiff neck, but admitted that once he went to a consultant, following a flare-up in Leinster's Pro12 game against Treviso, "The lads judged it fairly severe, so they met me, and took me in to surgery the next day".
Although he has looked on the positive side of things throughout this latest injury, Healy made no bones about the stark possibilities outlined by his surgeon.
"You sit down with a surgeon, you look like you're seeing a ghost," he said.
"They're going to list off every worst possibility, and then finish with a bit of good news. I was told every possible outcome, and then I was told there's a much higher chance of success. It finished good."
The neck injury was just the latest in a list of injuries for Healy. As well as his hamstring tear, he has struggled with problems in his ankles, first suffered during the 2013 Lions tour of Australia.
Healy said rehab of his hamstring and ankle problems were now just part and parcel of his preparations now, and that he has modified his training as his career has progressed.
"I've changed it a lot more to kind of pre-arm the body; work mobility, work strength and mobility work in those vulnerable positions where you might be stretched out and stuff. I've started pilates [...] and that's helped a lot for strengthening me up.
"In the last couple of months I took in an hour's stretching before bed. Instead of sitting on the couch I'll be stretching on the floor.
"And getting in to training a bit earlier, too; a bit more of a switch-on with a few more core exercises. So at the start of your day, your body has been moving, you know; you're not going straight from breakfast into the gym, cold.
"It's like you'd expect: you should have something triggering your muscles off before you go in and try something hard. So that's something I've brought in on both ends, morning and evening, and the evening thing, it's helped my sleep and everything.
"It's been a complete turnaround for me."