Leinster have reported good news on the injury front, with Jamie Heaslip's shoulder problem not as serious as feared and Cian Healy and Sean O'Brien in line for returns later this month.
Leinster scrum coach Marco Caputo also reported that Marty Moore, Shane Jennings, Eoin Reddan and Rob Kearney were back in contention for Leinster's Pro12 trip to Cardiff this weekend.
Heaslip was forced off before the half-hour mark against Ulster on Saturday with what Caputo confirmed was an AC injury.
However, Caputo downplayed the seriousness of the injury and confirmed that Heaslip could potentially play next weekend, and would be fit in time for Leinster's Champions Cup game against Castres on 17 January.
"[Jamie's injury] doesn't appear too serious," Caputo said. "So, it's a question of whether we expose Jamie, and whether we err on the side of caution with him.
"With Jamie, everybody just expects that he just has these huge healing medicinal powers, he's just so resilient, but I guess when you take him off the pitch, it sort of gives you a reality check."
Caputo also pointed out that Leinster are not short of resources in the back row, Jack Conan having put in a man-of-the-match performance after replacing Heaslip at number eight against Ulster.
"But if we needed to roll [Heaslip] out, if we were playing a final on Saturday, we'd certainly be able to do that," he said. "We'll put him in cotton wool and make sure he's okay for the run home."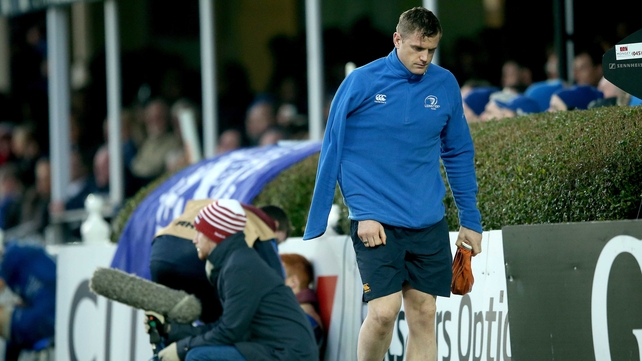 There was further good news regarding Shane Jennings, who was a late withdrawal against Ulster after he felt a tightness in his hamstring.
Caputo revealed Jennings himself had made the call last weekend, and said that the player was now back in contention to travel to Cardiff on Saturday, if needed.
Leinster's longer-term injury concerns were also beginning to see "a little bit of light at the end of the tunnel", Caputo said.
"We'll put him in cotton wool" - Marco Caputo on Leinster plans for Jamie Heaslip
"Marty Moore has been put through the ringer over the last couple of weeks," he said. "He's been involved for the last fortnight in full contact. We've done some live scrimmaging sessions, and he's been doing extras over and above the rest of the group.
"He could have probably been involved in the group last week, but we erred on the side of caution with him.
"He'll come into the mix for the 23 this weekend, as will Rob Kearney [and Eoin] Reddan."
Cian Healy and Sean O'Brien were a few weeks away from a return, Caputo said, but might be available for Leinster final Champions Cup group game against Wasps on 24 January.
"There are a few boxes that they need to tick, as far as being available for selection, but we're hopeful that both of those guys may be available for selection."
Caputo said Leinster were hopeful that Jack McGrath would be available for selection after the prop was cited for an alleged stamp in the win over Ulster.