By Tadhg Peavoy
As the nights draw in, the temperatures drop and the leaves turn to brown, each international rugby team winds down until winter training camps, and looks back to reflect upon the year that was.
For Ireland, in Joe Schmidt's first calendar year in charge of the national side, it was a year to be savoured. A first Six Nations title since 2009 - just four measly points away from a Grand Slam - added to an unbeaten tour of Argentina and a three-match unbeaten autumn against South Africa, Georgia and Australia. It was, by any standards, a fantastic season.
The Six Nations title was made all the more impressive by the fact it came in the cycle of away games against both England and France, the supposed tougher of Ireland's challenges. The summer tour was distinguished by the fact Ireland beat Argentina twice with a squad far from full strength. And then the autumn was marked by one of Ireland's greatest ever rugby performances in dismantling the world No 2 Springboks.
But all that is history now, and the 12 months ahead are the next challenge for this high-flying squad of players. The side has gone from ranked seventh to third in the world and Johnny Sexton, the inspirational outhalf of Schmidt's side, admits as much, as he sits in a Dublin 2 office, dressed down in a navy jumper and cargo trousers.
"I think we can keep that level of improvement up," says Sexton.
"The most important thing is that you don't come back revisiting old mistakes, and I don't think we're doing that. I think we're sort of learning as we go and there's plenty more to work on going forward.
"We need to do some things in attack better than what we did. I think there's plenty to improve on and I think we can do that. And I don't think our coaches will demand improvement and will by no means be happy with what we achieved. We'll have to go again.
"We can draw a line under 2014 and be happy with what we achieved. But many of us feel we left a Grand Slam behind because we had the winnings of that match [against England] in Twickenham. We'll have to go again in the Six Nations and try to do it all over again.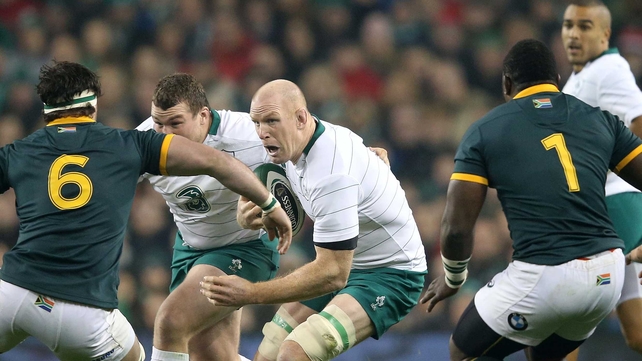 "We know the high that [our success] gives the country. The expectancy is nice, but the pressure Paul [O'Connell] puts on us as captain, and we put on ourselves, is the pressure that matters."
2015 Rugby World Cup still in the distant future
The Dubliner also feels that the landscape will change in the nine months proceeding the World Cup, saying: "For me the World Cup is so far away that you're going to be in a totally different place.
"Injury-wise, I'm sure we'll pick a couple more and lose a couple of players. We'll gain a few back again as well. Cian Healy, Sean O'Brien - if these guys come back and we can keep everyone fit and we go to the World Cup with 30 guys that are pushing each other along, we'll be in a better shape than we are now. I always view it [the November Tests] as the start of next season, rather than the back of this season - whether that's right or wrong."
Lessons learnt from New Zealand defeat in November 2013
Perhaps the biggest lesson Ireland had to learn from 2013 was defending slender leads late in ties. The heartbreaking 24-22 defeat to New Zealand at Aviva Stadium on Sunday 24 November, courtesy of a last-minute try by Ryan Crotty and conversion from Aaron Cruden, was a seminal moment in Irish rugby. And for this team it was crucial in their advancement that they changed their mentality to make sure that didn't reoccur this year. The team succeeded in that sense, holding off late surges from France, Argentina and Australia.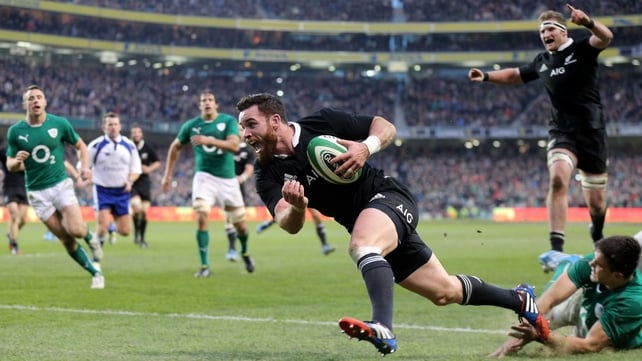 "I suppose the big learning was the last seven minutes against New Zealand and how we could do things differently," says Sexton.
"It was the worst video session you could imagine having to relive that seven minutes again and the defensive errors that we made.
"We learnt from them, when they had us under pressure in that last seven minutes we didn't make those same errors in our defensive system, we stayed patient and we turned them over.
"From that regard it's great learning. I'd still like to go back and play that seven minutes again, but I'm sure we'll face them over that World Cup campaign."
Working on exit strategies following the seven minutes of hell against the All Blacks
Indeed, much work has been done in Carton House on those defensive structures, and improving them to a level befitting a top international Test side. This has been done slowly and methodically, building on defence coach Les Kiss' previous work.
"We work hard on our defensive strategies because we know that against the southern hemisphere teams and against the best teams in the Six Nations that they're going to have periods of pressure in your own half and you have to put the pressure back on them," says Sexton.
"It's an area we work hard on. Defensively we've got some good systems in place that we've developed with Les [Kiss], and we've stepped that up over the last couple of weeks. We showed some good parts of that, especially in the second half against Australia, where we got told off a bit at half-time. We know some of the stuff in the first half was good, but you miss a couple of tackles against Australia and you concede 14 points.
"That's the bottom line. You miss out on one offload. It's fine margins against these southern hemisphere teams and New Zealand made us pay and Australia made us pay."
Losing their 17-0 lead against Australia
One area that Schmidt may focus his crosshairs on over the coming weeks of analysis is Ireland's seeming fragility when holding a lead. Against New Zealand in 2013 they led 19-0 after the first quarter, and only scored three points in the remaining hour of play. Against Australia they led 17-0 inside the first quarter, and only scored a further nine points in the remainder of the tie. However, Sexton feels that Ireland were unlucky not be further ahead in that first quarter against the Aussies and that bar for the bounce of a ball they could have been almost out of sight.
"We just had a couple of things we had to tidy up on. We weren't sticking to the tackle as well as we had to against such a good team," says Sexton. "I suppose we're 17-0 up, we're on the attack, Simon [Zebo] goes for the offload to me, and if I had got there, and [Bernard] Foley hadn't got a hand in, it could have been 24-0 and we would have been been by no means disgusted with that. But instead they're in under our posts and it's 17-7 and the game is totally different, they get another quick try and before you know it, it's game on again.
"We're proud of the way we battled back and the way we stuck in there. You fall off one or two tackles against Australia and they make you pay, same as New Zealand, same as South Africa."
The threat of Phipps, Foley and Toomua
The Wallaby trio from 9-12 of Nick Phipps, Bernard Foley and Matt Toomua is one of the most tactically flexible in international rugby and playing against them was a challenge that stretched Ireland in ways none of the other top ten teams in the world has this past year. Indeed, this creativity was what led to Ireland kicking so much ball – 34 times - back to the opposition.

"I think they used them quite well, especially off kick-offs. Toomua came in at first receiver and they sort of split them," says Sexton. "So it's hard for us in the backfield. They played three of four phases in their own 22, which is dangerous. But they looked after the ball, and when they kicked to us we weren't really in a position to counter-attack because we have a few backs in the ruck and a few guys off their feet.
"So, we had to kick a lot of balls back to them, rather than run it back, and risk turnovers on our own 10m line. Because they'll punish you. And we thought that with the back three that they had they weren't going to kick much back to us.
"If we kicked back to them they were going to try to run it out. It was a little bit, you know, chess-like at times, and we had to be patient. It probably wasn't great to watch in that regards, but the courage in defence, and how much we wanted to win, probably got the crowd up for it more than anything else, so to speak."
Defending against Australia
The Boks and the Wallabies certainly present different threats when in attack, and Sexton describes the African side as more direct and linear, while the Oceania side is far more unpredictable and 'frightening' in attack.
"We drew similarities between them and South Africa in terms of their physical capabilities, but in terms of how they challenge it's totally different," says Sexton. "South Africa with Jean De Villiers and Jan Serfontein - they came really direct. With Australia they had that threat of coming direct with Tevita Kuridrani, but then they had the threat of Toomua and Foley and the threats out wide, it's frightening."
The fluidity of Ireland's midfield and the future of Stuart Olding
Centre has a been a fascinating area in the Ireland side since O'Driscoll's retirement. In five Test matches there have been five different pairings in the 12 and 13 shirts as the talent jockey for position to grab hold of the 13 shirt in particular. It's certainly a change to the days when BOD was the first name on any Ireland team sheet.
"It is different and when you are working with different guys; the timing might not be perfect because you haven't form [of playing together]," says Sexton. "But come Six Nations those relationships will be a bit better. But the guys in the centre, guys like Stuart Olding, showed glimpses of what he can do against Georgia. He's obviously playing fullback [at the moment], but when he gets more games with Ulster, he'll be a great option going forward.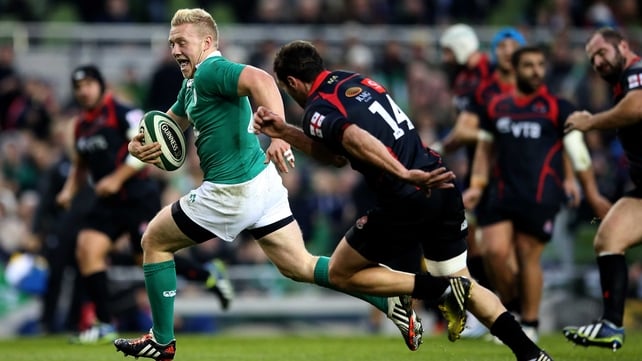 "I think he's a first centre. He's played a lot at ten and he has the potential to be a second five eighth.
"He's shown some great things in training and I'm really looking forward to working with him.
"If you can have an outhalf there [at inside centre], who's a second pair of eyes, or a second pair of hands or a kicking option, it can be a good thing. But there's times when you need a big No 12 looking after you, and someone you can just chuck it to, to truck up the centre."
Conor Murray's rich vein of form
An area of strength for Ireland over 2014 has been at No 9, where Munster scrumhalf Conor Murray has been a star performer, and Sexton feels the partnership between he and his fellow half-back is beginning to really gel.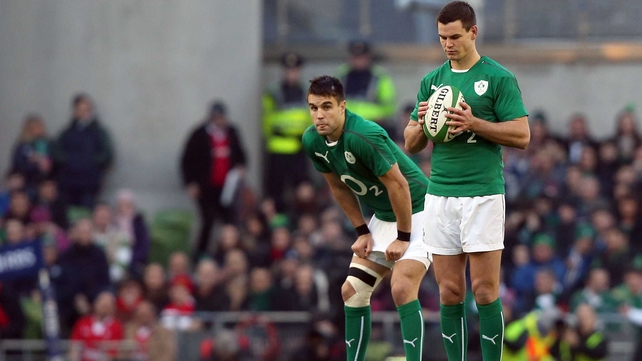 "Conor's in great form. We got off to a slow start together and that's only natural when he's playing with Ronan [O'Gara] in Munster and I was playing with Eoin [Reddan] in Leinster, and we weren't really used to each other," says Sexton.
"Now we've got a great relationship and we work well together. We're getting to know each other. And I think him and Reddan are really pushing each other forward. Reddan's part of the leadership group and it's great that we have those two to push each other and get the best of each other."
Developing Ireland's attacking game
Seven wins on the trot has Ireland just three games away from equalling their best ever run of results in international rugby. If Ireland are to beat Italy, France, England and Wales in the spring of 2015, to beat that record, one might think they need so show more going forward, and Sexton is in agreement, feeling that more time in camp at Carton House will help in this regard.
"You've got two weeks to prepare for three big games [in the autumn]. When it comes to the last game you have a lot of guys nursing injuries and not training as much. You're limited in time, but that's also not why we didn't show everything," says Sexton.
"And we maybe lost a couple of lineouts against South Africa. Australia made it difficult to win back ball. And there's plenty of other reasons why we didn't [excel in attack]. When we don't win set-piece it's difficult to launch an attacking game.
"Cheiks [Australia head coach Michael Cheika] was probably critical of the amount of kicks because he wanted us to run it back at them and get guys like [flanker Michael] Hooper involved in the game.
"We wanted us to challenge them in the air. We tried that, but a couple of kicks went too far. But that's not the end of the world, rather than be a little bit too far under their posts, rather than being a little bit short on their 10m line, or the halfway line, and attacking us for 15 phases. So, like I said when we get the personnel back, and get out set-piece right to attack from, I'm sure we'll show what we want to. We want to play more than we did.
"I think we played with the ball a little better in the second half against Australia. Yeah, we didn't show a lot, but that just means we don't have to come up with a lot for the Six Nations, we can just use what had planned to use and show it then, and we'll take that positive.
"It's great to be talking about deficiencies in our play off the back of three wins. It's a great place to be and we'd be talking about the same things if we'd lost, and that's what we'll do in our evaluation with Joe."
The next steps ahead of the Ireland Christmas camp
Next for this group is the Christmas training camp at Carton House and once Schmidt recovers from having his appendix removed, he will contact his players individually to prepare them for the challenges ahead, and earmark certain area of their game they need to improve individually and collectively.
"The players will have input with Joe. I think we did it by phone a couple of times [this year] with the leadership guys," says Sexton.
"At times he rings everybody. At times he sends out an email for those of us that can write and spell we write back!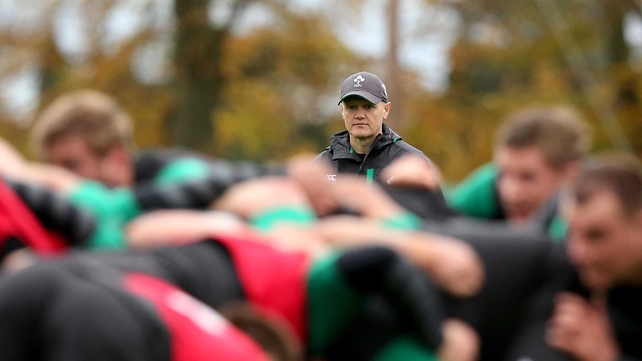 "And he takes all that onboard and puts it to us in the Christmas camp. At times he'll look for player feedback, at times he won't.
"I'm not sure what he'll do over the next couple of weeks when he's better and healthy."
The fact that Sexton, a key cog in Schmidt's machine, is kept guessing by his boss, seems a very good thing, as the New Zealander constantly keeps his team on their toes. Constantly wondering what he'll want next, constantly trying to improve them and make their next performance even better than the last.
Johnny Sexton was speaking in his ambassadorial role for Aer Lingus.