Head coach Joe Schmidt has lauded Ireland's display in the first half of their 49-7 win over Georgia in which they snuffed out a powerful and organised effort from the visitors before scoring a second-half flurry of tries.
Ireland were in control in the first 40 but met stiff resistance from Georgia and went in at the break just nine points up. In the second half, with the benefit of two yellow cards for the Georgians, Ireland pulled away, finishing comfortable victors.
Speaking to RTÉ Sport after the game, Schmidt said the foundations for the second half domination had been laid in that first 40.
"I was really happy with a lot of what we did in the first half," Schmidt said. "I thought it was an opportunity to suffocate them a little bit. I thought we looked after the ball and kept our structure really well."
"The points that we got up in the second half were a product of the hard work that was put in in the first half" - Joe Schmidt
He said that Georgia's attritional, direct style of play had stymied Ireland's efforts to inject pace and momentum into the game, but praised the way his side stuck to their task.
"They are really physical; we were a little static at times, and they stopped our momentum, which meant that we couldn't quite get a lot of pace into the game, and maybe we weren't timing things quite as well as we would have or could have.
"But I was pretty happy with the first half even though it didn't rack up too many points. I think the points that we got up in the second half were a product of the hard work that was put in in the first half."
Schmidt said that Ireland had not changed their approach in response to Georgia's Giorgi Begadze getting a yellow card late in the first, insisting that it was more a case of more of the same.
"What we said was 'Let's commit to do something similar, a little bit more effectively. We know that they're going to be under pressure, with a man down.'
"And so we did try to raise the tempo a little bit and I think our halves did a good job of that."
After concerns about Ireland's set piece in their win over South Africa last week, Schmidt highlighted the lineout as an area that had worked well against Georgia, and singled out the contribution of debutant and Man of the Match, Dave Foley.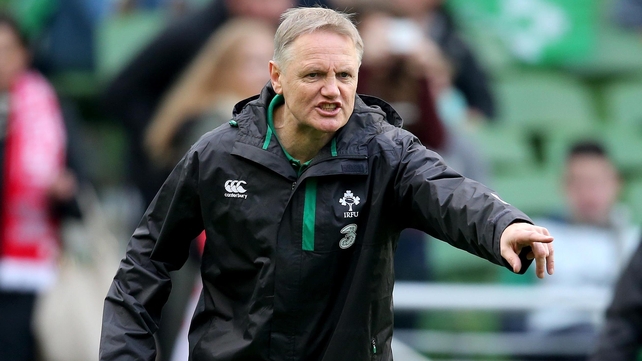 "Our lineout did really well today, and Dave Foley led that really well," he said. "Some of his work around the pitch was super as well."
Blooding players like Foley and fellow first-cappers Dominic Ryan and Robin Copeland was a major aim for Schmidt in the Georgia game, and he said the game had helped expand Ireland's base ahead of next year's World Cup.
"That part of the changes, even in the starting group, but to get those guys off the bench, and to give them another taste of what Test match footie is about [was important].
"And I guess, to keep them hungry for more. And as long as we've got that, it does provide a little bit more of a base for us to select from and give us a little bit more security if we do lose players."