By Tadhg Peavoy
Munster head coach Anthony Foley has spoken of momentum being a crucial factor in the Champions Cup, especially during the first two rounds before international players head away to compete in the Six Nations.
Speaking at the launch of the Champions Cup at Dublin's Convention Centre today, Foley said: "It's so important that you go into the first round of games and you come away with a positive mentality because then you have that break over the November internationals.
"And sometimes that can be a small bit harder to get momentum between round two and round three as you could be missing a small group of players. As opposed to round four and round five when you have a continuous block of games.
"It's important you get the momentum."
The Munster boss was also keen to emphasise that every team in their pool possesses different challenges and that prior preparation, often two-to-three games in advance is key to success.
"Every game possesses a new challenge. First up, we've got Sale away, we've had that before. Then we have Saracens at home, then back-to-back Clermont. It's tough," said Foley.
"But I'm sure they're sitting down looking at it and saying we're tough as well.
"Hopefully we can come out the other end.
"You have to work and prepare properly. Last week we prepared for Leinster, last week we were preparing for Scarlets. We will deliver on Scarlets this week, and we're all working in the background on Sale for the following week.
"So, you nearly have three teams in your head. You review Leinster, you have Scarlets, and now you're starting to look at Sale.
"It is difficult, but it's important to keep our processes in hand."
"I always like the local lad doing well, the local lad building a career in it, the understudy trying to fight for his place" - Anthony Foley
Foley also pointed out that while the French giants, such as Toulon and Clermont, have financial clout to back their bids for European glory, the Irish teams have local pride and tradition on their side, an aspect of Irish rugby that he has always been an admirer of.
He said: "I always like the local lad doing well, the local lad building a career in it, the understudy trying to fight for his place, and go up against these guys and come up on top.
"Last year there wasn't too many differences between the sides [Munster and Toulon in the European Cup semi-finals].
"We dropped balls and gave up cheap points. We felt we gave away too many soft scores after having to work for our own.
"We've spoken about that; we've felt we've addressed that.
"To win you have to accumulate enough points to get out of your group. You don't talk about winning a trophy until you actually get to the final. It's about the journey.
"It has pitfalls and that makes the victories all the sweeter. You would think with these players having made two semi-finals over the last few years there is a drive there to go a step further and get to the showpiece."
Munster squad captain Peter O'Mahony returned to action for the first time in seven months against Leinster on Saturday following a double shoulder reconstruction and the talismanic forward revealed that he feels good, but sore despite the major injury.
O'Mahony said: "After two reconstructions I'm going to be stiff and sore for the next few months. Structurally they're sound I've been told by the doctors, but I'm going to be sore.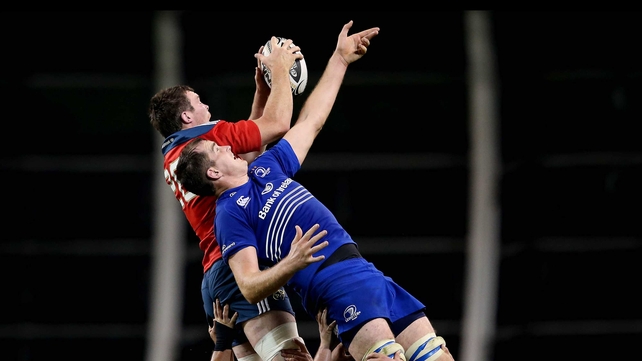 "I've done seven months of physio so [after the game] on Saturday it was match routine as normal."
However, the back rower did reveal that he feels he will need around eight games before he his back to his optimum best.
"I probably need eight, ten games. The lads have had two warm-up games and five Pro12 games, so they have seven games on me," he said.
"I need game time. That's paramount for me now."
Leinster's Sean O'Brien is currently rehabbing the same injury and O'Mahony was keen to point out that his fellow back row team-mate for Ireland has every chance of making a full recovery.
"He's just after coming back from the same thing so he knows the road. It's not uncommon for professional rugby players to have their shoulders done. It's the main point of contact when it comes to everything we do," said O'Mahony.
"He'll have a good medical team around him. We don't want for anything when it comes to medics and doctors and specialists."