By Padraic Ryan
in Paris
Fiona Coghlan is not, apparently, a woman with much time for off-field distractions.
Asked about a controversial article about women's rugby that appeared in an Irish Sunday newspaper, she simply dismisses it lightly as a missed opportunity, and says "it didn't annoy me too much."
It is clear her mind is focused on the task ahead for the Irish side, a challenging and historic World Cup semi-final against England in Paris on Wednesday (5pm, Live radio coverage on RTÉ 2fm and via a live tracker on RTÉ.ie/sport). What happens on the pitch is the only measure for Ireland's captain.
There is no malice evident when she describes the article as "just a badly written piece of journalism"; there are, simply, more important considerations for her and the Ireland team.
"I want to be spoken about for our games and the way we play," she says. "I think people who are rugby followers know there's more to us than [the article]."
On the field, too, Coghlan stresses the need for focus if Ireland are to beat an England side they lost to in this season's Six Nations.
"In the Six Nations game we lacked concentration just before half-time and just after half-time as well," she says. "England are a team that will punish you, and if they see any lapse in concentration they will take you.
"We've spoken about consistency in games and playing for the full time the ball is in play, and not losing concentration.
"It is a hard thing to do, but that is something we've been working on and we've seen it come through, particularly in the New Zealand game. When the pressure came on in the second half, we actually grew, and were more consistent as the second half went on."
The New Zealand win announced the Irish team as serious contenders for the tournament, Ireland's second-half defence withstanding a ferocious New Zealand onslaught to secure the victory.
"That's hugely encouraging from our perspective, that the future of the sport is really bright, and that there are young people playing. If we give them something to strive towards, that's brilliant."
Coghlan was delighted with the nature of the win, and the confidence it gave Ireland in their defensive systems and the role each player is expected to fill.
"There was a calmness about the pitch, because everyone knew what we were about and what we had to do," she recalls.
"That's definitely something we will need to bring into this game, again: a similar kind of defensive performance, because I think that's the thing that won the New Zealand game."
If Ireland had been expected to go into the New Zealand game with trepidation or any inferiority complex, someone forgot to tell Coghlan and co. Recounting the build-up to the game, she reveals the confidence in the Irish camp.
"Everything we spoke about was how we were going to beat New Zealand," she says. "There was a confidence in the squad."
Ireland were aware of New Zealand's standing as World Champions, and the scale of the challenge ahead, but the win "wasn't a surprise to us".
Ireland finished strongly against New Zealand but they failed to fire in the first half of their third pool game against Kazakhstan before eventually running out comfortable 40-5 winners.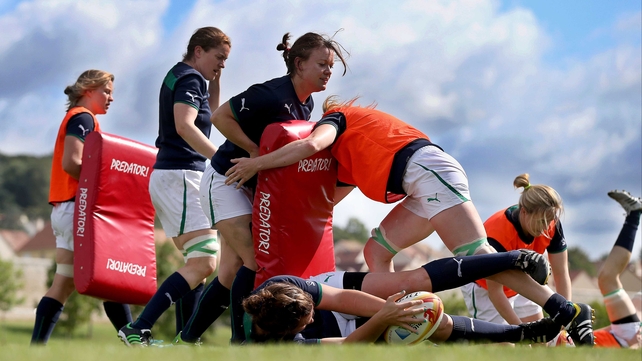 Coghlan suggests that, having made 10 changes to the starting line-up from the New Zealand game, a degree of unfamiliarity was to be expected.
"It was combinations that hadn't played together before, so they took a bit of time," she says, also highlighting Ireland's work at the breakdown and presentation of the ball at rucks as areas that need to improve.
"Going in against England, and their back row, that is obviously something we're going to have to tidy up."
Coghlan gives an insight into life in camp, as the team tries to relax, re-focus and prepare for what will be a bruising encounter on Wednesday against an English side that beat Ireland 17-10 in the Six Nations.
"The key has been recovery but keeping the minds fresh as well," she says. "We don't actually have that much on-feet training. We had a session this morning which was 30 minutes, we'll have a session this evening which is 42 minutes.
"We're not on our feet very much. Then we have just technical meetings, in units."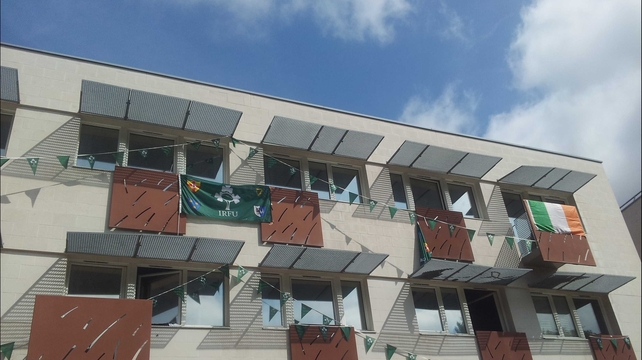 Down-time is spent having coffee with family, or taking part in pool and table-tennis tournaments amongst the squad. Front-rowers Gillian Bourke and Ailis Egan's team 'Fro-mance' – see what they did there? – are currently winning the pool tournament, "but I think Paula Fitzpatrick and whoever she's with are coming up a close second."
The squad is encamped in the Marcoussis base of the French national team (25km outside Paris), and have taken over, with Ireland and IRFU flags, and bunting (pictured above), hanging from their accommodation.
Mostly, the days between games are spent relaxing and conserving energy. Even a trip to Paris itself was for "literally just an hour", with a picture taken in front of the Eiffel Tower, a quick coffee and for some, a trip to Notre Dame.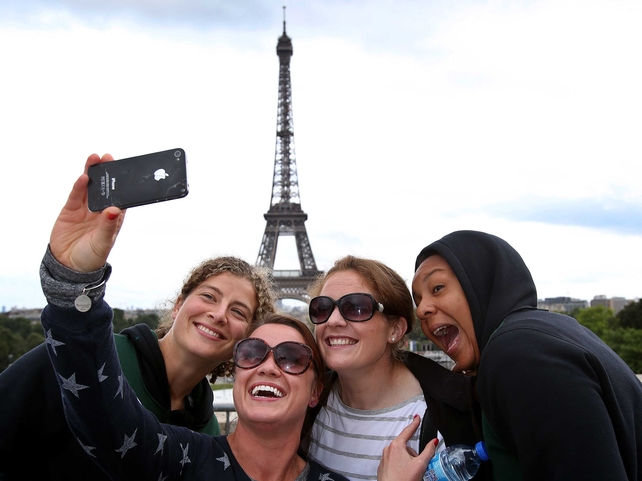 While the team could walk freely about Paris without being recognised, their performance in France has raised the profile of women's rugby in Ireland enormously .
Coghlan is aware the team are now role-models for the development of the sport. She cities a recent camp run by the Leinster Branch where the team were struck by the young people's excitement at meeting them as an example.
"That's hugely encouraging from our perspective, that the future of the sport is really bright, and that there are young people playing. If we give them something to strive towards, that's brilliant."
That "something" is to be found in on-pitch success, Coghlan suggests, rather than in other distractions.
"We want to be judged on our athleticism and how we play the game," she says simply.
Live commentary on 2fm and live tracking on RTÉ.ie/sport: Ireland v England, Women's Rugby World Cup semi-final, Wednesday 13 August at 5pm.