By Brendan Cole
New Zealand 14-17 Ireland
Ireland claimed a sensational Women's Rugby World Cup victory over reigning champions New Zealand to put themselves within touching distance of a historic semi-final place.

Few gave the 2013 Grand Slam champions much hope against New Zealand, who are aiming for their fifth-title in-a-row, but tries by Heather O'Brien and Alison Miller and a brilliant place kicking performance from Niamh Briggs saw Ireland throw the tournament wide open at Marcoussis.

New Zealand scored a try of their own through Silica Winiata but were too often forced into error by disciplined and committed Irish defence and eventually finished desperately defending their own line after a late Briggs penalty put Ireland in front in the final 10 minutes.
It is Ireland's first senior win over a New Zealand team in either men or women's rugby.
Philip Doyle's side went into the match knowing they needed to secure at least a bonus-point in defeat if they were to have a chance of qualifying for a semi-final berth as Canada's victory over Samoa saw them reach the 10-point mark after just two games.
Ireland got off to an excellent start, showing more intensity and creativity as they pinned New Zealand inside their own half in the opening exchanges, and had several try-scoring chances. The best fell to O'Brien, who was shoved into touch a foot from the try line when driving off the back of a dominant Irish scrum five metres from the New Zealand line.
But New Zealand looked composed under pressure and scored a penalty through Kelly Brazier on one of their first incursions into Irish territory.
Worse was to follow for Ireland when after attacking quickly from a midfield turnover, full-back Winiata was first in line of a queue of outside backs and cantered over for the game's first try. Brazier was unable to convert from out wide, but New Zealand had opened up a two-score gap.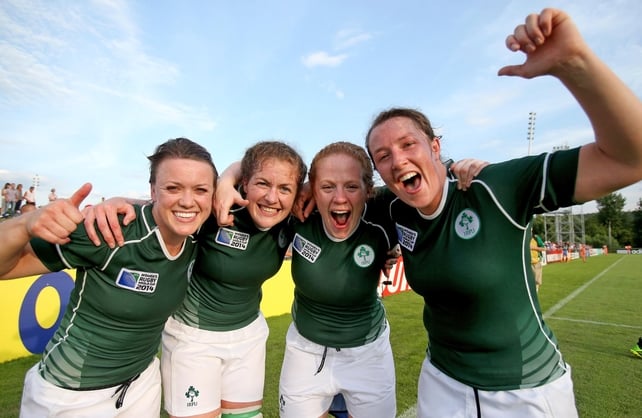 But Ireland had more, much more, to give. A decision to spurn two kickable penalty chances paid off when a long series of pick and drives from the base of the ruck saw Ireland register the try their industry clearly deserved. Munster number eight Heather O'Brien was the player who eventually crossed under the posts and Briggs kicked the easy conversion to make it a one-point game.
Ireland rode their luck at times, and had to survive a final burst of New Zealand pressure before half-time, resisting two lineout drives from five metres before making a crucial turnover to go in at half-time within a point of the four-time WRWC champions.
The second half began ominously, New Zealand upping their level in the early part and attempting to bring their vaunted outside backs into the game more often.
They had try chances down both wings. First, Ireland were fortunate to see an ambitious offload by left-winger Honey Hireme fly into touch. New Zealand were able to maintain field position when Ireland's lineout faltered and forced a penalty for a ruck offence which Brazier kicked from in front of the posts to make it 11-7.
New Zealand's mix of pick and drives and quick shifts to the wings appeared to be starting to tell against a tired looking Irish defence, and it badly needed the hard hits of substitute Jenny Murphy to stall the momentum.
Gradually, Ireland were forced into siege mode and needed a superb cover tackle from Miller on their right flank to prevent what looked a certain try in the corner. Ireland also had cause to be grateful for a series of New Zealand handling errors inside their 22.
On the left, a spectacular Hireme offload also almost resulted in a second try for Winiata but she was just held up over the line by desperate Irish cover defence. But a brilliant turnover by Miller saw Ireland clear their lines and finally punt the ball into the New Zealand half to bring a 10-minute period of intense pressure to a close.
And then, just as the end of the game came into view, Ireland got something from nothing when Briggs ran a loose kick back at the New Zealand defence and fed Miller. She raced around New Zealand scrum-half Kelly Jensen and just beat Brazier's last ditch tackle to get home in the corner.
Briggs then added the coup de grace, nailing the conversion from the touchline to put Ireland three clear. That lead didn't last long, Brazier bringing the scores back level shortly after from a penalty just outside the Irish 22.
But Ireland kept coming and won a penalty of their own on the New Zealand 22. From a difficult angle on the right, Briggs made no mistake, putting the kick over the paint to put Ireland 17-14 ahead with 10 minutes on the clock.
New Zealand, their dream of a fifth title melting away before their eyes, launched attacks from all over the pitch but Ireland rarely looked troubled and in truth by the end were commanding without the ball, yielding neither territory or opportunity.
 A final dominant scrum and a late penalty secured by a smart Murphy turnover ended New Zealand's hopes, and Ireland would end the game on the front foot, close to the New Zealand line before the ball was punted out to spark scenes of sheer joy.
Ireland march on to a meeting with Kazakhstan on Saturday, and could yet qualify with a high seeding. That all depends on what happens this weekend, but for now this team can bask in limitless glory after securing one of the great victories in the history of Irish women's sport.
Permutations
The final round of matches take place on Saturday.
 
There are four semi-final places on offer with the winners of each of the three pools and one best runner-up qualifying.
 
Ireland play Kazakhstan, who have already lost heavily to New Zealand and USA, in their final Pool B game at 12 noon (Irish time).
 
If Ireland beat Kazakhstan they are likely to face either France or Australia, who are set to meet in what will be the decisive game of Pool C on Saturday night, in the semi-final.
 
Unless there is a draw, the winner of the Pool A clash between England v Canada is likely to qualify as the top seed overall.
 
Depending on bonus points, that could mean a meeting with New Zealand, or a re-match against the same side in the semi-final.