Luke Marshall and Conor Murray are injury concerns for Ireland's second Test against Argentina in Tucuman on Saturday.
Jonny Sexton has recovered from a cramp, however, and is expected to train fully before Ireland attempt to back up their 29-17 opening win by completing a double over the Pumas (kick off 19.40).
Team manager Mick Kearney said there was no evidence of concussion in centre Marshall but that he would be monitored closely given his history of suffering similar injuries.
The 23-year old Ulsterman was clattered in a tackle while winning his sixth cap on Saturday and had to go off after 57 minutes.
Kearney said: "Luke Marshall was removed as a precaution as he may have taken a blow to the head during the game.
"Testing came back as normal and his computerised neurocognitive testing was normal as well.
"As such there is no formal evidence of concussion but given his history we'll be taking every precaution necessary and he will be reassessed on a daily basis.
"Conor Murray suffered a dead leg but is responding well. He will be assessed as the week goes on and is unlikely to train in the early part of the week.
"Jonny Sexton suffered a cramp at the back of his knee and has recovered well and is expected to train fully this week."
"We came through the game very well," said Kearney. "Most of the players actually hadn't played for three weeks.
"So we probably went in just a little bit undercooked in terms of game time and that.
"But they came through it really well, from an injury profile point of view it was actually a good outcome as well."
The Irish squad returned to Buenos Aires from Resistencia on Sunday and will spend two nights in the capital before heading back north for the concluding test in Tucuman.
"Lots of room for improvement would be the message going forward into next Saturday." - Mick Kearney
Kearney said they were pleased with Saturday's first-ever win on Argentinian soil but feels there is still room for improvement.
"The set-piece was very strong," he added. "The scrum was good, 14 line-outs won out of 14 and we pinched a few of theirs as well.
"We were a little bit sloppy in defence and they made a few line-breaks. A few handling errors as well.
"I think it was probably a little bit of a mixed bag. I think that came as a result of players not having played for three weeks and you add in I suppose a lot of travel, both getting here and then during the week as well.
"Lots of room for improvement would be the message going forward into next Saturday.
"Argentina were really competitive, they had a lot of new players that we would not have been familiar with and they stood up to the test really well.
"I think they would have been very pleased with their performance, they were very aggressive, they got off the line really quickly."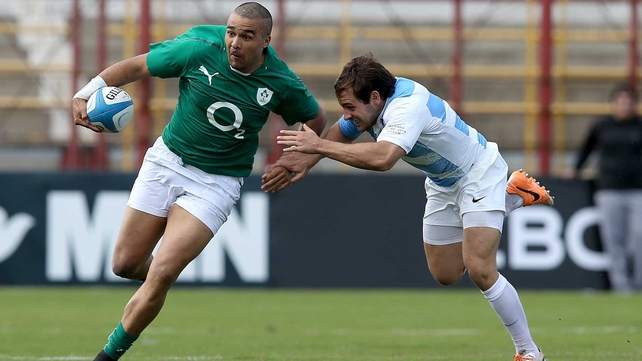 Meanwhile, Munster wing Simon Zebo made his first Ireland appearance in a year against the Pumas, and is looking forward to the challenge of forcing his way back into Joe Schmidt's plans.
"It's always a pleasure and an honour to wear the green jersey. I was just grateful that I got the chance to come back and play," said Zebo.
"It's been a while, through injury and other things, that I've been out, so to come back and get in the shirt and get  a win with that as well has been special.
"It's always going to be tough, with the competition we have, there are some world-class operators in the back three department and we're blessed to have that.
"Hopefully the competition drives me on, and the other players on, and come the Six Nations and World Cup we'll have a very strong squad, with plenty of strength in depth."