By Tadhg Peavoy
Ulster full-back Jared Payne has been suspended for two weeks by the ERC following his dangerous charge on Saracens full-back Alex Goode during the Heineken Cup quarter-final clash last Saturday.
Payne was shown a red card by referee Jerome Garces in the fifth minute of the match for an alleged dangerous charge, which is in contravention of Law 10.4(i). The law states a player must not tackle, tap, push or pull an opponent jumping for the ball in open play.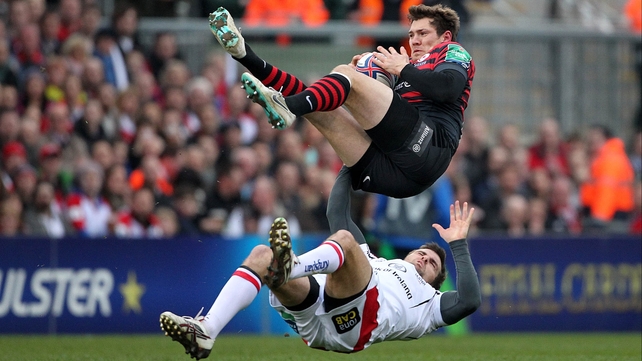 An independent disciplinary hearing in Dublin today deemed two weeks to be an adequate suspension time for the fullback.
The independent judicial officer Simon Thomas heard evidence and submissions from Payne, Ulster director of rugby David Humphreys, and team manager, David Millar, as well as from ERC disciplinary officer Roger O'Connor.
Normally, the low end of a sanction for an offence of this nature is three weeks, with six weeks for a mid-range offence, and 12-52 weeks for a top-end offence.
In upholding the red card decision, the judicial officer determined that Payne had committed a reckless act and concluded that the offence was at the low end of the IRB sanctions for offences of this nature and selected three weeks as the appropriate entry point.
As there were no aggravating factors, and taking into account the player's clean disciplinary record and his exemplary conduct at the hearing, the judicial officer reduced the sanction by the maximum of one week and imposed a suspension of two weeks.
He commented that the case had been a particularly challenging one and conveyed his thanks to the Ulster Rugby representatives for the quality of their defence during the hearing.
As a result of the suspension, Payne will be able to return to action from 21 April onwards. He will therefore miss Ulster's upcoming clashes with Connacht on 11 April at Ravenhill and Glasgow Warriors on 18 April at Scotstoun. He will be available for selection to face Leinster on 2 May at Ravenhill.
Saracens taking no risks with Goode
Mark McCall, Saracens' head coach, told the Press Association today that Goode was undergoing return to play protocols and that they would be taking no risks regarding his health.
"Alex is OK, but we'll see how he goes. He was pretty shaken up afterwards," McCall said.
"We're not going to take any gamble now with Alex, his health is far too important. It's highly unlikely he'll play this weekend.
"He could have got a serious neck injury given the way he fell."
The Sarries coach also said that he had canvassed opinion amongst back three players and referees, and all those he spoke to feel that Payne merited a red card for the incident.
"It was an unintentional act, he didn't mean to do it, but we have a player who is injured at the moment. I only care about the player who's injured," McCall said.
"Anybody I've spoken to who has played in the back three and any referees I've spoken to agree it was a red card, whether it was intentional or not. You still have duty of care."