By Tadhg Peavoy
"April prepares her green traffic light and the world thinks Go" - Christopher Morley, John Mistletoe
As Monsieur Morley wrote, April is the time of year when the world is unshackled from winter and things kick into gear, and for European club rugby this is most true.
The absolute cream of the oval-ball game meets on Irish and French soil in the Heineken Cup quarter-finals this weekend, with Irish provinces looking to make the semi-finals of the tournament a 75% Irish affair.
Munster, Ulster and Leinster all face very tough examinations, but the trio look like being well placed to advance to the penultimate stage of the competition.
Munster v Toulouse, Thomond Park, Saturday, kick-off 1.30pm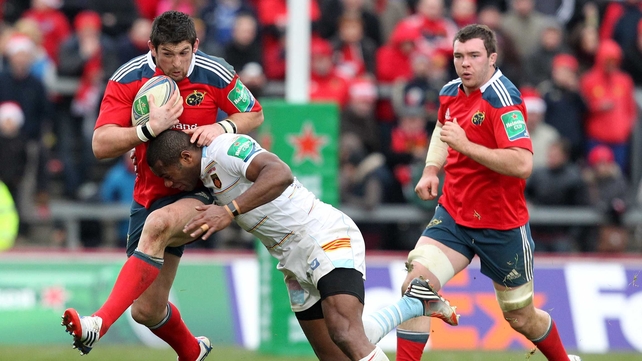 A clash of titans, which gets the mouth watering, and rekindles memories of the European Cup final of 2008 at the Millennium Stadium when the Irish province ran out 16-13 winners.
However, back then both sides were in very different places to where they stand now. Munster had won the tournament back in 2006, and Toulouse had taken glory in 2003 and 2005.
After that final, Toulouse went on to win the crown in 2010, but since then have been crowded out by Leinster and French rivals Toulon. Munster haven't played in a final since '08.
At the time, such declines seemed highly unlikely, but six years later both teams appear inconsistent to an extent and in transition. Their goal is to retrieve the form that brought them fame and glory back in the noughties.
Traditionally, this would have been a battle between a Munster side that plays things tight and tries to outmuscle flair-driven Toulouse through a ten-man game. But Rob Penney has Munster playing a totally different type of game, with plenty of width and much more of a total rugby philosophy.
Last week against Leinster in the Pro12, Munster stuck to that game plan and didn't revert to the tried and trusted ten-man game.
They were maligned in the media in the aftermath for lacking ideas. But in truth that was harsh, as they were only one or two moves away from causing the Lions real trouble.
With that idea as a foundation, when one adds in the fact that Peter O'Mahony is down to start at six, which is a crucial boost to the Munstermen, the concept that Toulouse will boss them around the park seems totally erroneous.
James Downey also comes in at first centre, which boosts Munster's chances.
Home advantage is key in any match, and even more so when it's at Thomond Park.
All of those factors mean that Munster have to be favourites to make the last four.
To take advantage of their favourites' tag, and do the business, they need to do several key things. Containing the backline is task number one. Gael Fickou, Florian Fritz, Yoann Huget and Maxime Medard are all so potent and if they are given space by the Munster backline, they will use it.
Collectively from 9-15 the challenge is containment, while Downey will be used as the hole puncher in midfield, creating space for Simon Zebo, Keith Earls and Felix Jones to exploit going forward.
Out-half is also key, where Ian Keatley will face Lionel Beauxis. The latter is the more complete player at present, but if the Munster pack can starve him of possession, then he will struggle to get what he needs to get the backline trucking.
Often, Munster have a clear edge in the pack, but not this time. The front rows are delicately poised, while Paul O'Connell versus Patricio Albacete in the second row is a superb-looking tussle.
There are two standouts in the back rows, O'Mahony for Munster, and Louis Picamoles for Toulouse.
Gaining an upper hand in the breakdown battle is critical in this match, as possession is sure to be paramount. I get the impression Munster are better prepared to do that, which will limit possession for Picamoles to feed off and in turn give Munster a vital edge.
A lot of things have to go right for Munster, and if they don't, Toulouse's backline will run amok.
But if Munster keep the error count low and intersperse the right blend of creativity and muscle, they'll win this tie.
Verdict: Munster to win by two
Ulster v Saracens, Ravenhill, Saturday, kick-off 6.30pm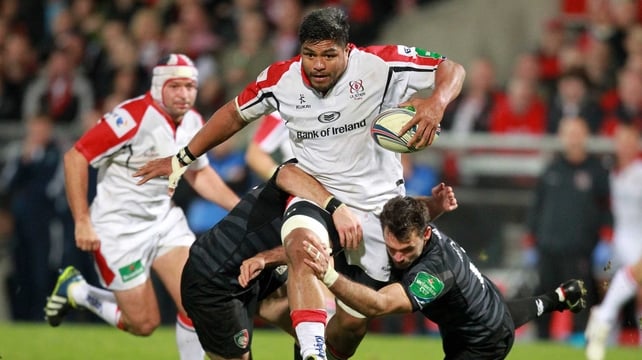 Expect this to be the most physically abrasive battle of the weekend as both teams attempt to batter each other into oblivion. Saracens' XV is jammed with hard men who will come to Belfast attempting to do a smash and grab, with out-half Owen Farrell kicking the away side to glory.
Schalk Brits, James Johnston, Steve Borthwick, Mouritz Botha, Billy Vunipola, Jacques Burger and Ernst Joubert form the core of a bruising pack. But Ulster have the brawn to match them in the form of John Afoa, Johann Muller, Dan Tuohy and Chris Henry. Crucially they also have superior ball carriers in the form of Rory Best and Nick Williams; those last two should give the Ulstermen a slight advantage when establishing go-forward ball for their backs to feed off.
And that is where it would appear Ulster have the real upper hand. Brad Barritt and Duncan Taylor offer route one for Saracens, with David Strettle, Chris Ashton and Alex Goode the men charged with providing the killer touches.
However, Ulster have so much more to offer in terms of game-changing ability through Tommy Bowe, Luke Marshall, Darren Cave, Andrew Trimble and Jared Payne.
Sarries will try to overpower the home backline, but they will find it hard to do that for 80 minutes and get adequate change.
Obviously Paddy Jackson versus Farrell at out-half is also key, but should Jackson stand up defensively and spread the ball consistently, the game should be won by two or so tries being scored by the men outside him.
Verdict: Ulster to win by ten
Toulon v Leinster, Stade Felix Mayol, kick-off 4.30pm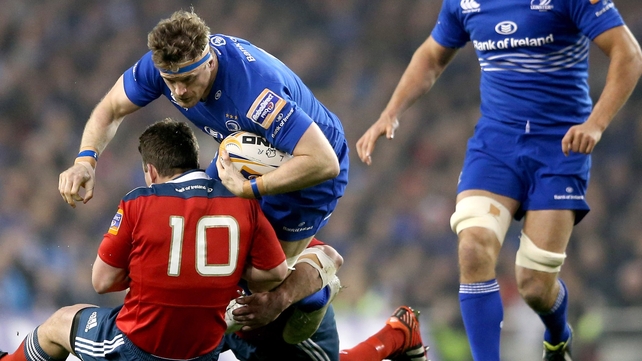 The clash in the south-east of France is the hardest of the ties to predict. On current form Toulon and Leinster are the two best sides in the tournament and this could easily have been the final if the draw had fallen a different way.
Both XVs are brimming with talent. The Leinster team has no surprises, with injury worries Cian Healy, Jack McGrath, Martin Moore and Brian O'Driscoll all in the 23, meaning that Matt O'Connor's men are more or less full strength for the visit to Stade Mayol.
However, home advantage taken into account, Toulon have to rightly be regarded as favourites.
Carl Hayman is the key pillar at three, with Danie Roussouw and Jocelino Suta in the engine room, and the frighteningly good Juan Smith, Juan Fernandez Lobbe and Steffon Armitage forming the six, seven, eight trio.
One of world rugby's all-time greats Johnny Wilkinson lines out at ten, with Matt Giteau, Mathieu Bastareaud, Drew Mitchell and Delon Armitage the fancy Dan's out back.
The names say it all: Toulon are quality. But there are most certainly weaknesses to exploit and Leinster will be full well aware of this.
After multiple phases on the back foot, Toulon can be weak defending the channels around the fringes and often leave gaping holes between the ruck and the backline.
Jabbing loose runners down that channel in the green zone is something Leinster are likely to do a fair bit of on Sunday, and the ball carrying of Cian Healy, Richardt Strauss, Rhys Ruddock and replacement Sean Cronin can cause the French side problems.
Toulon like to use their first centre, in this case Matt Giteau, as a strike runner, he'll run direct lines and offload in the tackle to support runners.
Implementing the choke tackle to stop the offload is the key here, making sure that Giteau can't feed his support.
At that point the breakdown becomes a contestable where Jamie Heaslip and his lieutenants can win crucial ball back in their own '22.
The Toulon defence is excellent and the rush defence they employ, especially at the close of tight games, sucks the life out of opposition attacks.
Exactly what backline moves Leinster have in store are quite correctly under wraps, and against Munster last week one got the distinct impression that O'Driscoll and Co didn't want to reveal too much prior to their trip across the Celtic Sea; this week, they'll need to show much more in terms of pre-planned moves and attempts to shimmy open the defence.
Furthermore, Jimmy Gopperth will need to use the space that Toulon's rush defence leaves in behind the backline.
He needs to kick to the corner wisely to gain field position from which Leinster can attempt to stifle Toulon in the manner the Springboks do when in the opposition '22; this will potentially force kickable penalties in that sweet area inside the '10 and 10m in from the touchline.
In almost every position on the pitch there is little to choose between the opposite numbers, and when that is the case, there is usually one factor that is the over-riding decider in a match: mistakes. Whoever makes less of them will win by a point or two.
It's a behemoth of a challenge for Leinster and it will be highly surprising if the game is not there to be won by either side right at the death. But maybe, just maybe, this will be another famous Irish win on French soil.
Verdict: Leinster to win by one