By Tadhg Peavoy
It's a given that a professional rugby player has got an average of five days a week out on the pitch, either training or playing for his club or country; however, beyond that there is a lot more that goes into the making of a professional athlete in the sport.
Weight-training and diet are also crucial pillars of a rugby player's life, and Leinster team manager Guy Easterby spoke to RTÉ Sport to give an insight into what all that work entails. The core pillar is, of course, lifting weights – lots of them.
"The Leinster players would normally lift three times a week: late on a Monday morning, then on a Tuesday morning. Then a priority session on a Thursday," says Easterby.
"The further you get into a season it's more maintenance.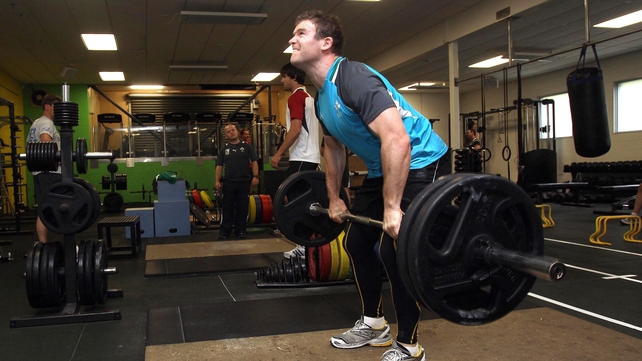 "It's all individualised. Each back or forward will have a session tailored to him depending on what his priorities are.
"You need different things for different people, and the same on a Tuesday morning.
"Everyone has an individual programme. Some people will slot into the same groups, naturally, if they've got the same things to work on.
"There are peaks and troughs during the season when you need to be at your optimum and when you have no games for two weeks and it's more priority of different areas.
"At that stage you're not looking to get someone right for the weekend, you're looking for two weeks down the line, so then the emphasis can change a bit."
Off-season
When it comes to the summer, the Leinster players are advised to take a fortnight completely off, but otherwise continue to keep fitness levels at a high level throughout.
"I think every player is clever enough to know that they can't drop off completely, because when they come back in they're catching up. So, we encourage people to take at least two weeks off to give the body time to recover," says Easterby.
"They're given programmes to follow, sort of maintenance programmes, so you're not walking in after four or five weeks not having done anything.
"Again, a lot of people will have ongoing injuries that they need sorting out during the off-season.
"There are lots of people in different phases, but most people would do some work in that period."
Academy players
As well as the requirements on the Leinster senior squad, there is of course a huge demand placed on the academy players to put their bodies in the right place for competition and a potential call-up to the senior squad.
"A lot of the work with academy and sub-academy players is technique and making sure that they have it right," says Easterby.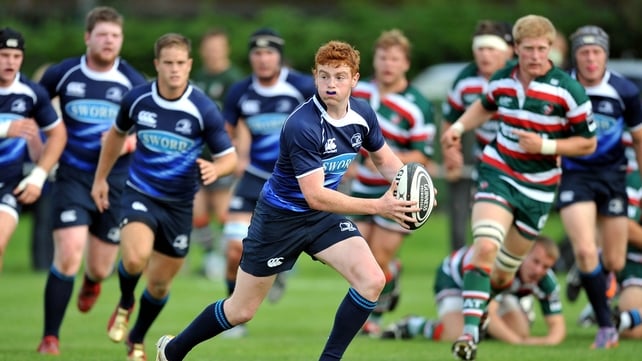 "Ensuring they are doing things correctly so they're not going to cause any problems to themselves. If they're not doing the exercise correctly, you'll get issues with that.
"So, certainly by their third year in the academy they're only one step away from the senior squad and a lot of the weight-training would be very similar.
"You're trying to maximise gains as these are crucial years in their development."
The importance of diet
Back in 1998, as a schoolboy rugby player, I distinctly remember seeing Wales outhalf Neil Jenkins strolling out of McDonald's on Grafton Street with six chicken McNuggets and a Big Mac the night before playing Ireland at Lansdowne Road.
The irony the next day was that Wales won 30-21, with Jenkins scoring a try, and kicking three penalties and three conversions.
However, those days are long gone, says Easterby: "Diet is hugely important now. We have a dietician here, who will deal with all the players and their plans in terms of diet.
"The majority of days we will feed the players at training. We control what they are getting fuel-wise during the day.
"They've got weights in the morning, and rugby in the afternoon, so they've got to refuel, to make sure they're able to perform at the right level at training in the afternoon.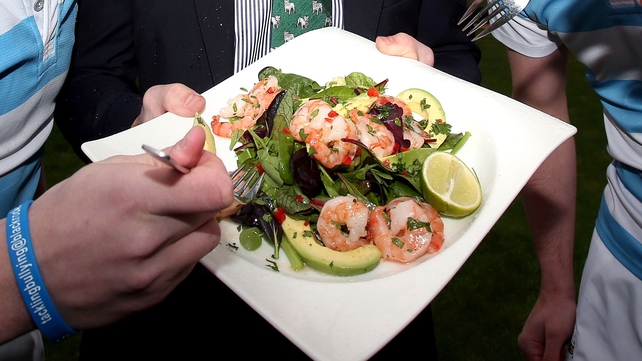 "So, we would manage a lot of that ourselves. But of course, it's important to educate the players about what to eat and when to eat it. A lot of that is done on an individual basis because you can't be at everyone's house every night.
"But they get Dexascans, which is a real indication of what their muscle mass is. It's such a clear indication of whether someone is following the right path or not.
"It's clear and obvious, it's not a guessing game. 'This is how much muscle you're carrying, and this is your target', if you're not hitting it we need to know the reasons why.
"The nutrionist will go around the houses of the young lads and check how they cook. It's all about education. A lot of them might be way from home for this time at college, so a lot of it is about understanding.
"It's amazing how a lot of the players are into cooking now, and are competitive and do Come Dine with Me-type evenings.
"The good thing is that it's all based on information we've given them. The general rules are there."
Supplements for rugby
Supplements are part and parcel of sport today and rugby is no different.
"That's closely monitored for obvious reasons. Every player gets an individual plan," says Easterby.
"Some players would just take recovery shakes after a game.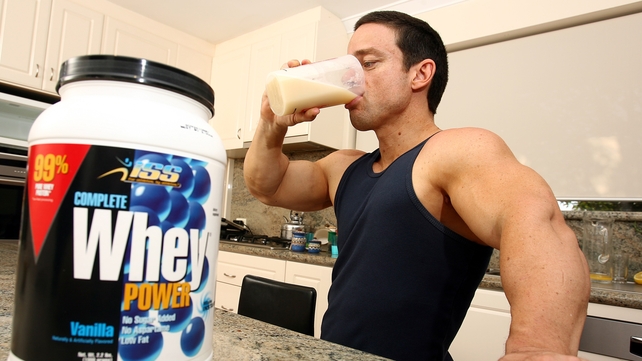 "Other guys would be on different plans. It's very closely monitored and individualised. It's about getting as much out of your body as you can, but in the right ways.
"I think there's a lot of bad press about supplements out there, but it's something that we manage in a very stringent manner."
Other core elements
In addition to strength and fuelling the body, flexibility and having your muscles limber prior to training is of paramount importance.
"There's a lot of importance on readiness to train, so stretching and stuff before a game. It used to be 'Do a few stretches and off you go'. That area has changed a lot," says Easterby.
"Brian O'Driscoll is obviously a classic example of doing what he has to do to get his body right.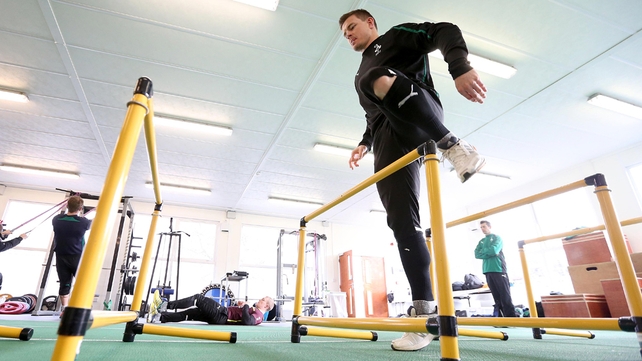 "Before every training session he'll be in the gym working on trigger points, so when he's on the training pitch he's ready to go.
"And he's probably upped that in the later years of his career. He learnt in his late 20s how to really manage his body. And the young guys see him doing that and that's setting that example.
"Flexibility, yoga classes, they're all available to players. They're very important to what we do and that's looked at in every training week.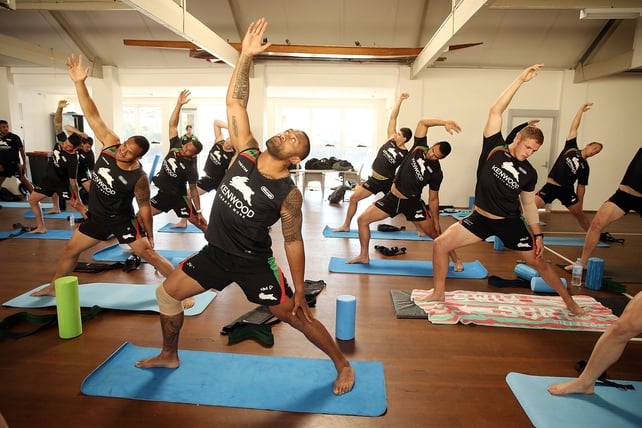 "This is increasingly paired back to where we're at in the season."
Collisions in the sport
As rugby players get bigger, collisions get bigger, and recovery therefore is key to ensuring players are kept in their best condition for their next competitive outing.
"In terms of recovery there are hot and cold baths, massages, there are an unbelievable amount of massages now for players," says Easterby.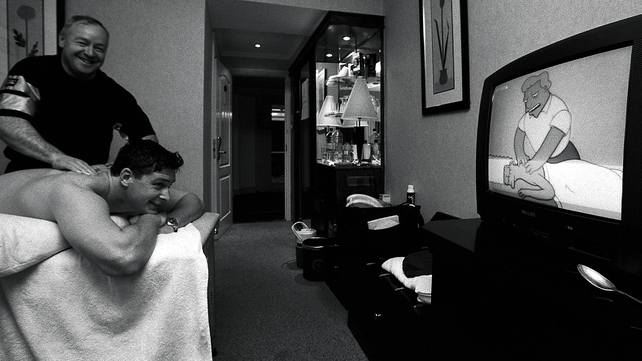 "Food is part of recovery too. Preparation to train is also part of recovery. If you've prepared to train then the effects of training don't have as big an effect on your body.
"Then there's the ongoing work with your weight-training.
"There are also compression tights, which are worn after games.
"There are a lot of things available. Some things are compulsory, there are other things that are optional.
"Again, there are so many elements that go into recovery. Food-wise, the way you look after yourself going into a game is a core element."
Advice for young players
In terms of what young players need to focus on, to improve their game and compete at the top level, however, Easterby states that as well as fitness, diet and training, there are two other key elements.
"People can get a bit lost in the high-profile side of things," says Easterby. "But I think enjoyment is a key side of things. If you're enjoying it that will bring out lots in the performance.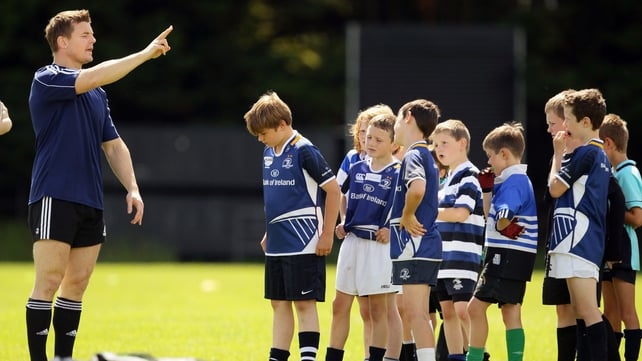 "The other thing that is vital is education. Not everyone makes it. If you do, you're only one injury away from not having a career any longer in your chosen job.
"The academy players have to have a third-level education as that is an important part.
"You can't just play rugby and that's it; you have to have another string to your bow. And I think that's a hugely important thing.
"Continued education and enjoyment are the key things [to help youngsters] improve as players."
Guy Easterby was in conversation with Tadhg Peavoy on Friday 28 February 2014.