By Brendan Cole at Aviva Stadium
Ireland's bid to add their name to the list of Test-playing nations to beat New Zealand fell agonisingly short as a try in the final play of the game by Ryan Crotty and a conversion scored at the second attempt by Aaron Cruden saw Joe Schmidt's side defeated 24-22 in the cruellest fashion.
Ireland will have to wait before they join South Africa, Australia, England, France and Wales on the roll of honour, but they can take heart from a performance that combined incredible commitment with a brilliant gameplan that asked this vaunted New Zealand side a series of questions they were ultimately only barely capable of answering.
There were Irish heroes across the pitch. Conor Murray comprehensively outplayed opposite number Aaron Smith, Rory Best gave a brilliant 15 minutes at the start of the game, Sean O'Brien was bullish-defiance personified at the ruck, and Rob Kearney saw Ireland through the most difficult of moments. In the centre, Gordon D'Arcy gave one of the great performances ever in the green shirt.
Ireland had looked second to the punch in every facet of the game against Australia last week but they stepped into the collisions with intent from the very first minute against the All Blacks.
A Best ruck turnover and a fingertip catch by Murray from captain Paul O'Connell's lineout tap saw the home side get their first attack going before Brian O'Driscoll's stabbed chip through caused just enough problems to force New Zealand full-back Israel Dagg to knock on.
Ireland had a scrum in a dangerous position and, already, belief was surging through the crowd as the Irish battered the New Zealand line. That series of drives yielded what nobody had expected: a try for Ireland, scored with a powerful dive close to the line by Murray. Jonathan Sexton added the extras to give Ireland the perfect start.
New Zealand got the perfect chance to respond soon after, when an O'Driscoll pass flung towards the wing near his own line asked too much of Tommy Bowe and trickled into touch.
The All Blacks drove at Ireland through the pack and then launched Ma'a Nonu again, but superb defensive linespeed saw the powerful centre caught behind the gainline and turned over.
The first of many assaults had been repulsed.
Ireland had more smart play in the locker. A clever circle pass from Best released Cian Healy, who charged into the New Zealand 22 before an explosive break from a static ruck by O'Brien brought Ireland within metres of the New Zealand line.
The All Blacks were stretched before Best, oozing belief and conviction, barged through for Ireland's second try.
Sexton added the extras, and suddenly Ireland were 14 points clear with players all over the field playing out of their skins.
Their massive commitment began to take a toll.
Sexton was dazed by a blow to the head sustained trying to halt a savage Nonu carry and then the heroic Best had to be replaced with an arm injury. Cronin went on to perform with huge credit, but the early end of Best's day was one a few incidents that will have Ireland wondering 'what if' for many years to come.
New Zealand were working their way into the game and Ireland needed O'Driscoll's breakdown brilliance to relieve one bout of pressure. Lady luck then intervened on Ireland's behalf, prompting Dagg to spill a pass into Kearney's arms and the full-back was able outrace Kieran Read to score a third try.
Sexton's conversion looked good but pranged the post.
Ireland led 19-7 and had the edge in attack, where the forwards continually stutter-stepped to good effect against the New Zealand drift.
In defence, a strong rush led by O'Driscoll at outside-centre and constant vigilance against the offload nullified New Zealand's wide attack and constantly forced them back towards the Irish pack, which had the edge in the ruck contest.
The combined effect was to cause New Zealand's skills to break down under the pressure. Within yards of the line, Charlie Faumuina dropped forward under a big hit from Toner.
Ireland were taking risks as well. A decision to attack down the shortside, metres from their own tryline via a reverse pass by Murray, saw Tommy Bowe's kick charged down. Fortunately, the ball broke to a green shirt and Ireland had another let off.
But it was temporary, as soon after New Zealand secured a vital try to get in the game. Blindside Stephen Luatua broke down the right before Aaron Cruden read Ireland's rush defence and released a perectly judged chip which wing Julian Savea was able to collect before cantering over the tryline.
Ireland's lightning start was over, and the match was on.
Schmidt's side managed to land the next blow, gaining field position and launching a wave of attacks which ended with a scrum penalty against New Zealand loosehead Wyatt Crockett, which Sexton duly thumped over.
Ireland then looked to finish the half strongly, a brilliant O'Brien tackle and a superb D'Arcy catch gave them the chance to launch a final assault.
But they were again lucky to escape again when a spilled pass gave New Zealand a final chance and Ireland were again thankful for Kearney's speed as he out-raced four Kiwis after the ball was hacked down the line.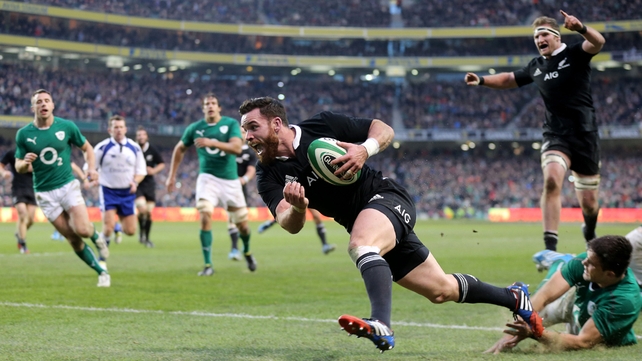 The second half was ultimately dictated by squad depth as New Zealand's powerful bench gave them vital boosts in key areas with Dane Coles, the Franks brothers, Beauden Barrett and Ryan Crotty among those introduced who would have vital impact over the 40.
But Ireland's defence continued to be a puzzle New Zealand were finding it difficult to unloc. Time and again, Irish players got in the way of the planned killer offload. O'Brien also continued to be the outstanding back-rower, an early holding-on call won against Richie McCaw symbolising his excellence.
Ireland were living dangerously though, and needed a beautifully timed Bowe interception of a Nonu pass to deny one try-scoring chance. Murray and Kearney combined for the next, making a superb last-ditch tackle to deny Dagg by an inch after he dived over.
Ireland looked to be holding out from the resultant scrum as the defence got off the line quickly and O'Driscoll and O'Connell made big tackles before Murray got a vital ripped turnover.
But the escape act just fell short of total as Toner adjudged to have obstructed a New Zealander attempting to charge the final clearance. Cruden duly kicked the penalty to bring the gap down to 12.
There was a price to pay on the pitch as well as O'Driscoll's hit on big New Zealand forward Luke Romano saw him replaced by Luke Fitzgerald.
The cracks, already showing, began to get bigger. An O'Brien turnover attempt was judged illegal in midfield but from five metres inside the Irish half, Cruden pulled a low effort just to the left and wide.
Again, the let-off looked potentially vital with the clock increasingly a key player.
Liam Messam and Owen Franks, soon followed by brother Ben, came in to add serious heft to the New Zealand pack. Ireland added subs as well, but New Zealand had a clear edge in quality and experience.
The next New Zealand attack faltered on a Nonu slip, with Fitzgerald quickly in to win the holding-on call. Kearney was then hit in the air when collecting a dangerous-looking chip. A legal debate ensued with Ireland eventually awarded a penalty that saw them again given a free pass out of their own 22.
Ireland could not repeat the trick a third time in succession. A wonderful transfer by Read almost put Savea clear down the line. He was hauled down yards short, but sheer power proved enough for the All Blakcs as Ireland, fatigued under the assault, allowed the powerful prop Ben Franks to bully his way forward and flop over from short range.
Kevin McLaughlin was already on at that stage and Mike McCarthy, Jack McGrath and Declan Fitzpatrick were sent into the fray on in quick succession as Ireland attempted to stem the bleeding up front.
On the New Zealand side, the dangerous broken field runner Barrett replaced Cory Jane.
Ireland made the next foray forward, and mauled with intent into the New Zealand 22 but a poorly judged Sexton crossfield kick was snapped up by Barrett and New Zealand were quickly on the front foot again. Barrett then shucked his way through a couple of tired tackles to get New Zealand into the Irish 22 before, just as Ireland looked to be tiring again, a superb Paul O'Connell tackle created another vital turnover.
Ireland kicked into the New Zealand half, won the lineout and launched a daring assault through a Sexton chip from which they kept the pressure on, eventually forcing Barrett into touch near his own line. Everyone knew the maul was coming, but New Zealand were unable to stop it legally and Ireland got it rumbling towards the line before it went down in a heap.
Referee Nigel Owens adjuged it to have been brought down illegally, handing Sexton the chance to make it a two-score game and put Ireland within touching distance of history.
The out-half has knocked over his share of clutch kicks but pushed this one just wide.
The game was very definitely still on.
With the clock ticking forward, a vital Bowe tackle saw Ireland given a lineout on halfway and from that position, they kept control of the ball for vital minutes and then got the last of their big breaks when Nonu dropped Cruden's pass just as a dangerous situation broken field was beginning to take shape.
With 90 seconds left, Ireland had control again. The belief which had sparked into life in the first minutes grew slowly but surely as Ireland kept getting through the rucks, until a final, controversial, holding-on call saw New Zealand given a last chance to attack.
Amid desperate scenes, they worked the ball to Read, who uyse his sublime offloading to engineera foray into the Irish 22.
After 14 phases, with the defence finally completely exhausted, the substitute Crotty popped up on the left to score the game-tying try.
There was a final flicker of hope as the last plays were checked by the Television Match Offical, but with no clear evidence of a forward pass, the try was given.
Ireland looked to have a draw when Cruden missed his conversion but, for the second time in the game, Fitzgerald rushed off the Irish line early. Having missed the first shot at goal, Cruden duly put the second over to deny Ireland what would have been the second draw in their history.
You rarely get second chances against New Zealand.