By Brendan Cole
Ireland got the Joe Schmidt-era off to a promising start by comprehensively quelling a determined Samoa side with a 40-9 victory.
Ireland were by no means better in every department, but used their powerful scrum and superior lineout to keep a lid on a Samoan attack which exploded into life only occasionally.
And while they shipped the occasional big hit, Ireland handled Samoa's feared defence with relative ease, their cleverly constructed attacking plan giving the visitors few easy targets.
A Peter O'Mahony knock on from the kick off was not the start Schmidt would have hoped for but it had the virtue of bringing Ireland's scrum into the game at an early stage.
O'Mahony quickly made up for his error soon after, forcing a penalty with good work at the breakdown to give Ireland out-half Paddy Jackson an easy chance to put Ireland ahead, which he duly took.
A beautifully worked linebreak orchestrated by Samoa out-half Tusi Pisi served as a warning to Joe Schmidt's team.
Ireland were blown for offside shortly after and the Samoan out-half duly levelled matters from an equally easy position..
Samoa did not emerge unscathed from that skirmish as tighthead prop Logovi'I Munipola was forced off with an apparent leg injury.
Having been unable to field Census Johnston due to a lack of match fitness, that meant Samoa were on their third string tighthead, his brother James, less than ten minutes into the game.
Shortly after, Ireland centre Gordon D'Arcy made a key steal on the deck to give Ireland a scrum on halfway. A penalty was duly won and from just inside the Samoan half, Jackson made light of the distance to put Ireland up 6-3 up and into a lead they would never relinquish.
A scrum just inside the Irish half saw Ireland given another penalty and from near the right hand touchline, Jackson kicked Ireland to just inside the Samoan 22.
Samoa had no answer to Ireland's quick, powerful and well organised maul, which was roared over by a suddenly enthusiastic crowd, for the first try of the Schmidt era, with O'Mahony getting the touch down.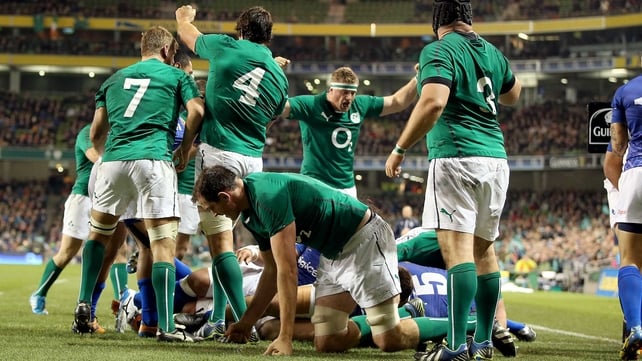 From a difficult position on the right, Jackson just missed the conversion.
To their credit, Samoa fought back, Tusi Pisi narrowing the gap with a good strike from the 10-metre line, ignoring a rowdy Mexican wave during his routine to make it 11-6.
He failed with a penalty from very easy position shortly after, pranging the post.
Sean O'Brien entered the fray shortly after, as Chris Henry became the first casualty of an encounter that saw its fair share of bruising collisions.
Ireland almost got a try just before half-time, after Rob Kearney took advantage of a confused kick chase to slice into their 22 but Fergus McFadden was stopped just short after Ireland attacked down the short side.
Brian O'Driscoll's effort to squirm over was also unsuccessful but a TMO review of that action saw George Pisi yellow carded and Ireland awarded a late penalty, which Jackson converted to make it 14-6.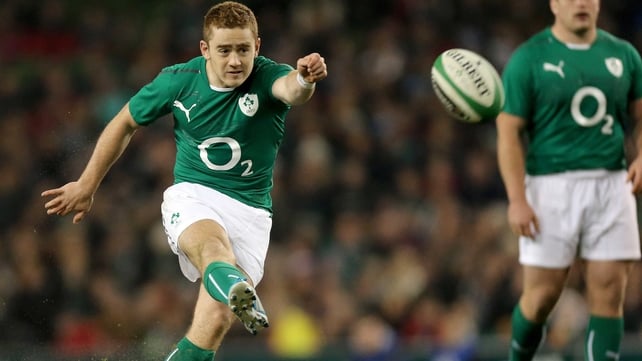 Samoa started the second half with more intent and tempo, and Ireland needed a well-timed intervention hit by Tommy Bowe to end a dangerous early attack.
Ireland replied with a barnstorming run by O'Mahony which eventually amounted to nothing, though it suggested that Ireland had weapons capable of prospering if the game cut up.
The game began to open up and that suited no-one more than Ireland's most-capped player, who through a typical moment of improvisation, vision and skill from O'Driscoll, helped Ireland score their second try.
A turnover created by man-of-the-match debutant Jack McGrath in midfield, and a smart kick into an undermanned backfield by Jackson created the opportunity.
O'Driscoll got to a ball on the deck just before Samoa scrum-half Kahn Fotuali'I and then flicked it between his legs to McFadden.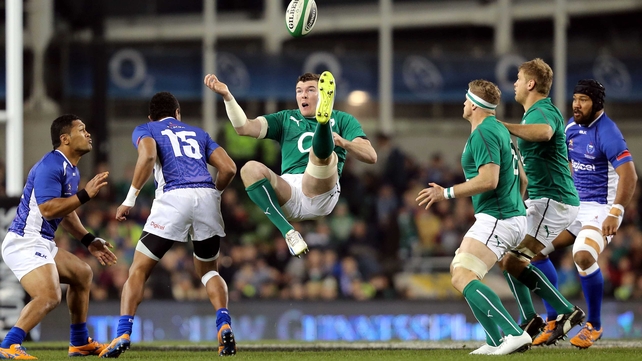 Again, the Ireland wing was stopped short but off a quick ball Sean O'Brien rumbled onto Murray's well-timed pass at pace, powering between two would-be tacklers before dotting down for a try created out of very little.
Debutant prop McGrath, not for the first time, had done powerful work at the coalface to generate the turnover.
A sickening clash of heads between Samoan backs Brando Va'aulu and Tuis Pisi gave rise to serious concerns for the health of Tusi Pisi and cast something of a shadow over the remainder of the game.
The Samoan playmaker left the field immobilised on a stretcher after a lengthy stoppage. Va'aulu was also forced off.
Despite that incident, Samoa continued to be effective in open play over the next couple of minutes.
With Tusi Pisi off, Fotuali'i assumed place kicking duties and he narrowed the gap to 21-9 with 16 minutes to go on the clock.
The momentum shifted decisively from there as Schmidt's decision to empty the bench shifted the momentum decisively and saw Ireland run in three quickfire tries.
An error at the restart gave Ireland and a surge from McFadden off the resultant scrum created the first, giving Ireland enough space and momentum inside the Samoan 22 for substitute winger Dave Kearney to execute a brilliant finish in the opposite corner.
Jackson knocked over the extras and with quarter of an hour left, the game was effectively over as a contest.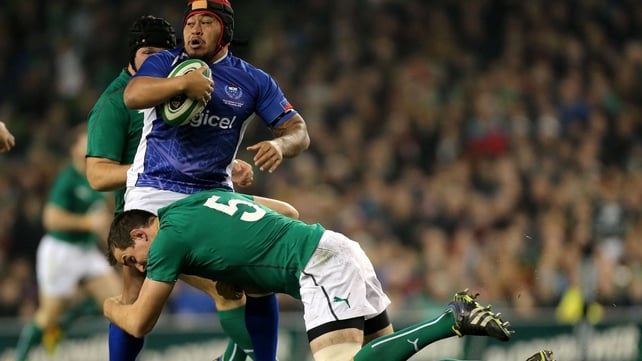 Ireland had the bit between their teeth, and McFadden got deserved reward for a solid day's work, crossing untouched after a superb step and offload by D'Arcy drew in two defenders.
Dave Kearney got his second of the afternoon soon after, as Ireland suddenly found themselves in a five-on-two situation down the short side, which was converted after slightly more tooing and froing than was necessary.
Ireland move on to bigger challenges over the next two weeks with Australia and New Zealand next on the agenda.
Despite showing little in the way of attacking quality out wide until a slightly chaotic final quarter, the signs are that Ireland will be much more competitive than has been the case in recent November clashes with SANZAR opposition.