British and Irish Lions coach Warren Gatland has revealed players not involved in upcoming domestic and European cup finals could have an advantage when it comes to earning the nod for the opening Test of the summer tour, and also revealed that Brian O'Driscoll's back injury is not serious.
Gatland admitted he would be watching nervously over the next couple of weeks as several of his 37-man squad face big matches for their club sides with Ulster, Leinster, Leicester and Northampton competing for silverware.
Those not involved in those finals will be the ones who will face the Barbarians in Hong Kong in the opening match of the Lions tour, giving them the first crack at a Test place.
"The first three-and-a-half weeks will be about preparation for the first Test," Gatland said.
"The players that prepare for that first game (in Hong Kong) are going to have the biggest advantage on tour.
"They are the players not involved in the finals so they are going to have the best preparation in the next couple of weeks. The players coming back from finals are going to be at a disadvantage because of their lack of preparation time.
"So the team that plays the Barbarians should be in reasonable shape in terms of their preparations in the next couple of weeks."
"He's [Brian O'Driscoll] hoping to be right for Friday for the Amlin final and fingers crossed everything will be okay for him" - Warren Gatland
Gatland also revealed O'Driscoll's back injury, sustained in the PRO12 semi-final victory over Glasgow on Saturday, is not thought to be serious.
The Lions squad gathered in London this morning for the first time and O'Driscoll was the only player absent. However, Gatland moved to alleviate fears that the centre's injury was serious by saying: "My information is that he just has to stay off his feet for 48 hours.
"[The back injury] is something that he's had and sort of comes once a year at some stage.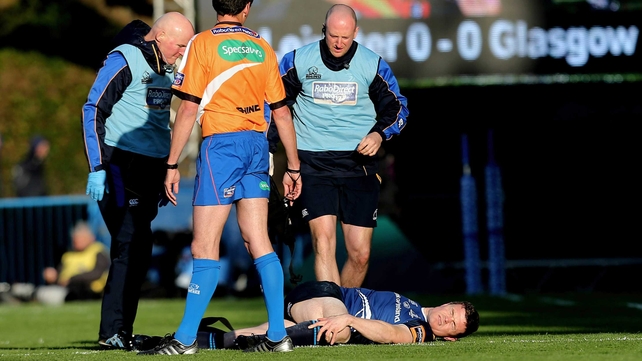 "And it's normally just an epidural to relieve the pain and get him on his feet. He's hoping to be right for Friday for the Amlin final and fingers crossed everything will be okay for him.
"Normally at this time of the year everyone's carrying something.
"Most of them could be ruled out for medical reasons for some bang or another. So you know, hopefully we'll be lucky and at this stage we haven't picked up anything too major."
While Gatland is well aware of the risk of injury for his players over the next fortnight, he told them to hold nothing back.
"It's tough for the players in terms of they know a few days after a big game they are on the plane," he said.
"There's a bit of trepidation about not picking up injuries. But if you go in with that attitude and try and look after yourself there is more chance of picking up an injury.
"So the advice to those players is to go hell for leather."