By Micil Glennon
Munster out-half Ronan O'Gara singled out the forwards for praise after their shock win over Harlequins in the Heineken Cup quarter-final.
The two-time European champions went to the Stoop as underdogs, on the back of a trouncing by Glasgow in the PRO12 league, but produced another trademark act of defiance to knock out Conor O'Shea's Aviva Premiership champions.
After the 18-12 win, O'Gara told RTÉ Sport: "The pack were awesome, the pack were brilliant. The breakdown was exceptional, our defence was really good, and they never looked like scoring.
"And that says a lot about a team that puts 30 or 40 points on average on Premiership team so I think when Munster are up for it, we're a different team."
By his standards, the Ireland stand-off missed two relatively easy early kicks at goal but went on to score all of Munster's tally with six penalties.
"We were at a bit of a crossroads today and we needed to perform on fire. I missed two early kicks and I could have gone into my shell but the boys gave me loads of belief and kept at it and the wheel always turns," said the 36-year-old.
"It's hard when you're in the battle [up front]. It's easier when you can gather your breath and analysis what's going wrong. I asked one or two people was there anything on the pace kicking and I didn't get any feedback so it's up to met to find it and I just found it."
Captain Paul O'Connell won the man-of-the-match award, producing a stunning second-row display that the English side could not counter.
O'Gara acknowledged that, after only two weeks of action following a lengthy lay-off, his return was essential to the result.
"Because Paul has been injured for so long and over such a consistent period, we missed him greatly but he has timed it beautifully to come back and give us added impetus. He's a special player.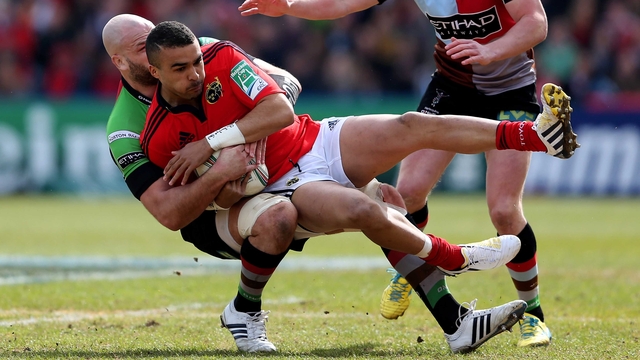 "I think it's the squad that have such a good role now and I was chatting with the younger fellows on Friday night and we need them to drive this thing. Paul and myself need to be hanging on to their coat tails and just about getting a game.
"That's the standard that we need. We need young leaders and they are coming to the fore. It's a ruthless competition and it's a special competition and I love it," he added.