British and Irish Lions head coach Warren Gatland has revealed that he considers Ireland captain Jamie Heaslip as a potential tour captain for the trip to Australia in the summer of 2013.
Gatland, speaking at the launch of the new Lions shirt for the 2013 tour, said: "You could pick potentially an experienced player. He might be tour captain, but might not be good enough to get selected for the Tests. But he could be really good for us as a tour captain.
"Bear in mind that if form's good enough you get selected. But I think [Jamie] Heaslip, who has captained Ireland for the last couple of games, has put himself in the frame as well.
"But the thing about the tour captain, is that once you've named the tour captain, there's two or three guys who aren't too happy about that.
"They feel like their chances are almost gone as well.
"It's all about performance and form, and if that means leaving the captain out then I'm more than comfortable and prepared to do that."
Heaslip is one of three Irishmen tipped to be in contention to captain the Lions Down Under, with 2009 captain Paul O'Connell and 2005 captain Brian O'Driscoll, also tipped for one of the highest honours in northern hemisphere rugby.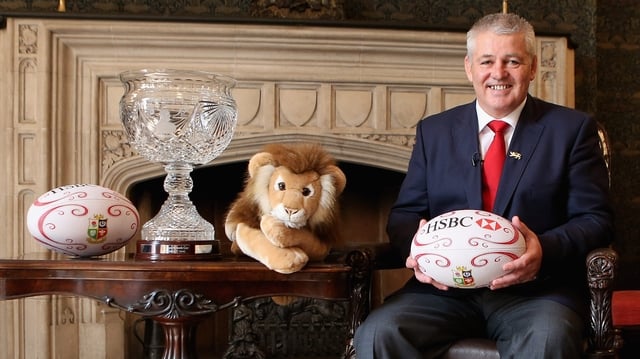 Gatland also spoke about whether British and Irish players in France would be considered for the the three-Test tour against the Wallabies.
Steffon Armitage, Andrew Sheridan, Jonny Wilkinson, Mike Phillips, Gethin Jenkins and James Hook are all based across la Manche and would be considered candidates for inclusion in Gatland's touring party.
However, Gatland has cited a lack of adequate fitness training at French clubs as one reason that players based on the continent may not be selected.
The head coach said: "We had an experience with Mike Phillips on the weekend (for Wales against New Zealand) where he was blowing after 52 minutes and we had to get him off.
"He was not there, and playing in France you run the risk of not being looked after in terms of our standards and expectations.
"They have a different philosophy out there. They are quality players, but the preparation and approach is different.
"If they do fitness it's normally with one fitness guy who puts a programme up on a wall and the players are not monitored as keenly as clubs in the UK and Ireland probably do, and that is what players have to look at.
"Are they physically in the best shape to compete at the highest level even though they may be playing quite well in France?"
Gatland also revealed that there will be players from all four home nations in the touring party.
"We want to have the best squad and there is no pressure on me, but I would personally feel uncomfortable if we did not have players from all four nations," he said.