Ireland outhalf Jonathan Sexton has revealed that he has recovered from his hip injury and should be fit and raring to go for his team's Guinness November Series clash with Argentina on Saturday.
He said: "[I] trained today, did a little bit yesterday. I didn't do anything Sunday, Monday, Tuesday obviously, but I feel good now.
"Hopefully it holds up now and I'll be good to go for Saturday."
Sexton also revealed that he has been back place kicking in training. He said: "I've done a bit. It's just an old, little hip injury.
"We were worried it was my groin, but it turns out it wasn't, it was just a little hip thing. So I did a little thing on it on Sunday which did the job, and hopefully I'll be as good as it feels yesterday and today anyway."
"It's just about doing it for 80 minutes this week and I suppose getting the win that we desperately want" - Jonathan Sexton
The Leinster number ten also stated that Ireland have had a good build-up to the clash with Los Pumas at Aviva Stadium.
He said: "I took full part in training today, I watched Monday and Tuesday. We've had a good week. It was obviously tough today in the conditions – there's a lot of water underfoot. But by and large we've been pretty happy with our preparation this week and for the last three weeks.
"I suppose we saw the rewards against Fiji and for 40 minutes against South Africa.
"It's just about doing it for 80 minutes this week and I suppose getting the win that we desperately want. We feel deserve it, but we have to go out and actually perform."
Sexton, who played the full 80 minutes against South Africa, believes there is plenty to draw on from the 16-12 defeat to the Boks two weeks ago.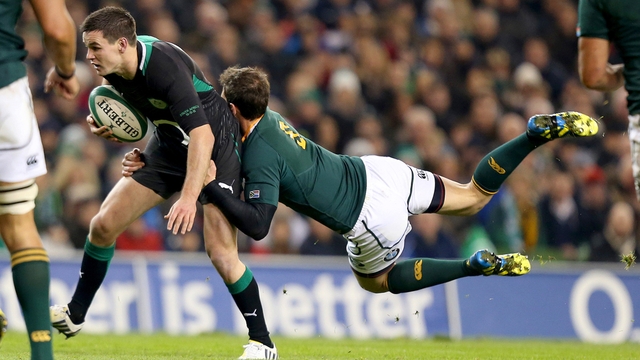 He said: "The first half went exactly how we wanted it to. The start of the second half, a couple of penalties and mistakes gave them field position, and then their maul was pretty devastating.
"We ended up with a yellow, a try conceded under the posts, and then were under pressure as well. I suppose it was two or three incidents that turned the game on its head.
"That's the small margins at international level. And hopefully, if we can get in the same position at half-time, we know what we need now to get the win."
Ireland's first choice stand-off was also keen to emphasise the serious threat the Pumas pose to Ireland on Saturday, and how the South Americans are an every improving side.
He said: "They've got strength all over the pitch. They've evolved their game. Gone are the days were they just kick up the air and chase like mad men.
"They're starting to play, they've learnt a lot obviously from the Rugby Championship. They're only going to get better, which is obviously very worrying as they were very good before that.
"I think now they're starting to play a good bit of rugby and it doesn't surprise me with the quality of player that they have."
The winner of Saturday's Test match is likely to stay in the world's top-eight rankings, and be seeded for the 2015 Rugby World Cup, meaning the game has seismic importance.
Sexton said: "It's a cup final for us. When you get to a cup final of a club competition or of any competition, it's about trying to control your performance.
"You can't go in hoping to perform, I think we fell into that trap against South Africa, where we were in such a good position and we just hoped we were able to see it out.
"That's not the way it works, you have to go out and earn it. You have to play well and go and do everything you can."