By Tadhg Peavoy
Leinster and Ireland fullback Rob Kearney has revealed that surgery on his recent back injury has gone well and he hopes to be back playing rugby by mid-January.
"Surgery was just under three weeks ago and the surgeon was happy with everything," said Kearney.
"I'm back moving now and getting mobility. I'm hoping for a 12-week recovery window, which would see me return to play in mid-January, all going well.
"It's impossible to predict now if I'm going to get any setbacks, but all going good - return to play in mid-January.
"I'd like to get a couple of games under my belt and hit the ground running before the 6 Nations."
Regarding Ireland's recent defeat to South Africa at Aviva Stadium, the Louth native was also keen to state there were positives for his international team-mates from the encounter, saying: "We took real steps forward from our last international game. It was a game that we could have won.
"A lot of guys were thrown in there at the deep who handled themselves really well and made that step up to international rugby, and that's not easy.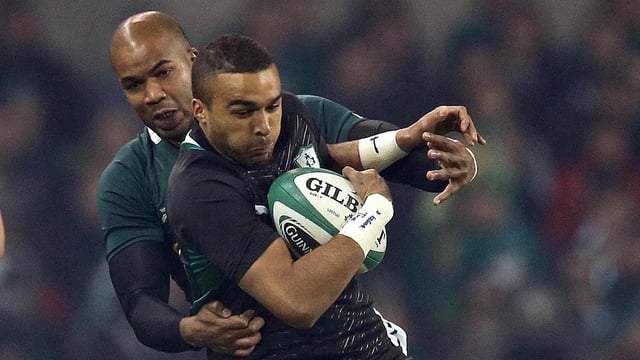 "Sometimes it's very difficult to put new guys in and to test them when they're not forced to because I would imagine as a coach you always want to put your strongest team out.
"I think there was good strides made, and there was a lot of positives to take from it."
"That has to be my real goal at the moment, just trying to retain that level of consistency of last year" - Rob Kearney
2012 was a remarkable year for Kearney, with the fullback being named ERC Player of the Year and Guinness Rugby Writers of Ireland Player of the Year; however, he is very keen to ensure that he can maintain the performances that led to these accolades, saying: "Sometimes getting so many awards in one season can be a little bit of a poisoned chalice. You see in all walks of sport guys winning all sorts of awards in one season and just falling of the next season.
"That has to be my real goal at the moment, just trying to retain that level of consistency of last year, and not to dip too far below.
"I think it's a pretty poor return if you go backwards. It's always key to go forward and that, for me, is my key return when I go back to play."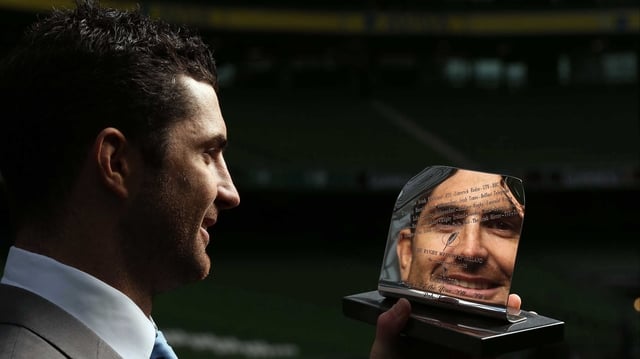 Kearney is a role model for a whole generation of young rugby players, and the former Louth minor Gaelic footballer states that a passion for the game is the first ingredient in success in rugby.
He said: "You need to have a real love for the game. If you don't love it then down the line that's going to be a real problem. You have to train hard. There's a lot of sacrifices to be made.
"Enjoy it, and train hard, has to be the best advice I would give to kids coming up" - Rob Kearney
"You need to be really disciplined. All those sacrifices are so worth it. There are a lot of guys that struggle with making the sacrifices and leading a disciplined life. But enjoy it, and train hard, has to be the best advice I would give to kids coming up."
Kearney also highlights time out injured as a period when this necessary discipline is very evident, saying: "When you're out injured you have to be very diligent with your rehabilitation.
"There's lots of work behind the scenes on your own. Some days you wake up and question if you're really bothered by the thing. A lot days you don't see any improvement and then one day it can click and happen for you."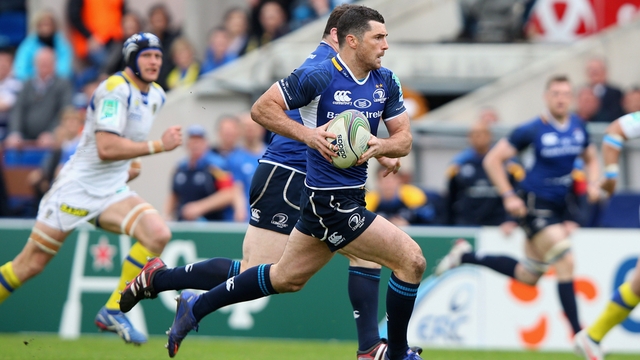 Kearney has also highlighted the recovery period undergone for a back injury of the nature he is suffering from.
"The first two to three weeks are for standing and walking only. Whatever the surgeon says you do," he said.
"Week three to six is still pretty low key because there is still a chance to relapse. You can't really get into too much training. That's frustrating because you're used to so much training.
"Weeks six to 12 the injury is pretty much healed and you have to go through a mini pre-season again to get yourself conditioned. The intensity of training will lift: four or five weight sessions a week, two fitness sessions, and a couple of speed sessions."
As part of the National Dairy Council's Milk It For All It's Worth campaign, Kearney will coach a rugby team around the country and pass on some of his knowledge of the game.
"It's a good campaign and it's the second year we're running it," said Kearney.
"When I was growing up the Irish rugby team were my heroes. To and get an insight into the life of professional rugby player is a really cool thing and something I would have loved as a kid.
"In terms of what we do with them. I can play rugby, but I might not be the best coach, so there'll be coaches down there as well, certified coaches from the Leinster Academy who are brilliant.
"One thing I think we don't develop in this country is our basic skills. For me, that's the difference between being world champions and knocking around the second tier - which is where we are at the moment of course.
"They will be the real things that I will do with the young kids. It needs to happen at a grassroots level, these kids need to be able to grow up passing a ball off both sides.
"It's such a simple thing that might not trigger with most people. But there's a lot people playing professional rugby that can't do that."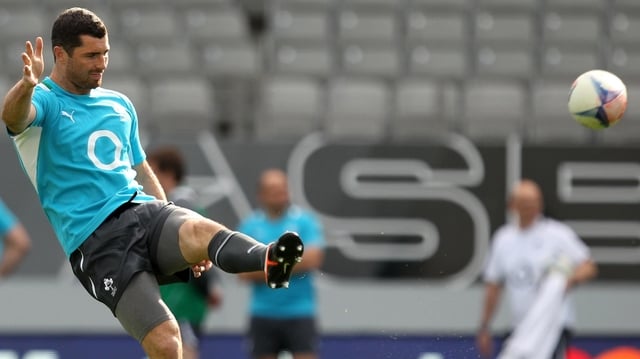 Chilli Con, as Kearney is know in rugby circles, points to the fact that training and climate are perhaps why Ireland has lagged behind in these basic skills in the past.
"Maybe when we were growing up as kids there wasn't enough emphasis on these skills," he said.
"I think climate has a lot to do with it too. The Irish weather climate isn't amazing – it's rainy and windy. And it's no coincidence that countries with good climates are a little bit better at those skills.
"When you go to New Zealand every kid has a rugby ball, like the way in Kilkenny every kid has a hurley and a sliotar. In Ireland there are so many sports we are good at, and I think that's brilliant as a representation of Ireland, that we compete at so many things.
"If we want to be the world's best at something ... it becomes a little bit of a religion for you" - Rob Kearney
"But if we want to be the world's best at something, win World Cups, and dominate every other team in the world, you have to give in to the mindset that it becomes a little bit of a religion for you.
"In saying that, growing up as a kid in Ireland, it's brilliant to be able to play soccer, to play hurling, a bit of rugby on the weekends. It's a really nice way to grow up, so there's a balance between the two."
In the past, Ireland has been divided over its support of rugby. With a section of the sporting public holding a distain for the sport and its players, associating the egg ball with the upper classes. However, Kearney, feels this is certainly changing.
He said: "This is my eighth year now [as a professional rugby player] and in the last two or three years there has been a real shift in the public and I think it was around Munster's time of winning those Heineken Cups, and the Grand Slam was massive for rugby in this country.
"And I think just being out and about in some of the notorious areas that you wouldn't expect to like rugby, it's amazing to go around these places and be recognized by some of the locals. It goes to show how much we're coming on as a country and how much rugby is growing."
With a mid-January return to action on the cards, Kearney will be eyeing up the number 15 jersey for the British and Irish Lions tour to Australia next summer. He also realises that competition is more intense than ever, saying: "There is some amount of competition for fullback now, not just in Ireland and Wales, bit in England and Scotland too.
"I think Stuart Hogg is a really bright, young prospect. He's got a lot of ability. England is awash with three great fullbacks now.
"Mike Brown had a great season last year. Alex Goode came in last week against Fiji and had a man-of-the-match performance, and then you've got Ben Foden out on injury too.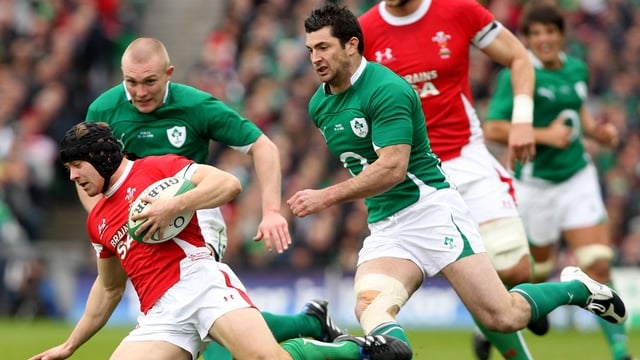 "And then of course Leigh Halfpenny in Wales, who has real ability to kick some points. There's a lot competition out there.
"The Lions squad won't be picked in November or December - probably not January.
"So, if I'm able to get back in January, 6 Nations time, hopefully if Leinster are in the quarter-final of a Heineken Cup, that's the time to find some form and get selected for the travelling party."
Twitter: @TPeavoy
Rob Kearney was in discussion with Tadhg Peavoy on 14 November courtesy of the National Dairy Council's Milk It For all It's Worth – Bring on the Pros campaign.