By Micil Glennon
It's the little things surrounding the match that really give you the sense that it was a different game, in a different era.
<notforsyndication>Watch live coverage of Ireland v Wales on RTÉ Two television and RTÉ.ie (RoI) from 5.30am. Listen live on RTÉ Radio 1 (FM, DAB, LW 252 and RTÉ.ie) from 5.30am and follow live tracking on RTÉ.ie/sport</notforsyndication>
The jerseys were far from the tight-fitting, sculpted shirts that the players wear today. It was a straight choice between XXL and XXXL, and poor Niall Hogan got the latter. The collars were large and stiff, inspired by Elvis's last tour of Vegas.

The rules were different too: the halves began with a kick from the ground off a mound of sand. You could boot the ball over the dead-ball line from anywhere and it'd be a '22 dropout. There was very little lifting in the lineout and back-row forwards could break off from scrums.

IRISH RUGBY IN THE DOLDRUMS

That year's Five Nations championship was especially bleak. Ireland fell to England and France in Lansdowne Road and Scotland away. And just three weeks before the opening RWC game against New Zealand there was a 22-12 defeat in Italy.

The team, coached by Gerry Murphy, came in for a lot of criticism. Gary Halpin got to release some of the pressure when he scored the first try against the All Blacks which led to his infamous double-fisted, single-digit, arm-pumping salute. New Zealand responded with 43 points.

Ireland managed to beat Japan, 50-28, but conceded four tries along the way.

But the record - especially away from Dublin - against Wales was excellent, winning five and drawing one of the previous six away fixtures. And the Welsh had won the Wooden Spoon in the Five Nations.

It was Ireland's 11th RWC game, with only wins over Canada, Tonga, Zimbabwe and Japan (twice) to boast about. With the game about to go professional, a victory would provide a relatively decent platform to move forward in the new era.

POOL C SHOWDOWN – WINNER TAKES ALL

It might be easy to think that just because the game was played at 1,753m above sea level that it would turn into a kicking affair, but if it had taken place in a Welsh mine shaft it would probably have been leathered up and down the field as well.
Within the first 20 seconds, Eric Elwood had put snow on it twice and Ireland caught a disorganised Welsh side asleep. A precision kick from Elwood resulted in a lineout just two metres from the try line – before the days when a lineout had to be five metres out.
Gabriel Fulcher caught the ball clean and Nick Popplewell barged over for a try that Elwood converted.
Pictured below: Nick Popplewell crosses the whitewash for Ireland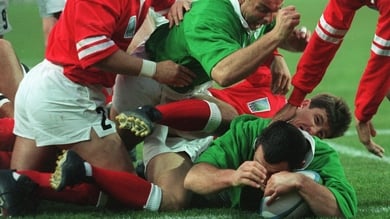 In the 14th minute, Ireland won a lineout just outside the Welsh '22. Neil Francis waved frantically for the ball second from the back of the lineout. Instinctively, Kingston threw it over his head to Denis McBride. (Better still that it did miss Francis as the second row had a tendency to slap the ball down somewhere in the general direction of Niall Hogan and small scrum-halves don't appreciate that sort of service).

McBride handed off Adrian Davies before being dragged down but, crucially, not held. Paddy Johns made a little gap for him and the flanker was in under the posts and Ireland were 14-0 up. The perfect start.

Wales couldn't settle at all and Neil Jenkins missed a penalty soon after. The kicking battle continued and when the ball made its way to Brendan Mullin in the centre it was just to give Hogan and Elwood some respite and he booted it down the field – all the more frustrating with Richard Wallace and Simon Geoghegan waiting on the wings.

Eventually Wales, through a Jenkins' penalty, got on the scoreboard and soon after that Geoghegan stopped Ieuan Evans with a typically solid tackle to save a try.

Conor O'Shea was off target with a long-range penalty before Ireland tried a tap penalty move, which was all the fashion back then. Hogan to Kingston, back to Hogan, to Elwood, back to Hogan who ran out of space.

Just before half-time Wales tapped a free kick and Adrian Davies dropped a goal but it shouldn't have stood as the law had been changed so that you couldn't score a drop-goal from the sequence of play after a free-kick, but the referee missed it.
It was also remarkable that Simon Geoghegan was the closest to the ball when it edged over the bar and he put his hand up to confirm the score. Ah, the amateur days.

HALF-TIME: IRELAND 14-6 WALES

At half-time the teams remained on the pitch. John Robbie, in the commentary box, commented on Elwood's kicking percentages: "Just 40 per cent, not good enough at this level."

Five minutes into the second half Elwood missed a drop at goal. The camera turned to the Irish bench and a fresh-faced Shane Byrne, complete with mullet, joked with a team-mate.

Jenkins reduced the deficit with another penalty, but a rehearsed back-row move from Johns to Eddie Halvey, on as a blood substitute for McBride, resulted in another converted try and Ireland were ten points up with 11 minutes to play.
Pictured below: Eddie Halvey battles with Stuart Davies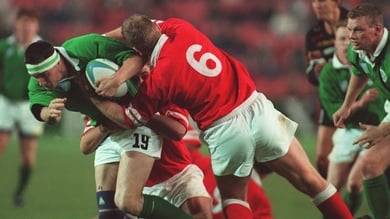 Then Tony Clement jinked inside a couple of Irish tacklers before finding hooker Jonathan Humphreys who touched down under the posts. 21-16.

Wales went offside at the next play and Elwood slotted the vital penalty to give Ireland an eight-point lead. There was time for a final score when Remi Taylor burst through some 'good luck with the conversion' tackling from Ireland for another converted try but it was the last play of the game. 24-23.

Ireland went on to meet France in the quarter-final but were soundly beaten, 36-12.
IRELAND 24
(Tries – Popplewell, McBride, Halvey; Cons – Elwood 3; Pens – Elwood 1)
WALES 23
(Tries – Humphreys, Taylor; Cons – Jenkins 2; Pens – Jenkins 2; DG – A Davies 1)

Ireland: Conor O'Shea, Richard Wallace, Brendan Mullin, Jonathan Bell, Simon Geoghegan, Eric Elwood, Niall Hogan; Nick Popplewell, Terry Kingston, Gary Halpin, Gabriel Fulcher, Neil Francis, David Corkery, Denis McBride (Eddie Halvey Blood Sub 65), Paddy Johns.

Wales: Tony Clement, Ieuan Evans, Mike Hall, Neil Jenkins, Gareth Thomas, Adrian Davies, Robert Jones; Mike Griffiths, Jonathan Humphreys, John Davies (Ricky Evans), Derwyn Jones, Gareth Llewellyn, Stuart Davies, Hemi Taylor, Emyr Lewis.
Ellis Park, Johannesburg, 4 June, 1995.