by Brendan Cole
Leinster look like the major litmus test for whether or not Irish rugby is standing still as the rest of Europe gallops ahead.
Heineken Cup Champions in 2009, the blues were the best team in Europe for a lengthy stretch after Christmas that year - albeit without playing the best French sides - and thrived in the crucible of the season defining games.
In the equivalent situations in 2010, significant cracks appeared and that sense of slowdown was hard to avoid at times.

The Ospreys sliced open Leinster's defence with surprising ease in the Magners League final at the RDS.. Before that, Toulouse simply overpowered Leinster – despite an excellent Leinster performance - in their Heineken Cup semi meeting.
Though still a team with several excellent qualities, the evidence suggests Leinster need to improve.
New coach Joe Schmidt has targeted an increased try-scoring threat, but Leinster's defence and scrum must get better for any new attacking prowess to really count.
The scrum in particular may prove the critical weakness.
Stan Wright and CJ Van der Linde, Leinster's two best scrummagers in recent seasons, are no longer available– Van der Linde has returned to South Africa while Wright's recent Achilles tendon injury means he will struggle to see any action before the very end of this season.
Mike Ross, Cian Healy, Heinke Van Der Merwe and new signing Ben Prescott must take up the slack.
For Healy, who was given a torrid time by Toulouse in the opening half hour of the Heineken Cup semi, this year is about graduating from bright young thing to top level scrummager.
Ross has a chance to demonstrate that his scrummaging ability can provide a solid base for any new and improved Leinster gameplan.
In general, Irish rugby teams may have to start to prioritise the tighthead's ability to scrummage over other qualities.
It is simply not viable for Leinster, Munster or Ireland to concede a high volume of penalties at scrum time. France, New Zealand, Australia, Argentina, South Africa and England all look like bringing powerful scrums to RWC 2011. Ireland must find a way to cope between now and then.
Coming from France, Schmidt may well give more priority to scrummaging ability. Ross will be a very interesting test case.
Leinster - defence became easy to read?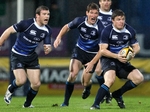 The defence is also crucial. Aggressive tactics were critical to both Ireland and Leinster's successes in 2009 but in 2010 it was figured out and both teams suffered. There is a counter move to every tactic in rugby: everyone started to run big men across the noses of the Leinster and Ireland centres. A new, less readable, approach is needed.
Leinster must also cope with several key departures; notably those of old soldiers Bernard Jackman, Girvan Dempsey and Malcolm O'Kelly. Jackman in particular was an important player in Leinster's eventual march to the Heineken Cup.
The arrivals of Isaac Boss, Ed O'Donoghue and one or two others may offset that to an extent. Boss in particular could fit in well to the Leinster setup but as with any scrum-half he will need a platform to operate behind.
In fact, the return of dynamic back-rower Sean O'Brien to the back-row options will also provide a boost. Often left out by Michael Cheika, it appears that Schmidt will give the Carlow man a bit more of a chance. A big year is in prospect and his selection as captain for Leinster's first game indicates he will get a fair crack of the whip this year.
Luke Fitzgerald's availability is also a major fillip, though his apparent desire to play full-back - where Rob Kearney has tons of excellent form - will be an interesting man management task for Schmidt.
Kearney's solidity under the high ball and kicking are obviosly superior but Fitzgerald could prove a better man to time an incision into the line, and his counter attacking from deep might also be less one dimensional. Interesting times ahead.
Ultimately, the ability of the coaching staff and propping unit to provide that will define Leinster's season.
A transitional period may be in the offing, and wins may prove harder to come by before Christmas. The Heineken Cup could prove more fertile for Leinster this time around.
MAGNERS LEAGUE PREDICTION: 5th