Donal Lenihan thinks South Africa will have to vary their gameplan considerably if they are to upset favourites England in Saturday's World Cup final - and the former Munster lock doesn't see it happening.
Having found themselves in rag order two years ago - the nadir possibly being reached in the 38-3 defeat to Ireland in Lansdowne Road in November 2017 - South Africa's purpose and confidence has been restored under the direction of ex-Munster boss Rassie Erasmus.
They're now back in the World Cup final, their first since the victorious campaign in 2007, but they have navigated their two knockout games against Japan and Wales in a grinding style which has alienated neutrals.
England appeared a much more potent force in their stunning demolitions of both Australia and New Zealand and South Africa are thus entering this weekend's final as clear underdogs.
RTÉ rugby analyst Lenihan agrees with the consensus and thinks it unlikely South Africa are going to overhaul their approach for this, the biggest game of them all.
"I don't think South Africa are going to change their approach at this stage. Rassie Erasmus has been very clear, he's stuck to a formula.
"I think it's a terrible pity. The Springboks' brute force and physicality has been sufficient for them to make it this far.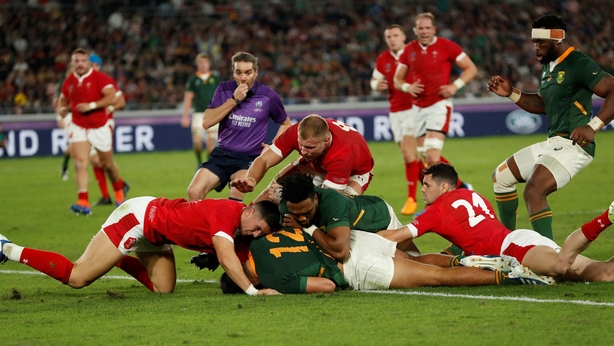 But England have equal quality up front. And even more importantly, they should be able to match the impact off the bench that South Africa have been relying upon.
"They're going to have to look at creating chances for [Cheslin] Kolbe. He was electric in the pool phase and also did well in the quarter-final.
"If South Africa are going to have to score tries... They've been doing that through the power of their pack up to now. But they have to add something else to it. And with Kolbe and Mapimpi - Mapimpi has scored five tries in this World Cup - I just don't understand why they don't give those guys more opportunity.
"If you go back to the Italy game, the quality of the Springbok offloading, their lines of running, their support play was superb. But they don't seem to back themselves and that could be their downfall."
In contrast to South Africa, whose victories have provoked sighs and eye-rolls, England have wowed the critics with the manner of their wins over Australia and reigning champions New Zealand.
"England have been the most balanced team in the tournament so far. They can mix it up front, their set-piece is incredibly strong, their breakdown work was phenomenal against New Zealand. That is the area where New Zealand always dominate yet Sam Underhill and Tom Curry were incredible.
"So South Africa are going to have to add something else to their game if they want to beat England. The conditions are due to be pretty good and it'll be interesting to see if they tweak their approach anyway.
"Their kicking game was outstanding. Their defensive organisation - they just completely flummoxed New Zealand with their ability to use shooters and have the support of a second line of defence in behind them. England were really good on both sides of the ball.
"The South African maul has been a key factor for them. They used it ad nauseam when breaking down Japan - it took them a while to do that but they got there in the end. Likewise, against Wales, they sucked the energy out of them by using the maul and that counted in the last ten or fifteen minutes.
"But then you look at the likes of Maro Itoje. He was unbelievable against New Zealand. And he has this facility of just swimming his way through the maul and getting his hands on the ball. He must have disrupted four New Zealand mauls on his own. South Africa have to find a way to counter that."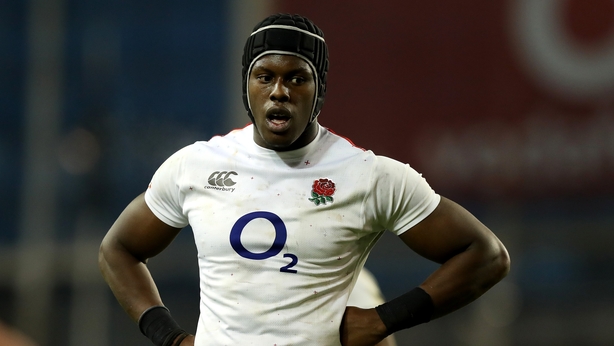 Lenihan foresees one potential snag for England, namely, the difficult of putting in another big performance after the soaring emotional high of the All Black win.
However, here he reckons that England's relative youthfulness is a plus, and indeed gives them an edge when set alongside the greatest England team of them all (up to now at least), the World Cup winning team of 2003.
"There's one caveat for England. They played Australia in a quarter-final, got up for that, won 40-16. Then they play a game for the ages against New Zealand. It's a big ask mentally to lift it for a third weekend in a row. There's huge evidence, I've seen teams that have delivered a big performance and failed to get that height a week later.
"Now you are talking about a World Cup final here, and 80 minutes of rugby which will define their whole career. It's hard to think they wouldn't be up for it but psychologically it can be difficult to reach those heights three weeks in a row.
"But the thing about this England side... you go back to 2003. They were a group of players, the hardcore of which were coming almost to the end of their careers. Whereas, you look at this England team and you have so many guys in their early-to-mid 20s, they could be around for another seven or eight years.
"I think that freshness and enthusiasm will mean that from a mental perspective it shouldn't be an issue for them."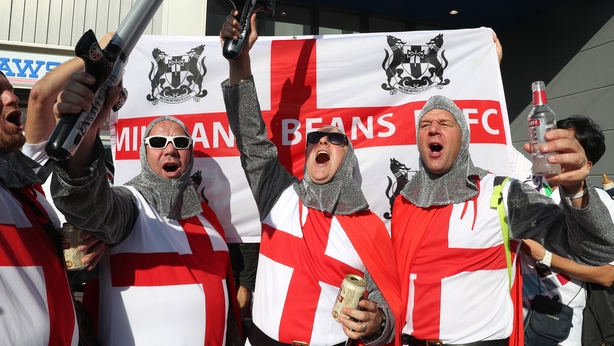 While most fans, and much of the media have now departed Japan with their teams, there has an influx of England supporters in the past couple of days, as they giddily anticipate a second William Webb Ellis triumph.
Lenihan estimates they will easily dwarf the South African and believes that a triumph for the northern hemisphere side will be good for the game.
"The most amazing thing is to see the amount of England supporters who've been flooding into the city in the last 24 hours. I pulled into my hotel this morning and there must have been seven or eight busloads which came in at the same time. They'll have way more support than South Africa will.
"There's a lot of Welsh supporters still here as well. It's hard to see a Welshman supporting England but South Africa played such dull rugby against Wales, that even the Welsh might look to get behind England.
"It'd be great for rugby on our side of the world if we did have a northern hemisphere winner. We've only had one in eight tournaments so far. The fact that we had two semi-finalists from Europe was a help, when you consider that four years ago, we had New Zealand, South Africa, Argentina and Australia in the semi-final.
"There's been more of a northern hemisphere flavour this time and I think if England won, it'd be good for the game."
Listen to the RTÉ Rugby podcast on Apple Podcasts, Soundcloud, Spotify or wherever you get your podcasts.
Follow England v South Africa on Saturday (kick-off 9am) via the live blog on RTÉ.ie/Sport and the News Now App and watch live on RTÉ2