Former Leinster great Isa Nacewa believes Ireland's excessively conservative approach in 2019 is to blame for their demoralising World Cup campaign.
The four-time European Cup winner, who enjoyed great success under Schmidt at Leinster in the early part of the decade, said the Irish team's reliance on a tightly structured game plan became one of its biggest weaknesses this season.
Nacewa, who is covering the World Cup on New Zealand TV, told Will Greenwood's podcast on Sky Sports that Ireland had played a far more creative and attacking brand of rugby in 2018, largely influenced by the all-conquering Leinster team of 2017-18.
According to the former Leinster full-back, Schmidt had allowed this Leinster spirit to feed into the Irish camp but they went away from this in 2019.
We need your consent to load this Instagram contentWe use Instagram to manage extra content that can set cookies on your device and collect data about your activity. Please review their details and accept them to load the content.Manage Preferences
"In the 2017/18 season once Leinster started playing an attacking brand of rugby and the majority of the Ireland squad was Leinster-based they let a little bit of that Leinster flair infiltrate the Ireland camp.
"Joe started to go away from his tried and trusted drills and introduced a bit of what we call unstructured play.
"That came into Ireland camp in training and in the Six Nations and they were throwing off-loads. There was continuity to their play.
"That got them all the way to the top of the world and an unbeaten year with all the trophies.
"Post that, I hear they actually went away from it and started to take it back out and went back to the conservative approach and that's just shone through the whole World Cup and 2019.
"He went back to the tried and trusted of what worked for the last six years and I just don't think they were expressive enough.
"They didn't have the right ball players and the likes to play that flowing rugby that Johnny likes to play, likes to drive. They'd a couple of key injuries in certain positions and they just never got their flow on."
From a psychological point of view, Nacewa asserted that the team never properly recovered from the jolt of losing so emphatically to England on the opening weekend of the 2019 Six Nations.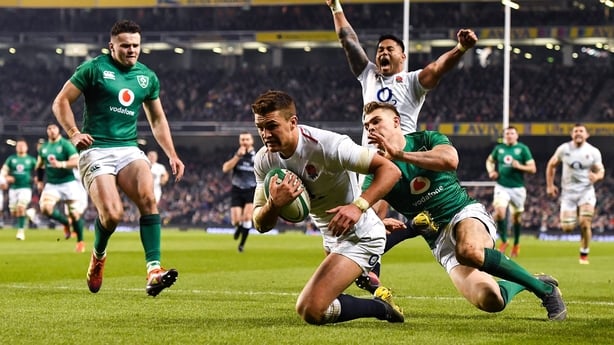 Nacewa contends that Ireland played with a complete absence of fear in 2018, particularly with younger players like James Ryan and Dan Leavy, who had little experience of losing in either a Leinster or an Ireland jersey.
This was no longer the case in 2019 after the couple of setbacks early in the year.
"They just never recovered from the heights they reached in 2018," he said.
"It was eye-opening how far off the pace they were in that first Six Nations game against England when they downright got battered in Dublin.
"I think that was quite a telling story, because they never really took a step up after that.
"The performances, even when they did win in 2019, in the lead up to the World Cup, weren't great and then they got it handed to them in a warm-up match against England, and that was a psychological blow to the Irish too.
"They just never managed to play the rugby they played in 2018 and that was the biggest difference.
"In 2018, there was no fear, they had guys like James Ryan, Dan Leavy coming through - they missed Dan Leavy and Seán O'Brien at the World Cup. It was the belief that they had.
"There was no fear no matter who they played. It didn't matter if it was the All Blacks, a lot of those guys had never experienced any lows. Some of them went through the entire 2017/18 season without ever losing a match.
"A lot of people said, the only way from that position is down and the fact they'd to take a couple of hard losses to learn the stark reality of professional rugby, that sort of came to fruition in a year that wasn't the build-up to a World Cup they needed."
Listen to the RTÉ Rugby podcast on Apple Podcasts, Soundcloud, Spotify or wherever you get your podcasts.
Follow the Rugby World Cup semi-finals this weekend via our live blogs on RTE.ie/Sport and the News Now app, or watch live on RTÉ2.