This week, Beauden Barrett is busy plotting Ireland's downfall.
The 28-year-old is sure to figure for New Zealand in Saturday's quarter-final, possibly at out-half but most likely at full-back, where he has shifted to accommodate Richie Mo'unga in recent games.
Two of his brothers, Scott and Jordie, who along with Beauden all scored tries in the 63-0 win over Canada, could play too.
Beauden is already a World Cup and Super Rugby winner and a two-time World Rugby Player of the Year; he made his All Blacks debut against Ireland in 2012.
But his love affair with rugby all began in the Irish midlands, so the Buccaneers like to say.
Beauden, then aged eight, was shipped, along with six-year-old Scott and two-year-old Jordie, over to Ireland as father Kevin, commonly known as 'Smiley', took part in a farm exchange in Meath.
His brief stint in Ireland saw him play Gaelic football with St Brigid's in Ballinacree (don't be surprised if that gets the credit for any overhead catches or accurate cross-kicks on Saturday).
Smiley, who had Donegal roots, was a big name for Taranaki back in the day, and had even appeared for the Hurricanes in Super Rugby, playing 15 times for the Wellington-based team.

And it was Buccaneers' good luck that he found a farm in Ballinacree, Co Meath, near the Cavan border but close enough, about 45-odd miles across the back roads of Westmeath and Longford, to make the commute to Athlone worthwhile.
"He was a breath of fresh air and he was a very experienced guy for us to get in," Pat Hynes, the manager of the 2000-2001 crop at the then AIL Division 1 club, tells RTÉ Sport.
"We used to call him Smiley because even when he was having a little bit of a falling out with some guy on the pitch, he'd be smiling."
What sort of a falling out are you referring to?
"You know what kind of thing went on on a rugby pitch 18 or 19 years ago."
The 34-year old farmer was not a shrinking violet so.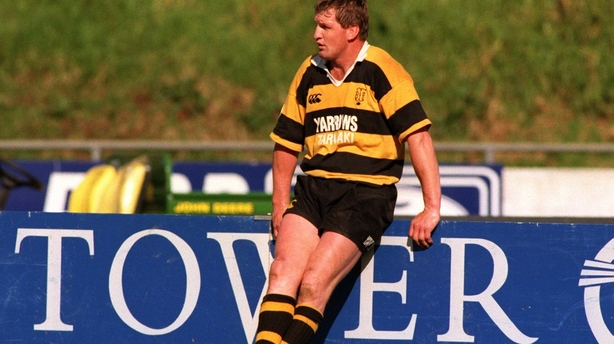 It appears Barrett Sr was extremely versatile, well able to lock down the scrum from the second row and simultaneously officiate the game.
"He had a great way about him," adds Hynes. "He would try and referee the match himself. If the ref wasn't very strong, he'd dominate the referee."
His captain that year was Joe McVeigh, then a 22-year-old hooker.
"He was a massive fellow, teak tough, an unbelievable competitor and still a good trainer at that stage," says McVeigh.
"A great man in the dressing room, he'd come straight from the farm, welly boots on, come into the dressing room, boots on, perform and head off again.
"There was a game late in the season, we were fighting relegation so it was an important match for us.
"It was one of the last plays and we were camped on their line, they had a scrum and Smiley managed to block down their out-half and scrambled to touch down for a try that got a result for us – cue huge celebrations."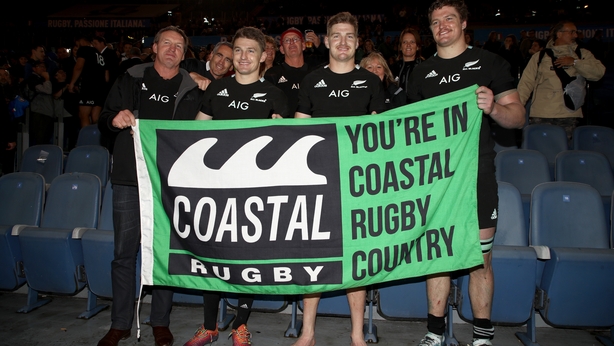 And all the while, looking on from the sidelines, were the rest of the Barrett clan, including Beauden, who hadn't started organised rugby before leaving New Zealand.
"His sons used to come to the games," recalls McVeigh.
"When our out-halves - Simon Allnut and David Connellan back then - would be doing their kicking practice, Beauden would be under the posts kicking the ball back to the lads.
"I would have joked that Beauden learned his trade at Buccaneers."
Follow Ireland v New Zealand on Saturday 19 October (kick-off 11.15am) via the live blog on RTÉ.ie/Sport and the News Now App, watch live on RTÉ2 or listen to live match commentary on RTÉ Radio 1.
***
Follow all four Rugby World Cup quarter-finals this weekend via our live blogs on RTE.ie/Sport and the News Now app, or watch live on RTÉ2.