This week's article has taken an age to write.
Partly because there has been so much physical time between this and the last one that was written in the immediate aftermath of our defeat to Japan and partly because I have spent a lot of time reflecting on where 'we' are.
The 'we' being twofold: 'we' the Irish rugby team and 'we' the nation of supporters.
Now I don't for a minute propose that my musings represent the masses, thank God says you, rather they represent me and the thoughts of people I come into contact with during my daily life that choose to discuss rugby.
Be assured they do not represent the thoughts of my better half, one John Hayes, however, they often contain the thoughts of our seven-year-old son. He is, despite his tender age, a very good barometer, let me tell you.
I started penning this in my head the evening before the Russia match. I was pondering what would be an acceptable outcome the following day for the team and the 'nation'.
POOL A PERMUTATIONS: WHAT IRELAND NEED
For both a rousing bonus-point victory with a free-flowing display of running rugby would have been the optimum. So we got the bonus-point victory but we certainly didn't get the extras that would have satisfied most.
To be absolutely honest I did not watch the match live as I was working so waited until I got home that evening.
I was met at the door, as I am most evenings, by Bill and his wall chart and the announcement that Ireland had beaten Russia 35-0 but, as he said himself, it wasn't a very good match even though it was a good score but not a great score.
I sat down to watch the match and nobody watched with me, Bill instead choosing to watch a rerun of some rugby classic match that had become his pre-bed viewing.
I'm not sure if it was because it wasn't live or because I knew the score but I myself struggled to watch it. It was dull, and by-and-large one-paced and one-dimensional.
Now in championship rugby, I am a win-at-(nearly)-all-costs type of person and to be fair we had got the job done and got what was needed to continue with destiny in our own hands.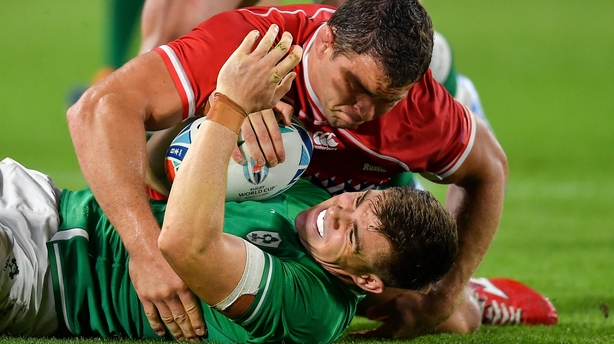 As a family we watched a bit of rugby on Saturday but spent Sunday on the rugby fields of UL Bohemians, Bruff and Shannon as Roisin, Bill and Sally played without the pressures of the world's scrutiny, and surprisingly, with fabulous weather.
I must give a shout out to the Aviva rugby festival run by the IRFU in UL Bohs on Sunday - it was a joy to behold in every sense and the fact the Bruff had a squad of 16 Under-12 girls participating was indeed the high point in our rugby world that week.
Back at home that evening Bill filled in his wall chart retrospectively with little to no thought of the Irish team or when they would be playing again.
Sure we just need to beat Samoa with a bonus point now and we will be where we were always going to be - in a World Cup quarter-final against either New Zealand or South Africa.
So here's further reflections.
Does it matter if we get to the quarter-final how we played to get there? My reflection at this stage is that no it doesn't.
We need your consent to load this SoundCloud contentWe use SoundCloud to manage extra content that can set cookies on your device and collect data about your activity. Please review their details and accept them to load the content.Manage Preferences
If we play New Zealand or South Africa in the quarter-finals and beat them, playing poorly with one dimensional rugby, will it matter? Will we care? Well I for one will take the victory even if it is devoid of any spark, ingenuity or imagination.
We have never reached a World Cup semi-final, so if we do it will be deemed a huge success and most of us will get over the blip in the World Cup road that was Japan.
So back to the task at hand - beating Samoa with a bonus point. I absolutely think that this will happen and it should happen.
I do not, however, think it will be easy.
The simple fact though is that if we don't achieve the desired outcome on Saturday then we are in disaster stakes regardless of whether the Japan-Scotland match happens or what the result of it is.
The starting team is the right mix of experience, hard nose and cutting edge.
There was certainly a case for Rhys Ruddock to be included such was his standout performance last week, perhaps he is being saved for the quarters. Gary Ringrose will watch on from the stands having played every minute to date and, to be fair, he has shown great stamina and some nice touches with limited supply.
My hope for Saturday is that we survive the early onslaught, albeit Samoa didn't exactly fade against Japan, and that we then get to show what we can do and what we are so capable of doing.
I hope that we turn back the clock a mere 11 months and play with that same self-belief that brought us victory over the All Blacks so that we can believe once again so that we can go forth into the quarter-final of the World Cup full of hope and optimism.
Listen to the RTÉ Rugby podcast on Apple Podcasts, Soundcloud, Spotify or wherever you get your podcasts.
Follow Ireland v Samoa on Saturday 12 October (kick-off 11.45am) via the live blog on RTÉ.ie/Sport and the News Now App, watch live on RTÉ2 or listen to live match commentary on RTÉ 2fm.