Ireland can't allow themselves to become too distracted by the typhoon threatening the Scotland-Japan match and his team's chances of topping the pool, says Joe Schmidt.
England-France and New Zealand-Italy have already fallen foul of Super Typhoon Hagibis, while the final Pool A game on Sunday is under threat.
Ireland will qualify with a bonus-point win over Samoa regardless of whether or not the Japan v Scotland match goes ahead in Tokyo or not, a decision on which will be taken on Sunday morning.
However, if the match is cancelled both teams will be awarded two match points, which puts Japan on 16 points and in front of Ireland on the head-to-head rule.
.@treacyj reports from Fukuoka after the unprecedented decision to cancel Rugby World Cup matches in Japan #RTERugby pic.twitter.com/iL1p5xxzLW

— RTÉ Rugby (@RTErugby) October 10, 2019
That would knock Scotland out and leave Ireland facing a 19 October clash with New Zealand.
Speaking at the team announcement, Schmidt said: "There is a distraction; there was a lot of talk among the players post-training today when we found out about the cancellations.
"Because any time there's something up in the air or something is unknown - especially when two games have already been abandoned - you get players are going to talk about that because it's newsworthy and influential once games are being cancelled.
"But we've just got to make sure our game gets finished with the right result for us, and I'm sure Samoa are going to out to make that as difficult for us as possible.
"We're not really having too many conversations with World Rugby; we had a few earlier in the week because at one stage the typhoon pattern was somewhat different from what it is now.
"But for us we just have to be business as usual. We can't control what happens with the Japan-Scotland game, so on Saturday it's up to us to get our business done as best we can."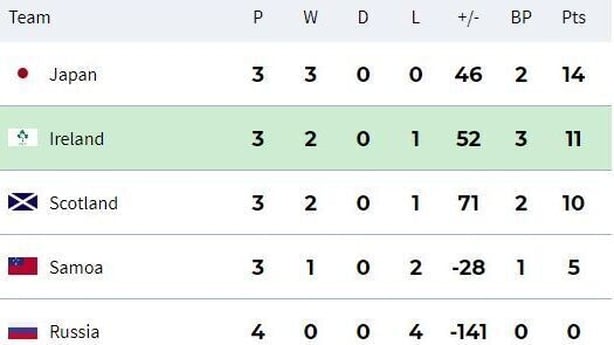 Asked if the cancellation policy damaged the integrity of the tournament, Schmidt said: "It's not something I can control, I only know what we need to do, and we need to get out and get a result.
"It's a situation nobody wanted to have. I know there are several teams who are massively disappointed their games have already been abandoned.
"With the amount of people travelling to games there are supporters and certainly players disappointed.
"Some players are playing in their last World Cup, there's no bigger game than getting to play against some of the biggest players in the world game, and they are missing that opportunity.
"So do I think that from that perspective that's disappointing, but from our perspective all we can do really is what we can control, and as much as possible that's what our full focus is on."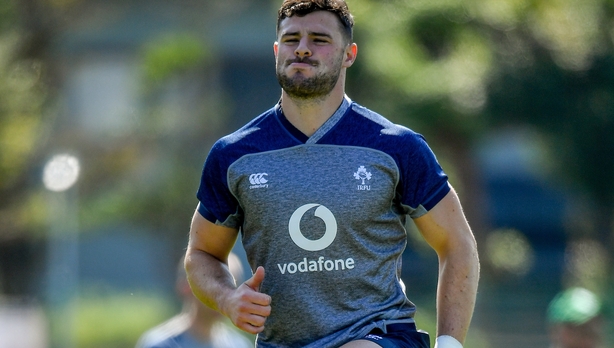 Gregor Townsend has urged the Rugby World Cup organisers to do all they can to ensure Scotland's match goes ahead.
Speaking at a hastily arranged press conference, the Dark Blues head coach said: "We believe the game hasn't been cancelled because the weather forecast is much improved for Sunday.
"It looks like the game will be played and that's what we have to keep faith with.
"They have made the call with a lot of certainty and a lot of confidence that the game will go ahead on Sunday night.
"I would hope that everyone who is involved in the tournament would want the game to be played and that they will do all they can to ensure that it is."
A Scottish Rugby spokesman said in a statement: "We are in regular dialogue with World Rugby at all levels to work to ensure our fixture against Japan on Sunday can be played as planned. Public safety is the clear priority.
"With potential impact on our last Pool A fixture, Scottish Rugby fully expects contingency plans to be put in place to enable Scotland to contest for a place in the quarter-finals on the pitch, and will be flexible to accommodate this."
We need your consent to load this Facebook contentWe use Facebook to manage extra content that can set cookies on your device and collect data about your activity. Please review their details and accept them to load the content.Manage Preferences
However, World Rugby made no mention in their statement about contingency plans in the event the trail of destruction left by Hagibis does force a cancellation.
But Townsend believes there are other measures that could be taken to ensure it goes ahead - including playing at another venue in Yokohama or Tokyo or even behind closed doors.
He said: "I believe the game will be played. The situation is changing a lot but what we have been told is that Sunday looks clear now.
"Saturday is the day when the typhoon comes in and it comes in quite quickly. I have looked at the weather and Sunday night looks to be quite calm.
"What might happen is that the infrastructure might not be in place even although the weather is nice.
"That's where we have to believe and have faith in the organisers that the game will be played even if it's behind closed doors or at a different venue."
Additional reporting by PA