Ireland will play their last guaranteed game of the 2019 World Cup this Saturday against Samoa, who won't be progressing to the knock-out stages.
I say "guaranteed" but a typhoon had cast doubt over whether the game would go ahead in Fukuoka or whether it would go ahead at all, however, the latest weather forecast indicates that the match will go ahead as scheduled.
The tournament organisers have said that there are contingency plans in place so there is no point in speculating further over what's going to happen and I suspect that this is Ireland's mentality too.
It is hard as a player when there are doubts and rumours flying around but they have to prepare as if they will be togging out somewhere in Japan on Saturday.
Samoa are technically out of the tournament, but this is a banana skin for Ireland.
The islanders will be well aware of what Japan did to Ireland with an expansive running and offloading game with quick ruck ball that left the Irish team gasping for air.
We need your consent to load this SoundCloud contentWe use SoundCloud to manage extra content that can set cookies on your device and collect data about your activity. Please review their details and accept them to load the content.Manage Preferences
They have 11 more offloads than Ireland in the tournament so far despite being on the wrong side of the score line in two of their three games.
I'm not so sure that Samoa have the same discipline to stick to a game plan like this and don't have the cohesion of Japan but the shackles are off for them.
They can go out and throw the ball around freely with the hope of one memorable game in this tournament. It will upset Ireland's tight, controlled game plan if they can open the game up and dictate the pace.
Samoa would have been targeted as a bonus-point victory by Ireland but it didn't prove so easy for Scotland and Japan, the latter achieving their controversial bonus point with the clock well in the red.
Samoa also beat Russia with a score line of 34-9, not too far from Ireland's score line against the Bears last week.
Ireland's target should still be a bonus point win but a win on its own is vital for now.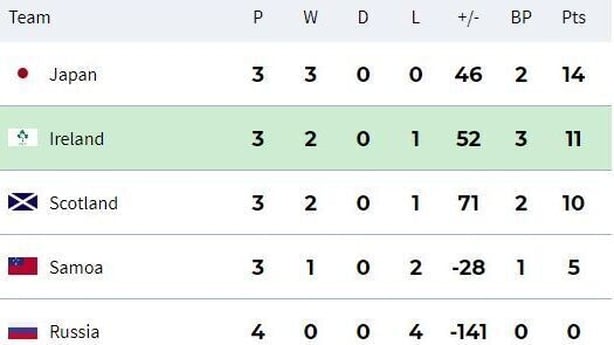 Four points should be enough to go through but Scotland still have a big performance in them and Ireland shouldn't feel like topping the pool is out of their grasp.
The Scots have been written off because of Ireland's loss to Japan and all the momentum is on the Japanese side. Scotland are a proud nation and will leave everything they have on the pitch in Tokyo, or wherever these games end up going ahead.
One of my worries for Ireland is the raw power that the Samoans possess.
They are currently topping the ill-discipline records with four yellow cards and a red card, five yellow cards in effect.
Two of these came in the Russian game where former Blackrock college student Vasily Artemyev was caught high a number of times.
Hooker, Matu'u, was a danger to himself for his own 10 minutes in the bin after flying nearly head first into the contact area.
Ed Fidow was the culprit of the two yellow cards and subsequently a red after dropping his knees towards Sean Maitland as he crossed the line.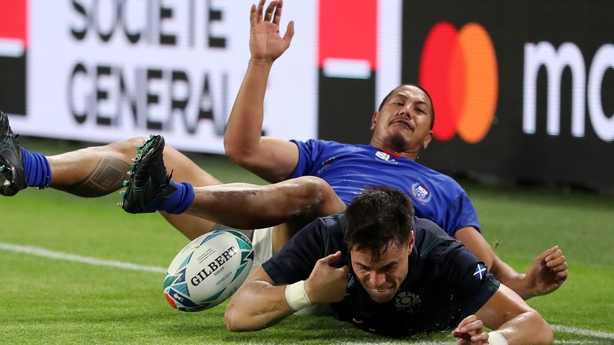 This is one of my pet peeves and a crazy 'tackle' technique that goes unpunished regularly. It could really hurt the try-scorer.
The Samoans tackle technique is one of the most dangerous aspects of their game for Ireland, especially when trying to keep a full, healthy squad for a possible encounter with New Zealand in a quarter-final.
Joe Schmidt's side can't afford to lose anyone at this stage. If Joe Schmidt's men stay higher in contact to try to avoid these high tackles by Samoa then they could end up with another few players holding their ribs going into their most physical encounter yet.
If they go low to win the contact area they could be on the receiving end of another high shot from the Samoans. I'm not sure what height I'd be advising if I was coaching Ireland going into this one.
Whether Samoa hit legally or otherwise, they will do so with power and a bruising physicality, as outlined in former Samoa 7s player Henry Bryce's interview with RTÉ Sport.
That is my worry for some of the pack and with Ireland's game plan it could take a physical toll on the players.
They don't have the luxury of resting too many players either because of the position that they find themselves in. Most of the players will want to be playing the game anyway to gather some momentum for an expected quarter-final against top opposition whatever way it works out.
Both teams should be well rested after a tough schedule at the start of their pool.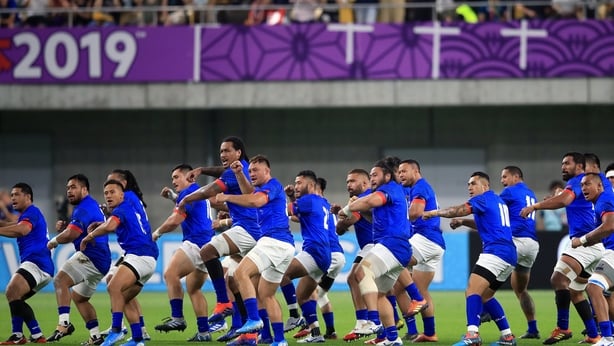 Ireland will have had nine days off before lining out on Saturday and despite having two days less, Samoa will still have a full week turnaround before they attempt to leave the competition on a high.
Robbie Henshaw is also expected to return to action this weekend.
It's his last chance to get some game time before a quarter-final but if anyone has the ability to show up after an absence from games it is him.
He looked so sharp against Wales in the Aviva and is key to how Ireland perform. He's had massive performances in the past and shows up for the big games.
Some memorable tries against England and New Zealand will give us some hope going into the knockout stages.
Brian O'Driscoll spoke this week about the importance of Henshaw and that he's a player you want to have in the trenches.
We can't always understand the energy of each player when watching from afar but certain fellas just turn it on at the right time to swing the momentum in your favour.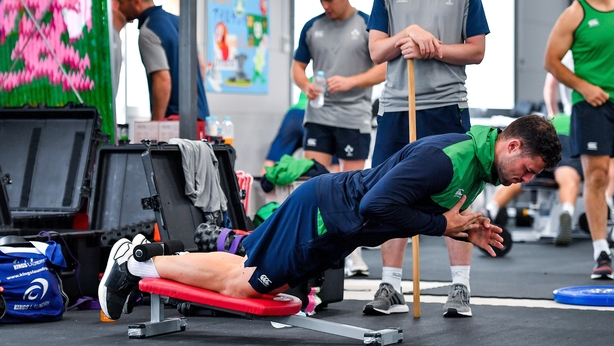 Henshaw does that and I'm sure the whole team will be glad of his return. He wouldn't have been kept on in Japan for so long if he wasn't that important.
Hopefully everything goes according to plan for him because this could be one of the small things going against Ireland that would dent the team's confidence again. His return could provide the boost and spark that is needed.
Ireland will be anxious to get this game played before the weather has an effect on the outcome and the players will be keen to get another performance under their belt in preparation for what will be the biggest game in most of their careers.
Listen to the RTÉ Rugby podcast on Apple Podcasts, Soundcloud, Spotify or wherever you get your podcasts.
Follow Ireland v Samoa on Saturday 12 October (kick-off 11.45am) via the live blog on RTÉ.ie/Sport and the News Now App, watch live on RTÉ2 or listen to live match commentary on RTÉ 2fm.