Joe Schmidt is well aware of how difficult conditions will be in Thursday's clash with Russia in the Kobe Misaki Stadium after getting reports back from his brothers.
Ireland pulled up badly, or "flattened out" as the head coach put it, after a positive opening 20 minutes against Japan on the way to the historic 19-12 loss on Saturday and has been getting advance warning about what is coming under the closed roof.
Scotland's bonus-point win over Samoa yesterday, played in 30C and 70% humidity, and England's victory against Tonga both took place at the same venue.
"I can't say we are prepared, we are aware," the 53-year-old told RTE Sport's Michael Corcoran.
"We try to prepare ourselves, we did warm-weather training for the games, like it was last Saturday where the humidity was high and it was very warm and it's going to be ramped up a little bit further.
"We're hoping that the Russians aren't that comfortable in it either because then at least neither of us are comfortable whereas I think the Japanese were a little bit better conditioned for the conditions.
"Not so much physically, I think we are really well conditioned physically.
"Emotionally I think the [Japanese] were really up for it, an eight-day turnaround after a comfortable enough run-out against Russia, where we had that emotional high of getting that bonus-point win over Scotland, which could still be pivotal in the pool as is getting the bonus point against Japan.
"We have spoken to people about [the humidity]. I have two brothers who went to the Tonga-England game, they ended up in a pool of sweat at the end of it and they were sitting on their backsides doing nothing.
"They might have walked somewhere for catering, that would be about the limit of it. Meanwhile these guys are running around the pitch
"I know [England's] Owen Farrell fed back to his dad [Ireland defence coach Andy]. He came off the bench, he was drenched very quickly with the sweat.
"It looked to me like it was an actual drinks break, a water break that they had after 20 minutes in the Scotland-Samoa game last night, so that might be an indication that if we can take a bite-sized approach, if we can get through that first 20 minutes, get a bit of hydration, galvanise ourselves again, that might be a good way to best manage it."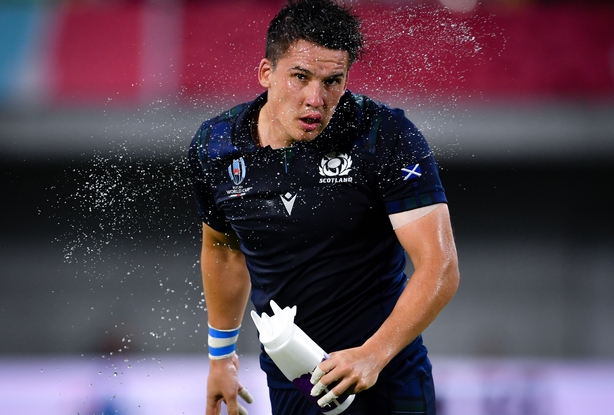 Johnny Sexton, who has recovered from a quad strain to captain the side for the first time, was also fully versed, especially about the prospect of condensation affecting the ball.
"We watched the game last night and we watched the England game there as well," said Sexton.
"When it's an indoor stadium you think air con and whatever and it will be a bit cooler, but it's quite the opposite from what we hear.
"So it's something we're going to have to be mindful of but even when you play outside the ball gets quite slippery, the boys said it got that way against Japan, especially in the second-half.
"The longer the game went on the sweatier everything got and the ball ended up like a bar of soap.
"So it's something we have to be conscious of, we've got to go out and play smartly, but hopefully it won't make too much impact."
Listen to the RTÉ Rugby podcast on Apple Podcasts, Soundcloud, Spotify or wherever you get your podcasts.
Follow Ireland v Russia on Thursday (kick-off 11.15am) via the live blog on RTÉ.ie/Sport and the News Now App, watch live on RTÉ2 from 10.30am or listen to live match commentary on RTÉ Radio 1.