It's funny what a week can do in sport, especially in a big tournament like the World Cup.
Ireland's loss to Japan was a shock in this part of the world but it didn't seem like that to the Japanese.
Pieter Labuschagne was interviewed after the game and it didn't feel like this was an unexpected result for the captain on the day.
They were targeting this game and it was clear how much belief they have in their squad.
Anything that can be said about the game this week will be said in clear hindsight. We didn't expect Ireland to run out of gas the way they did and we didn't think that Ireland setting the pace of the game would be the thing to come back to bite them in the end.
That's not to say that Japan didn't go and win the game, they certainly did.
They tidied up a few areas that I would have pointed out as weaknesses and I'm sure Ireland would have expected to see some weaknesses too but they were out of the blocks early on and really challenged Ireland's defence.
They started at a blistering pace and held onto possession for long periods of the game. They didn't get rewarded early on because of an unlucky bounce of the ball that Stockdale cleared up and a missed penalty from Tamura that would have put a different spin on the game.
The attack came in waves and was underpinned by a solid set piece.
Peter O' Mahony was trying to make a nuisance of himself in the breakdown and target a perceived weakness in the Japanese game but he exchanged penalties so there was no real advantage gained in that area.
Ireland did in fact push the pace of the game. In hindsight this is one of the areas that could have caught them by the end.
They didn't take their three points on two different occasions but that kind of bold play, led by Carty, is what resulted in them taking a 12-3 lead after 22 minutes.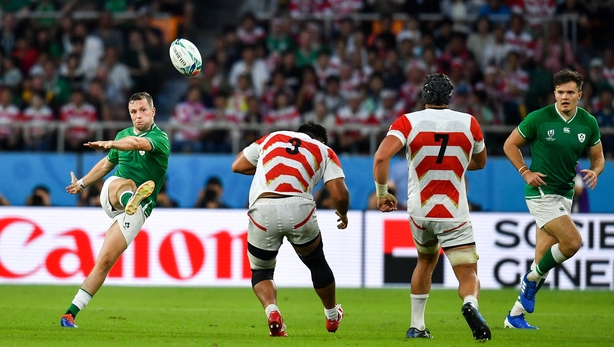 It turned out Ireland couldn't keep this pace under the conditions and Japan got a handle back on the game. If they had their time over would they have slowed the game and played with more structure to squeeze the game away from Japan?
Ireland looked like a heavyweight boxer waiting for the bell to go so they could run in at half time after Japan closed the gap to just three points.
All the momentum and opportunities going the hosts' way at that stage.
Ireland had given away four penalties in the first half, three of them in their own half, showing the pressure that the Japanese game was putting them under with quick ruck ball and options spread out across the pitch.
Not to mention the handling and offloading game of Tim Lafaele.
Between the pace of the game and a number of injuries, Ireland were forced to make their substitutions earlier than usual. Healy was off after about 45 mins, Peter O' Mahony was gone after 55 mins which are both quite early for those two players on a normal day.
Furlong was called ashore with an eye injury early in the second half, the Irish backline was shuffled around in an uncomfortable way with Ringrose at 12, Larmour 13 and Luke McGrath on the wing.
I'm sure the Irish management would have been trying to prepare their squad for all eventualities but that's not what they'd have expected.
Ireland played like they could feel the pressure. Mistakes crept into their game. Farrell and Stander got in a tangle with an accidental offside, Rory Best became shaky in the lineout and Ireland were turned over inside the attacking 22 line.
They are normally so ruthless in those situations but Japan at that stage had a taste of victory.
Sitting at home and watching it on TV didn't allow us to feel the atmosphere in the stadium. Playing against the hosts was always going to be difficult but after they got a sniff it was very hard to turn that momentum around.
Ireland's plan B was to shut the game down a small bit and it worked. They resorted to one out runners, protecting their ball, with minimal passing and regaining control of the tackle line.
Kearney kicked a clever ball in behind the Japanese back three and forced a lineout to Ireland in the Japanese 22.
Unfortunately, and uncharacteristically, Ireland left with no points from that visit to the opposition 22, but it was effective.
If they had planned their game to be that structured would they have stifled Japan's creativity and flair? Easy to say now but it's possibly a tactic that they will use going forward to put teams away before they throw the ball around.
Observing the game on Saturday, there were countless times that I felt Japan were rucking past the ball and grabbing hold of Irish players.
It showed their intelligence to disrupt the Irish defence which was such a weapon against Scotland.
There was a lot of escorting going on from kick retreats as well. The referee certainly didn't win the game for Japan - their intelligence and intensity did that for them - but it would make you question one or two decisions along the way.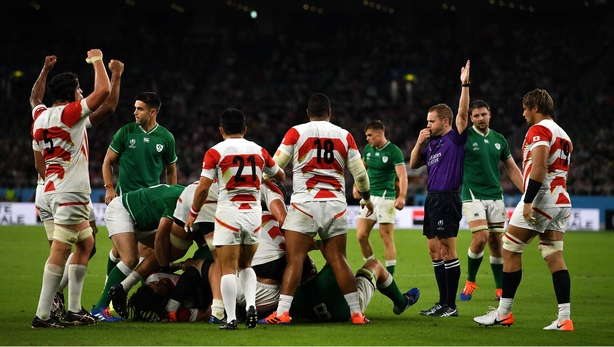 The one guy that stood out for me on the Irish side was Garry Ringrose. He was central to everything that was going well for Ireland in the first 20 minutes or so. He had a number of line breaks and scored Ireland's first try. In the build-up to the try himself and Murray used a variation that was seen in the Six Nations.
15 metres in from the touchline, Murray set up a forward pod to carry the ball but as he picked the ball, Garry Ringrose dropped underneath the ruck and made a line break on the short side.
Ireland started really well by using these short sides but unfortunately ran out of steam and the momentum of the game changed.
I believe that Japan won that game. They didn't live off Irish mistakes and weren't gifted any points. They stopped the flow that Ireland had created early on and took back control of possession for very long periods.
They dictated the pace and caused Ireland the same trouble that they should cause Scotland when they meet later in the pool.
Ireland will now face Russia on Thursday to get their tournament back up and running. It might now change the Irish selection plans because Ireland need to ensure that they get a bonus point against Russia and Samoa and they can't afford to start slowly or lose momentum.
Russia are passionate and dogged and it's only now that I can understand why they were out on their feet after 60 minutes against Japan. Ireland need to do the same by forcing the pace, moving the contact area regularly against them and they have to send out a statement very early in the game.
If they can do this they can rest some players and make their changes on their own terms but once again they're going to have to do it with a bruised ego after being knocked back by a classy Japanese team.