Rory Best: "We knew how tough it was going to be". Rhys Ruddock: "We knew exactly what was coming."
If Ireland knew what was coming, why couldn't they deal with it?
Is the simple answer that Japan, in this tournament, are a better team?
Can anyone really keep a straight face and say this was just a one-off.
That would make it the fourth one-off in the last 11 games.
We have been constantly told that the results against England, Wales and England were not a true reflection of the team's worth.
This latest shocking World Cup defeat for Ireland may give a lie to that line.
And we've been here before.
Add Shizuoka 2019 to Lens 1999 and Cardiff 2015.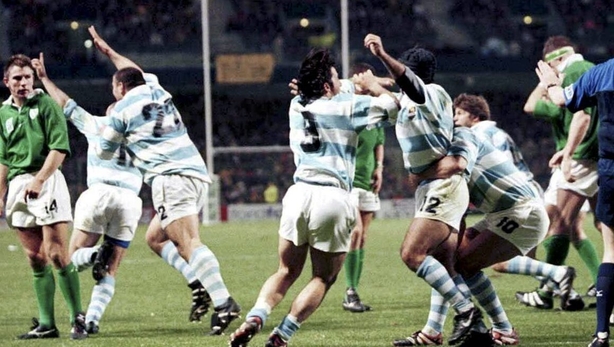 You might as well lump in the loss to Wales in Wellington in 2011 as well if we are listing times we thought the team were operating on a different level to where they were actual were.
The 19-12 loss, and Ireland were lucky to only lose by seven, might not spell the end of the team's World Cup journey, as the above defeats did, but it goes a long way towards signalling the end is nigh.
Joe Schmidt's men are still likely to qualify for a quarter-final, probably against New Zealand or South Africa.
While the vision of the Springboks in Tokyo might not have seemed so daunting after the Scotland win, it now looks a game too far for this team.
We pointed out in the match preview that the psychological damage inflicted during the Six Nations and the Twickenham match was not so far in the distance as to be completely disregarded.
And just when it looked like Ireland had turned the corner, it appears they had actually just rounded a mild bend in the road.
The talking heads say it not over yet.
Eddie O'Sullivan reckons the situation is "recoverable", Jamie Heaslip says have to "get back on the horse".
Ian Madigan says, "we've seen over the last few weeks that we can turn it around" in reference to the response to the England beating.
But Ireland are fast running out of road and there must be serious doubts that even handsome wins over Russia and Samoa could undo the damage that this latest defeat has inflicted?
We need your consent to load this rte-player contentWe use rte-player to manage extra content that can set cookies on your device and collect data about your activity. Please review their details and accept them to load the content.Manage Preferences

In Ireland camp-speak, yes, they can. In reality, getting over another sobering loss is a different story.
To use World Rugby's new occasionally-adhered-to high-tackle sanction framework, Ireland losing to Japan when they were 20-point favourites was a red card offence.
What were the mitigating factors?
Japan were good, very good, there's no doubt about that. Jamie Joseph had his charges primed to perfection for this game.
Their linespeed was impressive, aggressive and, crucially, disciplined - they conceded just six penalties compared to Ireland's nine.
They were at home and, when the World Cup has had a single-country host, the hosts have always won their opening two games.
Japan were more used to the conditions. "It's like playing in a sauna," said Donal Lenihan on co-commentary duty on RTÉ2.
Ireland had that infamous six-day turnaround while Japan had eight days.
"You get a little bit more time to recover and a little bit more time to put a plan together," said Schmidt.
All well and good and expect those to get a good airing over the next few days but does any of it fully explain how, with so much put into preparation for this tournament, the ninth ranked team in the world beat the team who came in to the World Cup as number one?
The panel rue Ireland 'going into their shell' in the second half and say that Japan won the collisions #JPNvIRE pic.twitter.com/j8Avt3wbZi

— RTÉ Rugby (@RTErugby) September 28, 2019
Japan had just five previous World Cup wins to their name before today.
The Brave Blossoms are still a Tier 2 country; prior to today, over seven games, Ireland had never failed to beat them by less than 16 points.
It's hard to look past the fact that Schmidt has known this fixture would be played in something like these conditions since November 2017.
He has constantly spoken about the warm-up games as stepping stones to the tournament. This was the exact period when they should have been at their fittest, and they were clearly not as fit as their opponents.
Eleven months ago Ireland had just beaten New Zealand, had recorded a series win in Australia and were the Grand Slam champions.
They set a high bar for themselves, sure, but the evidence suggests that they have let themselves down badly in maintaining those standards.
Schmidt said that Johnny Sexton was fit but decided the 2018 World Player of the Year was not required, instead relying on two players who had 22 minutes of World Cup experience between them.
When Peter O'Mahony (55 minutes) and Rory Best (60 minutes) departed Ireland were without their three captains when leaders were needed. Was this a controllable that Schmidt failed to control?
"They wanted it more than we did," said Cian Healy afterwards.
How does a team with notions of getting to a World Cup semi-final lack in the hunger stakes?
Ireland have frozen on the World Cup stage once again. They don't deserve to have the sanction reduced.