My apple watch reminds me to breathe every so often. This little blue flower appears reminding me to take a moment and take stock.
To be fair more often then not I ignore it, such is the business of the life we lead both in and out of work and on and off rugby and GAA pitches.
On Sunday evening though when the little blue flower appeared I stopped took a breath and considered the day that had unfolded. It had started early as I was at Bruff RFC at 5:30am with a committed bunch of like-minded club members for our big breakfast to welcome in the dawn of Ireland's World Cup and to celebrate all that is good about club rugby in Ireland.
It was a huge success where a capacity crowd wasn't found wanting for food, fluid (of the non alcoholic kind) and friends. Then there was the game itself, the reason for the early start, it, like the breakfast, exceeded all expectations.
When James Ryan burst over for the first score the clubhouse roared in unison. When it was followed by the intensity of effort in defence that we hadn't seen evident in recent times the noise grew with it and when by half time we were three tries to nil up everyone rose from their seats to breathe a sigh of relief and went in search of more food.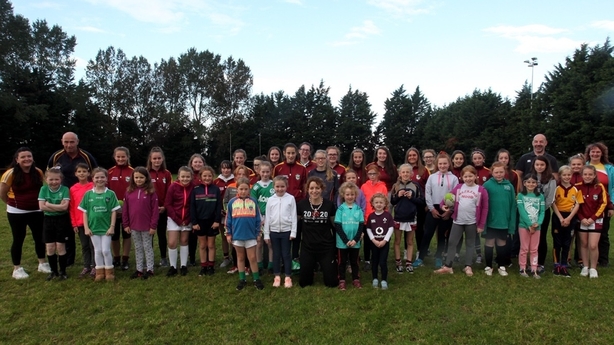 The 100 or so kids went outside for an impromptu mass training session and it was tricky enough to get them back in for the second half. They knew it was game over at that stage, they knew that the Ireland they had grown up loving was rediscovering its mojo.
The kids may have raced in their thoughts and minds quickly towards the potential South African match up in the quarter-final and some club members may have jokingly asked what we would be serving up for the final but we can rest assured that no such thoughts will have entered the minds of those at the coal face.
There will however have been a collective breath, there will have been a sense of job done and thankfully we are on the up again. We all know that Scotland were poor last Sunday but we too know that in recent times we have sometimes struggled to exert our authority over sides that we should and could put easily away.
While you want the team to win you wouldn't mind if the competition for your spot dropped the odd ball or missed the odd tackle
For the players that played and played well they have the satisfaction of simply doing that, of knowing that you are back somewhere near where you need to be for the bigger tests that are to come. Once the feeling is felt they move on immediately, the analysis carried out by Mervin Murphy and his team will be as brutal and as unforgiving as if it was a loss.
Then there are the players that didn't play, that didn't get to take their chance to put their hands up. No matter what anyone says, while you want the team to win you wouldn't mind if the competition for your spot dropped the odd ball or missed the odd tackle.
This week, Jack Carty and Chris Farrell get the opportunity from the start. Farrell was impressive after his early introduction and Carty was solid in his shift. Farrell will know that he must make hay while Robbie Henshaw and Bundee Aki recover and even though both of these players are more established internationals and deemed higher up the pecking order they will be looking on with a mix of emotions.
For Carty and Joey Carbery, they both know that their opportunities to play and therefore impress have been and will be limited. They know that the competition they face is between each other as back up 10 and while both will have rightful ambitions to be first-choice this is not the World Cup for that, barring injury to Johnny Sexton.
Interestingly, the pack remains unchanged. There will certainly be sore and bruised bodies this week as the work-rate and intensity from the pack was huge.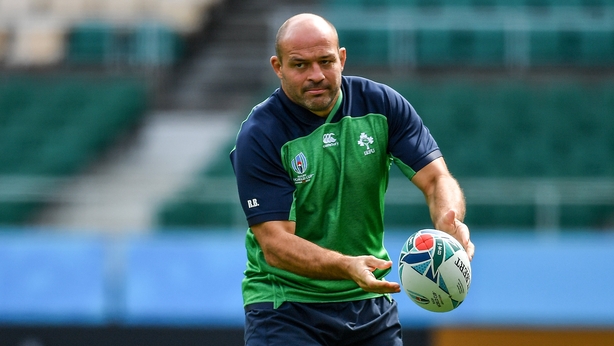 Like the purists would say, Sunday's match was won up front and the pack delivered in spades. Hats off to Rory Best, the full 80, 100% in the lineout, not withstanding the tidying up by CJ Stander on one occasion, and a try to boot. On Saturday he will start his 100th Test for Ireland, no more needs to be said.
As I write this, 12 match results are filled in on Bill's wall chart. His biggest news to tell me this week was when I came home from work on Wednesday was that Uruguay beat Fiji and Uruguay "don't really play rugby and the stadium wasn't very big".
When I told him last night that his hurling match against Cappawhite on Saturday morning might clash with the Ireland-Japan match he paused for a moment and said, "It's alright, we can record it and Japan don't really play rugby very much".
Luckily for Bill, the coaches, of whom is father is one, saw sense and scheduled the local derby with the rugby in mind. So on Saturday morning Bill and the rest of us will get to see that Japan really do play rugby and we will get to see how Ireland adapt to that fast paced off-loading brand which is so easy on the eye.
After which we will all breathe and go again.
Follow Ireland v Japan on Saturday (kick-off 8.15am) via the live blog on RTÉ.ie/Sport and the News Now app, watch live on RTÉ2 from 7.30am or listen to live match commentary on RTÉ Radio 1