Bill, our seven-year-old, came running into the bedroom yesterday morning looking for his dad. I told him that his dad had left for the ploughing already and asked what was up?
"It's just one more sleep until the Rugby World Cup starts that's all and I wanted to tell him."
We then went on to discuss the first match, the opening ceremony and he listed off the rest of the matches for the weekend, wondering how he would watch them all and had I found his wallchart yet?
I had bought him Rugby World in August and it has been his go-to bedtime reading (with a little help) since, however, the fabulous wall planner that came with it is a distant memory.
Bill's excitement got me thinking of a couple of things.
I wondered was it the same excitement for every rugby-mad boy and girl in the country and had we become a nation of rugby lovers or just sports fans in general or was it just in certain areas in certain houses?
I thought how innocent and fabulous it is to be young and enjoy rugby and sport in general with a purity of vision that sometimes escapes us grown-ups.
The second thought that crossed my mind was to imagine how excited he would have been had he been seven in 2007 and travelled with me to France to watch my husband, John Hayes, and Ireland play in that World Cup.
Sally was 16 months at the time and myself, my mother and Sally flew to Bordeaux to support the team.
John's mum joined us a week later and the grannies swapped over.
DOWNLOAD THE RTÉ SPORT WORLD CUP SWEEPSTAKES KIT
Sally was immune to "it all" and when I say "it" I mean the tension, the heartbreak, the not knowing what to say because whatever you might say would not be right.
What I do know is that Sally provided much needed distraction to John on the down (down as in non-rugby) days.
When he joined us on a trip to the zoo/pet farm outside Bordeaux neither Sally nor the animals cared about results or performances.
When we climbed the Dune du Pilat, the trudge up the sand dune carrying her in his arms was much needed alternate physical and mental exercise and an escape from the team hotel, which bizarrely was located in the middle of an industrial estate.
As a wife or partner it can be a difficult time when the World Cup is on, but such is the support and camaraderie now that a solid network is available to support.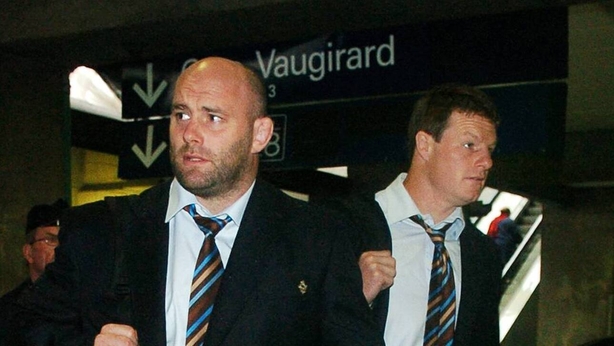 I do feel for the lads with the young kids doing the Skype calls at odd hours of the day keeping in touch. For those travelling with the kids I wish them well; the older ones will have memories to cherish and remember and the younger ones will have photos to aid recollection. Sally (13) and Roisin (10) occasionally look for the evidence that they both went to South Africa to support the Lions in 2009.
Bill wonders why he didn't go, he was born in 2012! Roisin was four months old and Sally was three, both grannies came and we met up with Jess, Aileen, Emily and Jenny who were there already and sorted our accommodation and we had a ball for two weeks.
My thought process at the time was that if you have these opportunities you have to take them.
So back to the hunt for the wallchart; lucky for me there was a plethora in yesterday's papers so he is now the proud owner of two.
Having played in three World Cups, gone to two as a partner and wife, three more as a supporter of the Irish women's team, this Sunday will be a bit different for me
So the action will have started this morning before you read this and Bill will hopefully have gone to school with the promise that it has been recorded and he can watch it later and fill in his wallchart.
I haven't the heart to tell him that his hurling blitz will clash with New Zealand v South Africa on Saturday morning.
The one thing that won't clash is our mini and underage training at Bruff RFC on Sunday morning. We have organised a Big Breakfast at the club serving up to 250 members at 7.45 am, followed by the match on the big screen at 8.45 and then followed by a giant training session for the boys and girls.
For the players and management gone to Japan this tournament has the potential to be the defining moment of their careers. On Sunday morning as that first whistle sounds they and the country will breathe a collective sigh of relief.
For the players that have worked so hard for the last four years with the focus of appearing again on the world stage and for those making their World Cup debut, the relief of actually playing that first match will be immense.
Now it is about the rugby; the talk, the hype, the performances good and bad that have gone before that moment are gone forever, consigned to the history books - almost irrelevant.
Now it is about each moment as it happens, each tackle, each line break, each scrum and lineout. It is about living in the now, for the now is a World Cup.
There will be no holding back for Scotland or Ireland or indeed South Africa or New Zealand. The best available team will be put forward to represent their country because in each of these groups the toughest match is first. Come Sunday morning we will know where we are at.
All the talk, all the column inches that have been written online and in print over the last four years will count for nothing, again irrelevant.
On Sunday a new chapter starts, a new story begins. I will be adding my tuppence worth here, it is easily avoided if it doesn't suit you.
Having played in three World Cups, gone to two as a partner and wife, three more as a supporter of the Irish women's team, this Sunday will be a bit different for me.
I'll be the doorman at Bruff rugby club making sure everyone is dressed in green and ready to roar on Ireland.
Win, lose or draw we will then take to the pitches of Kilballyowen having fun and playing rugby with the next generation of boys and girls.
Follow Ireland v Scotland on Sunday (kick-off 8.45am) via the live blog on RTÉ.ie/Sport and the News Now App, watch live on RTÉ2 from 8am or listen to live match commentary on RTÉ Radio 1.