Australia number eight David Pocock has invited "legend" David Attenborough to Saturday's World Cup final against New Zealand at Twickenham.
While many of his Wallabies team-mates unwound after Sunday's last-four victory over Argentina by riding Segways, Zimbabwe-born Pocock tuned into a wildlife documentary.
England 2015's standout performer, who averages over three turnovers each match, is a climate change activist and during this World Cup he has used his Twitter account to highlight the plight of rhinos in Africa.
Having been instrumental in Australia securing a record-equalling fourth appearance in the final, Pocock insists the occasion would be complete if Attenborough could able to attend.
"I'm a big fan of wildlife programmes, particularly those by David Attenborough. He's a big hero of mine," Pocock said.
"On Sunday for post-game recovery I put on a couple of Attenborough episodes and put my feet up.
"I was rewatching his Africa series. If he wants to come to the final I'm sure we could organise some tickets. He's a legend."
Nearly 48 hours after the final whistle Pocock still bore the marks of a heavyweight collision with Argentina, heavy bruising surrounding both eyes, his nose disfigured by a large bump and strapping covering several fingers on his right hand.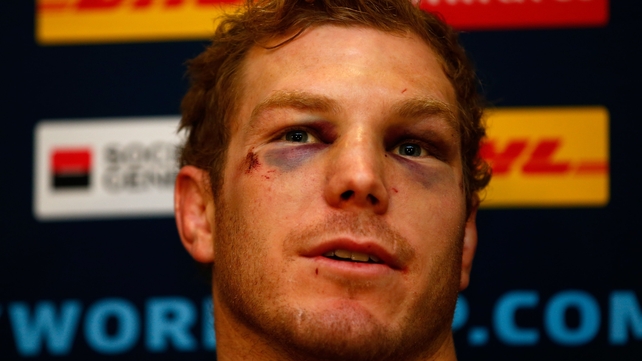 Michael Hooper gave an insight into how the wounds were inflicted and the courage required to become the sport's greatest poacher by saying of his back-row colleague: "David puts his head in places that are pretty dangerous - and gets the ball out".
Australia coach Michael Cheika has described his squad as a blend of "jokers, lovers, fighters" and despite his battered appearance, Pocock insists it is the second word that best describes him.
"I like to consider myself more a lover than a fighter, but a bit of a knock on the nose can change that," he said.
"I think the nose is relatively straight. It probably looks worse than it is. It was a bit sore at the time but it's fine now. My partner Emma says as long as I don't start snoring she's happy.
"In a group like this you've always got people from different backgrounds with different beliefs and different ways that they see life. To me that's exciting.
"You get to live with those people and be able to challenge yourself and be able to talk about stuff other than rugby.
"Often it's not moments in games that really stand out, but the time you spend with the team off the field, or a joke shared on the training field."
Pocock has recovered from two knee reconstructions to emerge as the most influential player at this World Cup on the basis of his technique and bravery at the breakdown, yet he is determined not to be defined by his deeds on the pitch.
"I've absolutely loved the game and I'm so grateful for the opportunity that it's given me, but I'm very conscious of the fact that at the end of the game it's a game," he said.
"It's there to be enjoyed, it can offer so much to us, but there's certainly a lot more to life than chasing a rugby ball."