Ireland forwards coach Simon Easterby has hailed the work of the squad's medical and conditioning staff as Ireland head into their final Rugby World Cup Pool D match with France with a full squad to choose from.
All 31 trained at Newport High School today, with Jared Payne (foot) and Rob Kearney (glute) both taking full part with no repercussions.
"I think the members of staff have done a really good job, and the conditioners, to get us through to this stage, without needing to call for reinforcements, and everyone came through training today, which is great," Easterby told RTÉ Sport's Michael Corcoran.
"They all took a full part [in training]. At this stage, unless the player has something seriously wrong with them, they want to get out there and train. There was a little bit of concern over a couple of players last week, but thankfully they worked hard over the weekend, and everyone trained today."
As well as the staff, Easterby also reserved special praise for the players themselves, who have taken exceptional care of themselves in the weeks and months leading up to the six-week long tournament.
He continued: "We've tried to manage them a little bit and we've had the opportunity to change the team around a little bit as well. We've been very fortunate with guys that haven't picked up bumps, but also the players know they need to look after themselves post-game.
"They're very, very good at that and that allows us to hopefully pick from a full deck. The work that they do with the medical and conditioning staff happens right throughout the summer, and we're sort of reaping the rewards of that work, that has been put in over that period.
"Without that work we wouldn't be in the good position that we're in at the moment from an injury perspective."
"Frederic Michalak is having a real purple spell in his latter career and they have a forward pack that can mix it. They can scrum, they can maul, they can offload, they can carry" - Simon Easterby
Italy ran Ireland close for 80 minutes in their round three match at London's Olympic Stadium, and Easterby gave the Azzurri the praise they deserved for their performance, while admitting that Ireland have much to work on to give a better display against les Bleus this weekend.
"I think you have to give credit to Italy for the way they played. I think they played their part in a very tight contest and they made us work very hard for that result," said Easterby.
"There's obvious things that we'd like to improve on and have got to be better during the game. But on the whole we're three from three going into the final group match and we feel confident that we've got a lot of things in place. But there are little areas that we need to keep on top of and improve going into this weekend and the knockout stages."
Ireland have played France three times at previous World Cup, with the French winning all three encounters.
However, in the last two clashes between the sides, since Joe Schmidt took over as head coach, Ireland have won both.
On paper, Ireland would appear to have the recent edge, but Easterby is keen to point out how dangerous a side France are.
"France are clearly one of the best sides in the world. They are very physical. They have a very good foil in the centres with Mathieu Bastareaud and Wesley Fofana as well," said Easterby.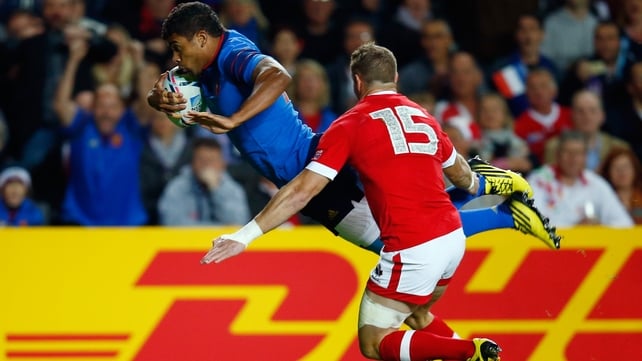 "And Frederic Michalak is having a real purple spell in his latter career and they have a forward pack that can mix it. They can scrum, they can maul, they can offload, they can carry.
"And we are fully aware of the qualities of that team. But we are also pretty confident about what we have in place and what we can produce at the weekend. We'll be able to nullify a lot of their threats but also impose ourselves on the game as well."
In terms of this week's build-up, Easterby says most weeks are the same, in terms of analysing the opposition, but that preparing for Six Nations opponents is a little different as familiarity breeds extra insight.
"I think most weeks are the same. We try to get to know the opposition," said Easterby.
"We know the Italians and the French a bit better because we played against them year in, year out; and also in Europe and domestic competitions.
"I think it's important we get our own house in order and are on top of things. It's very important to know what the opposition like to do as well and hopefully we can be ahead of the game in that respect as well."
The coach also admitted, as you would expect, that Ireland have not looked ahead at the quarter-finals, but instead have concentrated solely on France, and will worry about New Zealand or Argentina next week.
"We haven't looked beyond this game. The priority is to try and build momentum this week," said Easterby.
"Whoever we play, the Argentinians have certainly looked like they've hit form at the right time. The All Blacks have the quality within them to go and produce a kind of rugby that won the tournament four years ago.
"So we know once we get to that stage, knockout rugby is all about the 80 minutes, and not what happens before or afterwards. It's about imposing yourself on the opposition whoever that might be. But we've just got to get through the French game first."
"I think every World Cup seems to add another ten-, 20-, 30-thousand fans" - Simon Easterby.
The clash with France is at the Millennium Stadium, where Ireland won the Grand Slam in 2009, and beat Wales in a RWC warm-up in August, and Easterby feels it's a stadium the squad feel very at home in.
"I think we've had experience at the Millennium Stadium in the Six Nations, and also the August match against Wales; we've also played Canada there with the roof closed," said Easterby.
"The players are familiar with the surroundings now. The first couple of times you go there with the roof closed and it does create an incredible atmosphere.
"We understand what the Millennium Stadium can bring and it can be very positive for us."
The Irish support has been immense at the World Cup so far, and Easterby was full on his praise of the Irish fans and their incredible showing, saying: "I think every World Cup seems to add another ten-, 20-, 30-thousand fans.
"In 2003 we had fantastic support. 2007 - we didn't give them a lot to shout about, but there was still a huge amount of support there, when we were going into those groups matches, and the final game, when we didn't have anything to play for.
"2011 the lads told me it was amazing as well. 2015 it's on people's doorsteps. There's a lot of Irish living in the UK and that really helps our cause. Wembley, in particular, and Cardiff, was exceptional. Hopefully we can replicate that kind of atmosphere with a sea of green when we turn up on Sunday."