Paul O'Connell expects Ireland to be "battered up front and pushed to the limit" by Italy in Sunday's crucial World Cup encounter at London's Olympic Stadium.
Captain O'Connell has warned his team-mates to expect the kind of punishing clash that the Azzurri threw up in the 2011 World Cup, when Leonardo Ghiraldini was banned for 15 weeks for gouging Cian Healy.
Ireland can secure quarter-final qualification with victory in the Pool D clash, while Italy must win to keep their slim last-eight hopes alive.
O'Connell admitted Ireland are bracing themselves for a brutal dogfight, especially up front.
"I've no doubt we'll be battered up front and pushed to the limit," he said, evoking memories of Ireland's 36-6 victory on October 2, 2011.
"They're always incredibly physical games against Italy with the emphasis on the scrum, and big emphasis around their defence.
"There's no doubt it's going to be really tough, so that's what we've been preparing for. There's been a change in mindset because it's a knockout game for us.
"I can't remember a World Cup before where we've sat as a group on couches and watched all the games. That builds the excitement for us.
"Personally I'm more excited than ever because there aren't many more of them to come. I really enjoy the build-up."
O'Connell will partner "beast" Iain Henderson at lock, with the 35-year-old skipper branding Devin Toner unlucky not to force a starting berth.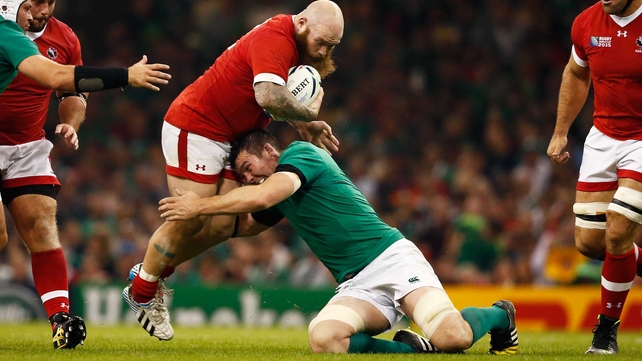 "Donnacha Ryan has done incredibly well to get back after injuries," said O'Connell of Ireland's second-row picture.
"He's a special kind of athlete in terms of being out for a year with Munster but yet when he came back he was still one of the fittest guys in the team.
"He has lightning pace as well. Devin is just a very relaxed guy but tends to not make any mistakes. He's a brilliant carrier, brilliant hands, very relaxed way of running the line-out, and a terrific player.
"Iain has obviously been playing great rugby. He's a real beast. So that's just in the second row. It's all across the team, that level of competition, I think.
"We scrummaged during the week and Cian Healy at the moment is constantly trying to have a crack at training.
"I suppose we talk about our preparation during the week all the time, it seems like a bit of a mantra to us, but that competitiveness in training leads us to preparing very well.
"You do not want to give away a penalty in training. You don't want to drop the ball down in training, you don't want to get a line-out wrong, that kind of stuff.
"You want to know your role inside-out. And competition for places really improves that standard."