"When a man is tired of London, he is tired of life," wrote Samuel Johnson. And he was right: the megacity has a buzz, and a hum, that no other city in Europe can replicate in terms of its vitality and zeitgeist.
The Rugby World Cup has captured the city's heart at this very moment, with Twickenham, Wembley and the Olympic Stadium all hosting games and creating a cradle for the sport over the last week and a half.
Ireland fed off that buzz on Sunday. North-west London became a sea of green as an Irish army of fans swarmed the entire surrounding area of Wembley Stadium, creating a carnival atmosphere, with a few hundred Romanians and some neutrals to boot adding to the vibe.
Positivity is a key element of a winning team in any walk of life, especially sport, and that energy transcends into a team and energises it. Joe Schmidt's side were in a good place in heading into battle with the Oaks.
Their drubbing of Canada saw to that, and that upbeat mood continued to surround the team the weekend just gone.
The core of the success in the last two matches is hard work, long hours on the training pitch, and a very clear set of plans and tactics. Now that those plans are working it has given the Irish 31 and their coaching and support staff in London the chance to soak up their fans' support and enjoy these last few weeks.
I saw this in evidence several times over the course of the weekend. Assistant coach Les Kiss had breakfast on match day, not in the team hotel, but in a coffee shop beside the stadium, where fans could approach and talk to him.
I spoke to Jamie Heaslip at the team's hotel, The Hilton, on Sunday evening, and he was beaming, telling me that the team were "delighted" with the win.
Speaking to Cian Healy in the press and players mixed zone post-match, he said he felt great, and that his hand issues were fine, with full movement having returned.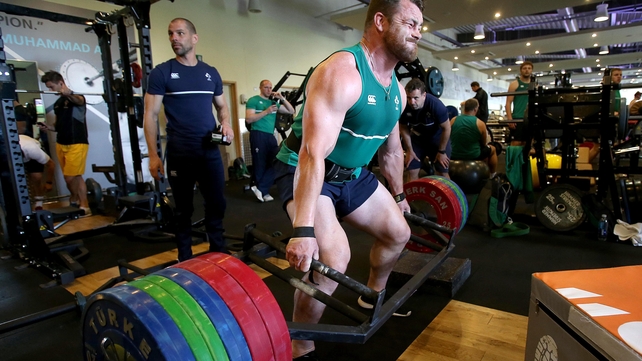 Paul O'Connell, alongside Healy in the mixed zone, fielded questions in a relaxed manner, smiling and joking.
What does all of this tell us about where Ireland are at? It tells us they have now got a superb platform to go and attack the rest of this tournament, with a camp that is gelling on the pitch and thriving as a unit, with an incredible public backing driving them on.
Over the next two weeks things are going to crank up another gear, as Ireland clash with tier-one sides Italy and France.
In truth the wins of the last fortnight were expected and now the real challenge awaits. Nothing we've seen from Italy so far would indicate they are a real danger to Ireland, but that is ideal for the Azzurri as they come into the tie as underdogs.
Ireland's focus will now switch to how France successfully nullifed Italy's attacking platform, and how Canada almost pulled off an almighty shock to beat them, as Ireland seek to open the Italians up.
Team selection issues to be resolved
There is much to exploit about Jacques Brunel's team and some big decisions are still to be made this week selection wise.
Cian Healy's 54 minutes of action went according to plan against Romania: no injuries and some valuable game time under his belt. Jack McGrath, due to his full match fitness, will likely start at loosehead on Sunday, but Healy is now booked in for the bench spot in the No 17 jersey.
In the engine room behind them, Devin Toner didn't do enough to push himself back into the starting team ahead of Iain Henderson. The dynamism of the latter is too valuable to lose in place of Toner's lineout ability.
Keeping the back row division of Peter O'Mahony, Sean O'Brien and Jamie Heaslip together also seems nailed on, although Chris Henry's magnifcent display against Romania means he has put his hand up for inclusion, with O'Mahony the man in the XV he would put under pressure.
Half-back is settled: Conor Murray and Johnny Sexton will start.
The back five is the most up for debate area of the side. There are lots of permutations Schmidt could go for.
If Robbie Henshaw is fit, Schmidt is likely to back him alongside certain starter Jared Payne. Rob Kearney's gluteal strain appears to be minor meaning he will take the full-back jersey, with his brother Dave alongside him at 14.
There is then a fight for the other wing slot on the left. Keith Earls looks to be in the box seat to get the nod, but superb displays from Simon Zebo and Tommy Bowe have pushed them right into the selection debate. But that's not forgetting that Luke Fitzgerald is right in there too and probably second in line after Earls.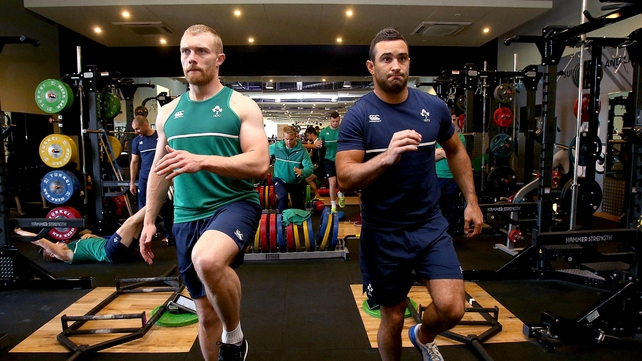 If Kearney is unfit to start, you would think Earls will move to the full-back slot, with Fitzgerald then starting at 11.
There will be claims that Zebo's attacking display last Sunday means he has nudged into second choice as full-back, and there is merit to that line of thinking. However, Schmidt may prefer to use the Munster man as an impact sub as the game opens up late on. Zebo's defensive frailty, and sometime lack of concentration, is still a worry, especially at full-back rather than wing.
If Henshaw can't play it also simplifies matters, with Fitzgerald again the man likely to come into 12 in his absence.
That's not even mentioning Darren Cave, who was solid for an hour at inside centre on Sunday, before moving to 13 and tearing Romania to pieces. One would think he is still third in that first centre pecking order, but he is also pushing hard.
The selection options have arguably never been this good for any Irish coach; it's the nicest possible problem for Schmidt to have.
Team tactics: expansive or kick-chase
The other big question is do Ireland continue to play the wide, expansive game they've shown against Canada and Romania? Or revert to the kick-chase tactic that won them the Six Nations? Intuition would say they are going to mix and match, and give Italy a taste of their pressure kicks, while allowing the back three to open their bag of tricks. 
It was interesting to hear former Leinster and Argentina out-half Felipe Contepomi talking about the Irish team last week week and highlight why he thinks they are so adept at cancelling out the opposition.
He feels Ireland are currently the best side in the world at two-man, choke-chop tackles, which denies the opposition momentum and offloading options simultaneously.
While Ireland's attacking abilities were in full display against tier-two sides in rounds one and two, the question now is can they replicate that against tier-one opposition in rounds three and four?