In the tense silent seconds before the starting signal horn, Philip Doyle was calm.
Tucked behind Ronan Byrne, waiting for their double sculls heat at the European Rowing Championships to begin on the waters of Varese, Doyle was about get his first taste of proper, competitive action since the pair won silver at the World Championships 20 months previously.
A few butterflies would have been natural, but he wasn't anxious. He was excited.
The Banbridge trainee doctor spent most of 2020 working on a general medical ward at Daisy Hill Hospital in Newry, Co Down. For months he shoehorned gruelling solo training sessions around shifts that flipped between days and nights. This was over the course of a winter where the hospital was creaking under the pressure of another Covid-19 wave.
Since the turn of the year however he's been able to focus completely on getting himself to the Olympic Games.
The silver he won with Byrne at the Worlds earned Ireland a place in Tokyo but Doyle's presence in the boat has not been guaranteed.
Last October Daire Lynch partnered Byrne at the delayed Europeans in Poland as the pair secured a bronze medal.
Doyle has had to graft hard in training camps in Cork to get back in with Byrne, so his presence in Italy for last week's Europeans was a welcome boost. After getting through the heats, the Irishmen finished sixth in their A/B semi-final and then won the B final on Sunday.
Not bad, but they want better.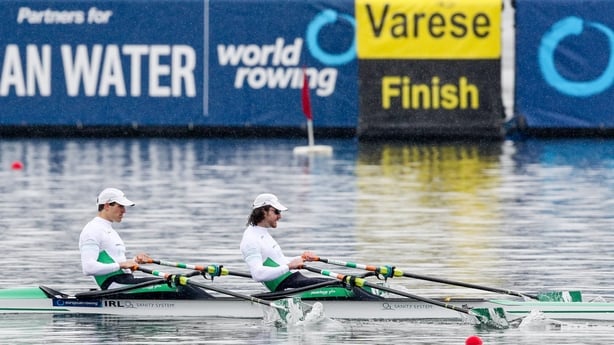 "It was a very humbling experience to be honest," Doyle reflected on his return to the water in Italy.
"It was a bit difficult for us because we've had a bit of inconsistent form recently trying to mash together. We went separate ways while I was at work and I was training by myself a lot, Ronan was training with Daire down in Cork.
"Their rowing style is slightly different to our rowing style. We were trying to come back together. We were just trying to find our ways really. We were pretty happy with our heat, we showed good speed. The Russian double took us by surprises a little bit.
"They were an unknown for us. It was about halfway down the race when I kind of looked over my left shoulder and was like, 'is there somebody ahead of us? Oh, we need to kick on here!'
"That was a bit of a shock to the system and then having two hard races on the Friday afternoon meant the body was pretty tired on the Saturday [for the semi-final].
"We were still struggling to find that real magic click we had before, we weren't at the races on the Saturday for a combination of reasons. Sunday morning we managed to pull it back together a little bit to pick up the win in the B final even though our stroke rate was a bit lower than we'd want, we were only around 34, 35 through the race.
"We got the job done and got a good win without setting that our magic rhythm, which we love to set - that's around 37, 38 strokes a minutes. That's where we find out real speed."
There's no half measures when it comes to making it to an Olympic Games.
Doyle takes in about 8000 calories a day to fuel the ferocious training required to be an elite rower. Eat, sleep, train, repeat. It literally hurts to get better.
"We have a real weird mentality about racing," he adds.
"A race is six, six and a half minutes. Most of our training sessions are an hour and a half to two hours long. We try and get to the same level of discomfort and physical anguish on those training sessions as we would in a race so the race goes by in a flash.
"The raw speed is there. We just need to channel it."
"Physically, you know it's going to hurt, but you've hurt before. When you're side by side with somebody you start to take on the challenge a wee bit and it actually becomes a bit easier.
"We've had some pretty tough racing in Cork against all the other crews trying to get selected back into the double because it was between myself, Ronan and Daire for a long time. I had to earn my seat back so we've done plenty of racing and training together. We were excited as well to see how it went.
"We're ticked off that we came seventh in Europe. I think that's a good thing. We're hungry. The fires are well and truly lit underneath us. We're going to have to put in a solid shift over the next four or five weeks to find a second a week between now and the World Cup."
That World Cup takes place in Lucerne, Switzerland in mid-May and offers Doyle and Byrne a last chance to really tune up for Tokyo.
There is a regatta in Italy they could go for before July's Games but they'll elsewhere in the same country on a training camp at that time and may decide that staying where they are is the better option.
"The raw speed is there. We just need to channel it.
"For Lucerne we want to get back into that top six. The medal is still in the minds for the Games, We would like to be in the medal race for Lucerne because if we can get into that I trust Ronan to switch on the nitrus and I'll follow him all the way!"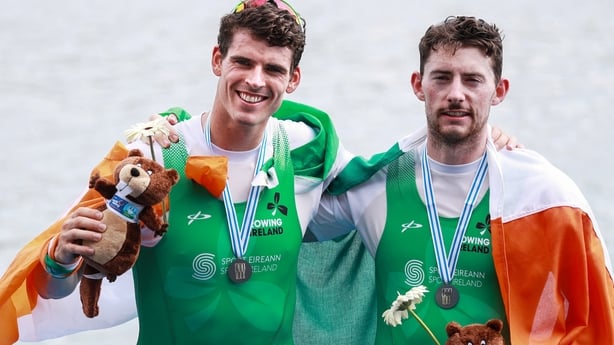 Doyle keeps in regular contact with his work colleagues and says they are beginning to see light at the end of the tunnel with regards to Covid-19 as the vaccine rollout continues.
He'll be back in the ward post-Olympics, but for now is enjoying the vibrancy of Ireland camp and good relationships he's built within the team.
"I was speaking to a friend of mine that works in England, in a Manchester infirmary. She was saying the numbers in ICU, and in terms of Covid, they're down to one ward in the hospital so they are starting to see that things are getting better.
"I'd be close with all my team-mates, especially the ones around my age, Aifric Keogh and the likes. They're great emotional support for a natter, a bit of banter.
"At this stage we've been together for two years or so. There's no secrets between us. There's great camaraderie between the group."
Philip Doyle was speaking at the announcement of Deloitte's four-year official partnership with Team Ireland.