Sanita Puspure says she'll have to go faster if she wants to claim Olympic gold in Tokyo next year.
The Ballincollig-based rower defended her European single sculls title yesterday in Poland to add to her two world titles at the grade.
Team Ireland added a further three bronze medals on a successful Sunday for the team.
Puspure told RTÉ's Game On that she had three weeks off in the summer, before seven straight weeks of training coming into this month's competition. She feels that, considering the limited preparation, the team "punched above their weight" in taking home four medals.
Despite the success, she warns that a lot more is needed if the Olympic dream is to be realised next summer.
"I'm happy enough to win gold after seven weeks of training," she says.
"But at the same time if I want to win at the Olympics I need to be faster. And I know everybody who was racing yesterday, they're going to be much faster for the Olympics.
"So maybe 14 weeks of training will do," she jokes before pointing out that, "we have to train for eight months now."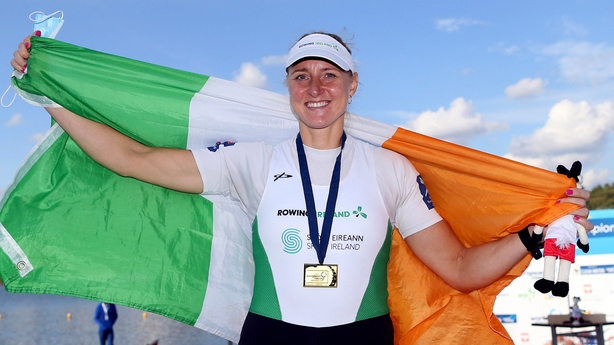 Puspure competed at the last two games, winning the "C Final" at both Rio and London.
After a highly disrupted season, caused by the spread of Covid-19, which led to the postponement of the Tokyo 2020 games she admits that she struggled at times with a "lack of motivation."
"Training alone, I found that really, really challenging. In the grand scheme of things, it was fine. We were all at safe at home, and the pandemic numbers were going down.
"So you could see the positives out of it. But as an athlete it was very hard because we're so used to that competitive environment in training - that's what keeps us going and pushes us everyday.
"So it was really hard to go up to that roof, and do that session on the erg (indoor trainer) on your own and try to get the best numbers you can.
"During the lockdown the intention to train well was there but I don't think I did because subconsciously there was no motivation to push myself to the very limit of what I could have done.
"Considering all that as well I think I should be even more excited about that result yesterday."