When rower Philip Doyle climbs out of bed at around 5.50am each day, he's already against the clock.
First he'll grab something light to eat as he's heading out to his home gym in the garage, which is equipped with machines, exercise bikes and weights.
A considerable workout lasts about 90 minutes, and then it's time for a second, more substantial breakfast.
Once that's done, the trainee doctor drives to Daisy Hill Hospital in Newry, Co Down, where he's working on a general medical ward. Doyle has to arrive early for his 8.30am shift.
He needs time to prepare himself for the day ahead: gown on, gloves on, visor on. Now he's ready to work.
Doyle alternates between eight and 12-hour shifts but whichever rotation he's on, an evening training session is a necessity.
So after a gruelling slog on the front line, he comes home, has a quick change, and heads back to the garage.
Dinner has become doubly important. The 27-year-old eats as much as he physically can to drive up his calorie count (he aims for 8000 a day) while also drinking a lot of water.
You can't eat or drink on the ward so it's common to go long stretches without real sustenance - not ideal for an elite athlete.
That's when he's on the day shifts. Right now, Doyle is facing into a week of nights (8pm to 9am), which will further test his ability to shuffle a hugely demanding schedule.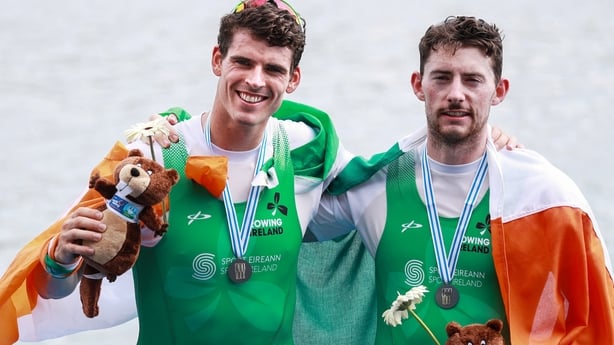 Three months ago he was a budding Olympian who had parked a medical career.
Now, it's the other way around. But there's no sense of frustration for the Banbridge native. Helping people through this pandemic is, he stresses, a privilege.
"I always knew time was going to be tight between the rowing and studying for medicine," says Doyle, who secured Olympic qualification for Ireland in the double sculls with partner Ronan Byrne when they won silver at the World Championships last August.
"People do medicine and people go into these vocational jobs... because that's what they want to do. You want to be there to help people. A lot of my colleagues have that feeling. They're there to help others.
"They're not there for a pay cheque, they're not there to be, 'oh Dr this, how amazing'. You're there to help. People are willing to put themselves on the line to help others.
"Everybody is mucking in. I think there's a great sense of humanity between everybody at the minute.
"I had no reservations about going back. It's like taking your marital vows, in sickness and in health. This is the sickness part of the healthcare system. This is where you have to step up and do your bit.
"There's days where you're working 12, 13 hours and things are really tough. Physically, you're tired, you're a bit dehydrated, you maybe do a little bit less in the sessions but I'm trying to manage my body as well as I can.
"When I feel good I do more. When I feel bad I do less."
Doyle and Corkman Byrne have had to stay in sync from a distance.
Pre-pandemic, Doyle had planned to use this period to hit the water hard with Byrne to give themselves every possible chance of medalling in Tokyo.
Then, he would resume the completion of his foundation one year in December, when the Games were in the rearview mirror.
There are no certainties any more.
On Wednesday, IOC chief Thomas Bachsuggested that if the deferred Olympics do not take place in the summer of  2021 then they probably won't take place at all but Doyle isn't wasting much energy fretting about how things may or may not pan out.
He continues to keep up his standards, albeit in less conventional fashion.
"We do a lot over Zoom," he says of his training work with Byrne. 
"We link in and try and watch as many sessions as possible. The group trains together. I struggle to make those times when I'm working but on a day off I can link in with them.
"There's also a lot of apps available where you can link the rowing machine screen to the app and the coach can see exactly what's on your screen on his phone. It's probably more scrutinised training than before.
"They're seeing every time that you're putting out over an hour and a half whereas down in Cork they were watching you from a distance and checking the screen at the end."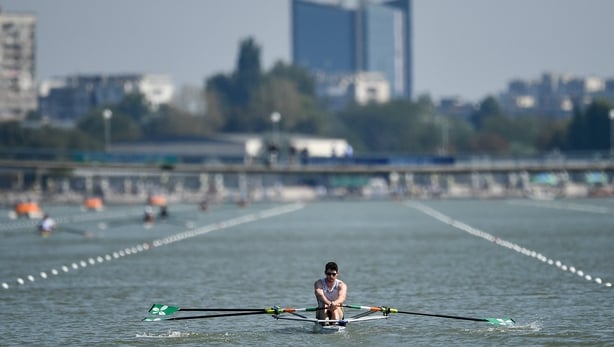 Doyle is a man who puts things in perspective. Even before the outbreak of the coronavirus, in an interview with BBC Sport, he revealed he occasionally frustrates his coaches by reminding them that sport for him "has never been the be all and end all". 
He adds now: "Although I want to win a medal at the Olympics, and myself and Ronan would give anything to get there and push as hard as we can, we know if we don't make it we haven't failed. There's so many other aspects in life.
"When I say I'm enjoying life at the moment, I am really loving being back and working with such a great team. It's reinforced that idea in me that I do have two loves in this world. I'm very happy to go between them at any time."
For now, he's taking pleasure in the simple things: the satisfaction of the job, the release of the training, and the generosity of the general public, not least when it comes to welcome donations of food.
"My nutritional needs are probably quite unique: I have to eat everything I see!
"The other day a Thai restaurant dropped some food up. I had two or three portions, a bit of extra rice and then I had my chocolates and biscuits as well as that. My nutritionist Sharon would beat me if she saw my calories drop down.
"For us, injury and illness, stress factors, they all come about when your calorie needs aren't met, when your input doesn't match your output."
So Doyle is eating up, working hard and staying focused.
His Olympic ambitions may well be realised in time. For now, he's just happy to be doing his bit to stave off the virus that's changed his destiny.
Philip Doyle is supporting Circle K's 'Little Thank Yous' initiative, which gives customers the chance to send a gift to someone working on the front line they feel deserves it. Visit https://circlekthanks.eu/ie to redeem a gift link which can be shared alongside a personalised message.